Recipes
Peperonata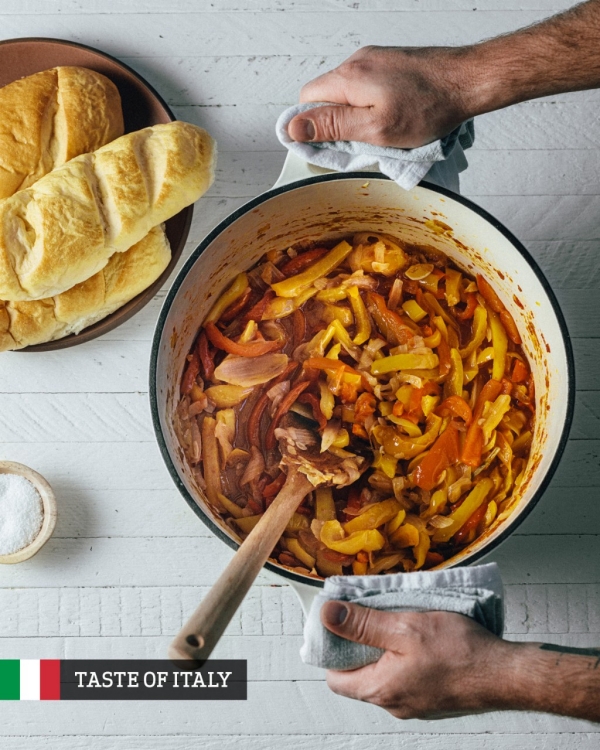 The only thing we like better than eating peperonata is saying peperonata — it rolls off the tongue like Figaro, Figaro, Figaro. And yet, for such a long and lilting name, the dish itself is a rather humble concoction of bell peppers, tomatoes, garlic, and onions. In fact, a test kitchen bystander said, "Is it just a bunch of sliced peppers?"
An hour later, she was singing a different tune. As the peppers and aromatics cooked down, they became silky-soft, and so rich and flavorful. Their savory-sweet steam wafted out of the test kitchen and brought our bystander back. This time, she had a fork. "It smells so good, it's like a warm hug," she said. "I just want to hang around while it cooks. How about if I taste a pepper or two, you know, just to make sure they're good?"
Trust us, they are very good — and once you have a jar, you'll want to put them on everything. They're terrific layered into a meatball sub or a roasted veggie sandwich. You can also spread them over homemade pizza. (Think salami, basil, and big islands of mozzarella). In fact, they're so fantastic with cheese, we sometimes put a bowl of them on a cheeseboard. They'd be just the thing on our Italian cheeseboard.
Servings: 1 quart
Ingredients
¾ cup extra-virgin olive oil, divided
6 medium cloves garlic, thinly sliced
2 medium yellow onions, sliced ¼-inch thick
6 large red, yellow, and orange bell peppers, sliced into ½-inch strips
1 cup puréed tomatoes (see note)
2 sprigs fresh basil
Kosher salt, to taste
1 Tbsp white wine vinegar or red wine vinegar
Special equipment: 1-quart canning jar with lid
Directions
In a large Dutch oven, heat a ½ cup of the olive oil over medium heat until shimmering. Add the garlic and cook, stirring, until it's just starting to turn golden, 3 to 4 minutes.

Stir in the onions, increase the heat to medium-high, and cook for 2 minutes.

Stir in the bell peppers and cook, stirring occasionally, until they're starting to soften, about 20 minutes.

Add the tomatoes and basil sprigs and stir to combine. Bring the mixture to a gentle simmer and cook, stirring occasionally, until the peppers are very soft, about 1 hour.

Discard the basil sprigs, stir in the remaining ¼ cup of olive oil, and season with salt.

Stir in the vinegar, taste, and adjust if necessary.

Serve warm, chilled, or at room temperature.

Peperonata will keep refrigerated in a sealed container for 5 days.
Recipe source: Serious Eats