Appetizer Recipes
Pepper Jack Stuffed Tater Tots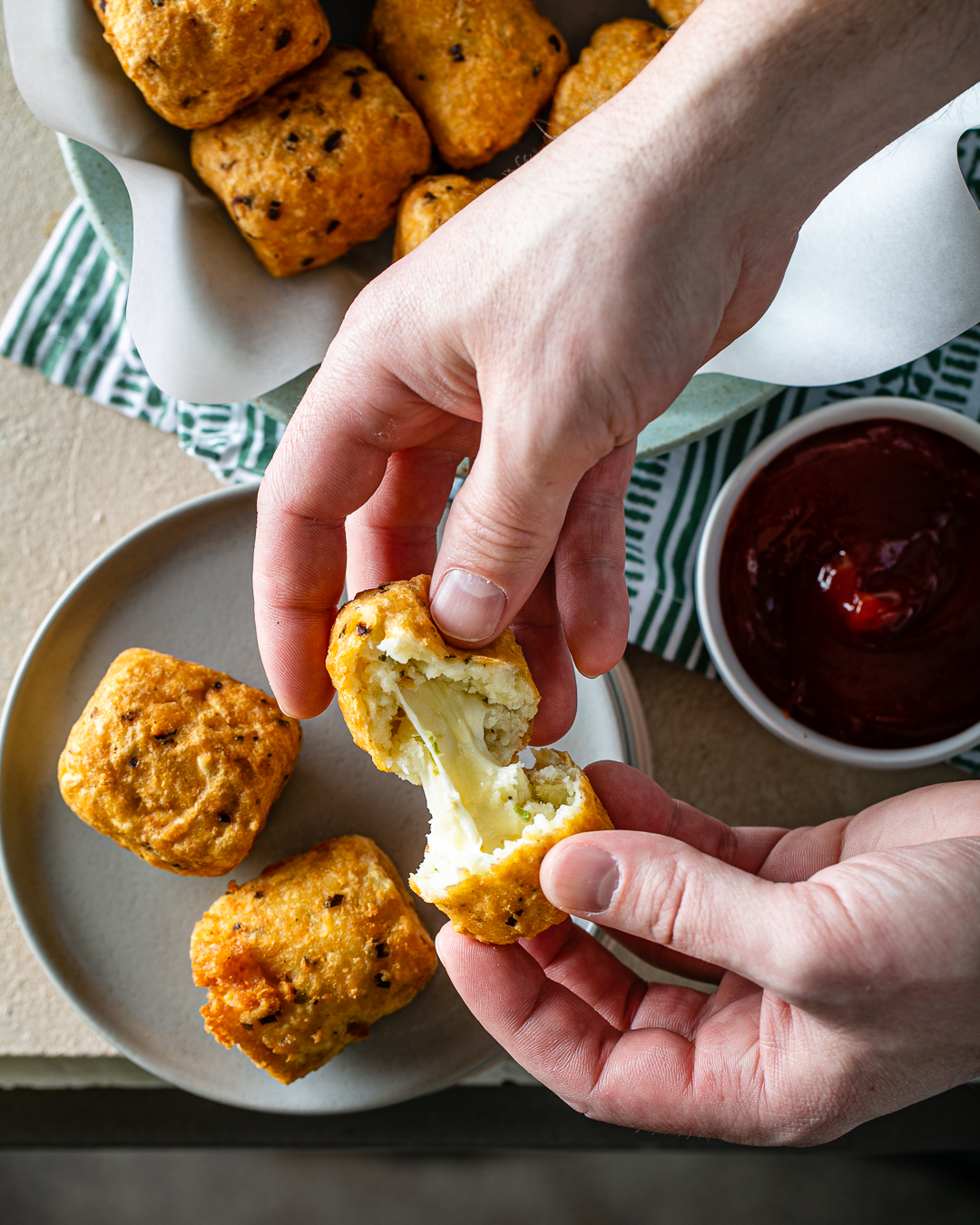 Of course we're happy to live in a world where there are cornichons, fun-size chocolate bars, and adorable teeny-tiny beef Wellingtons. But there are times when it's a good idea to take up a little space and live large, and that's where these gargantuan tots come in. Imagine a mad scientist and a snack-happy chef got together and figured out a way to make tater tots that were six times their normal size — and were stuffed with the meltiest, gooiest filling on earth.
First, no worries, you don't need to figure out a way to blow up tater tots. We've come up with a technique that's super quick and easy: we simply toss hash browns with eggs, flour, seeded jalapeño, and fresh chives, and then scoop it up, shape it like a big ol' tot, and put a cube of pepper Jack cheese inside. After a brief round of frying, these tots deliver the starchy crispness of perfectly fried tots with the creamy, dreamy smoothness of fried cheese curds — plus a hint of oniony kick.
Stuffed tater tots are game day magic, of course, but they'll bring joy to just about any snack time — after school, movie night, online gaming, you name it. Serve them with your favorite dipping sauces and drizzles.
Our tip: if you want to make things spicier, you can add more jalapeños — and even top the dish with some Sriracha or other hot sauce, too.
Yield: 16 gargantuan tots

Ingredients

30 oz hash browns, thawed if frozen
2 large Gelson's eggs
3 Tbsp all-purpose flour
1 jalapeño, seeded and minced
¼ cup chopped Gelson's organic fresh chives
1 tsp kosher salt
½ tsp freshly ground Gelson's black pepper
6 oz pepper Jack cheese, cut into ½" cubes
4 cups vegetable or canola oil

Directions

Place the hash browns, eggs, flour, jalapeños, chives, salt, and black pepper in a large bowl, and mix well with your hands.

Pack a 2-oz scoop tightly with the potato mixture, transfer the portion to your hand, and squeeze out any excess moisture. Put a thumbprint-size indentation into the center of the portion, place a cube of cheese inside, close the hole, and roll it into a barrel shape. Repeat this step until all of the potato mixture is used.

In a medium Dutch oven over high heat, heat the cooking oil to 350°. Working in batches and using a slotted spoon, gently place 6 tater tots in the oil, making sure not to splash any oil. Fry the tots for 5 to 7 minutes, or until they are golden brown and floating. Transfer the cooked tater tots to a paper towel-lined plate. Repeat this step until all of the tater tots have been fried.

Serve warm with ketchup or your favorite dipping sauce.
Calculate nutrition information for this recipe.