Recipes
Pesto Rice Bowl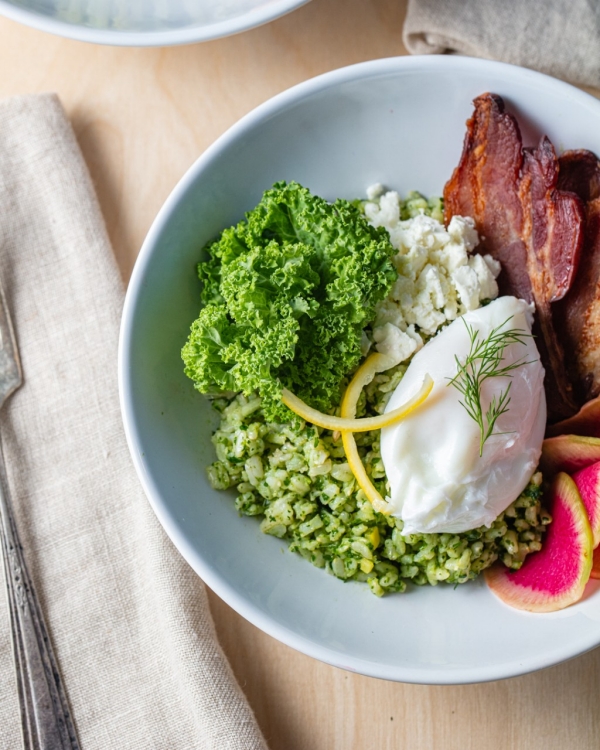 We could eat pesto rice all day, every day. Especially this one: it's made with nutrient-dense kale and spinach, and they give the pesto a rich, leafy-green flavor and a little more structure than you get from basil. We toss the pesto with brown rice, fresh dill, and some very silky, delightfully funky preserved lemon rinds. The result is a fantastic base for a bowl — chewy, intensely lemony, full of herbs, and so vibrant.
We piled on the complexity with our toppings: a rosette of crisp, mild radishes, a few slices of smoky bacon, crumbles of salty feta, fermented hot sauce, and last but not least, a poached egg. We love how the creamy egg yolk mixes with the tangy hot sauce as it breaks over the bowl — it's like a pleasantly kicky gravy. Overall, this bowl is an extremely satisfying jumble of fun textures and big flavors, and we'd happily eat it for breakfast, lunch, or dinner.
The great news, all you meal preppers out there, is that this recipe makes six servings. You absolutely could make it and pack it away for a week of splendid meals. Use our toppings as a starting point, and layer in your own faves for variety. With the bowl's lemony profile, we could see a fillet of salmon, a little pile of pickled onions, some fresh tomatoes and flake salt, or chunks of roasted honeynut squash. Avocado is a must, of course. (Is a grain bowl ever truly complete without it?)
Servings: 6
Ingredients
3 cups medium-grain brown rice
½ cup plus 2 tsp extra-virgin olive oil
1 cup lightly packed chopped kale leaves, stems removed
2 cups lightly packed chopped spinach leaves
3 Tbsp fresh lemon juice, divided
Kosher salt, to taste
2 Tbsp chopped Gelson's organic fresh dill, plus more for serving
1 preserved Meyer lemon, flesh removed, peel finely chopped
2 to 4 small watermelon radishes, thinly sliced
¼ cup fermented hot sauce
¾ cup crumbled sheep's milk feta
Gelson's smoked bacon, cooked, for serving
Freshly ground black pepper, to taste
Fresh kale leaves, preserved lemon slices, and dill sprigs, for garnish
Directions
Cook the rice according to the package directions, and allow it to cool completely.

While the rice is cooking, make the pesto: In a blender or food processor, combine ½ cup of the olive oil, kale, spinach, and 1 tablespoon of the lemon juice. Blend until smooth, stopping to scrape down the sides as needed. Season with salt and stir to combine.

In a large bowl, toss the rice with the dill, preserved lemon peel, 1 tablespoon of the lemon juice, and the pesto. Taste and season with salt if needed. Set aside.

In a small bowl, toss the radishes with the remaining 1 tablespoon of lemon juice, the remaining two teaspoons of olive oil, and a pinch of salt. Set aside to marinate for a few minutes, until the radishes are pliable and tender.

Meanwhile, poach the eggs. (Not sure how? Check out our tutorial.)

To serve, divide the cooked rice among six bowls. Spoon a line of hot sauce across the rice. Garnish with feta, bacon, and a rosette of radish slices on the other side. Set a poached egg in the middle of each bowl and season it with salt and black pepper. Garnish with kale, preserved lemon slices, and a tiny sprig or two of dill.
Recipe adapted from: "Sqirl" Cookbook