Recipes
Pickle Chips Recipe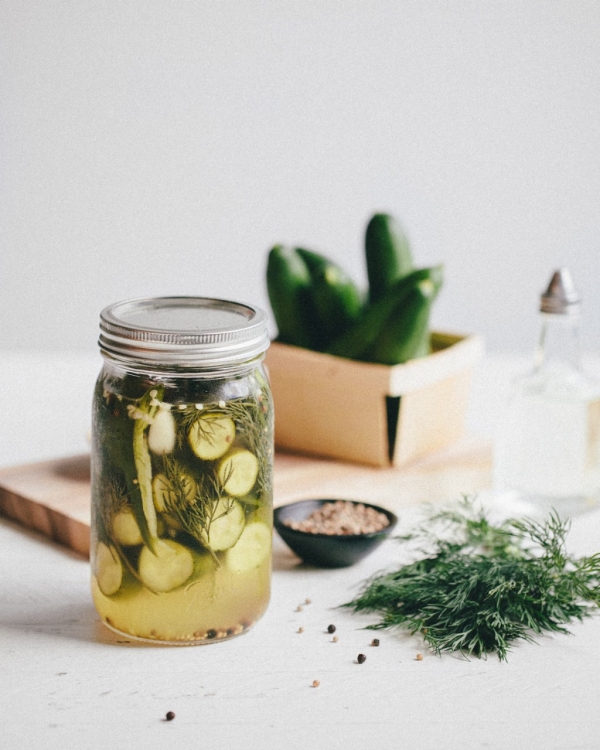 The beauty of these little chippies is that they pickle overnight, which means you get to eat them right away. We use Persian cucumbers because they have a nice thin skin, almost no seeds, and they're super tender and crisp. We brine them with apple cider vinegar, sugar, spices, garlic, a hot chile pepper, and loads of fresh dill. Because they're in the bath for such a short time, they taste extra fresh and not too briny — expect a light sweetness, a spicy kick, and a premium-quality crunch.
Pickle chips are game day magic. Put them in a little bowl next to the cheese and charcuterie. Layer them into your mini burgers, tuna melts, and pulled-pork sliders. Feeling brazen? Batter and fry the little chips. They'll be astonishing dipped in a garlicky sriracha mayo.
Our tip: We used a serrano pepper, but you can use red pepper, jalapeño, or habanero. More pepper seeds equals hotter pickle chips, so if you like 'em mild, go ahead and remove more seeds.
Yields: 1 quart of pickle chips
Ingredients You Will Need
1 cup apple cider vinegar
¼ cup sugar
⅛ tsp black peppercorns
¼ tsp coriander seeds
¼ tsp mustard seeds
¾ cup cold water
3 cups Persian cucumbers, sliced ½-inch thick
3 cloves garlic, peeled
1 serrano chile pepper, sliced thin, half of the seeds removed
⅓ cup dill fronds
Special equipment: 1-quart glass canning jar
Directions for How to Make Pickle Chips
In a small, non-reactive pot, combine the apple cider vinegar, sugar, peppercorns, coriander seeds, and mustard seeds, and bring the mixture to a simmer over medium-high heat, stirring occasionally, until the sugar has dissolved, about 3 minutes.

Remove the pot from the heat and stir in the cold water. Transfer the pot to the refrigerator to cool completely, about 30 minutes.

Add the sliced Persian cucumbers to the glass jar, and top them with the garlic cloves, chile pepper, and fresh dill.

Pour the pickling liquid over the cucumbers, making sure all of the veggies, spices, and herbs are submerged.

Cover tightly and refrigerate overnight to pickle.