Appetizer Recipes
How to Pickle Cherry Tomatoes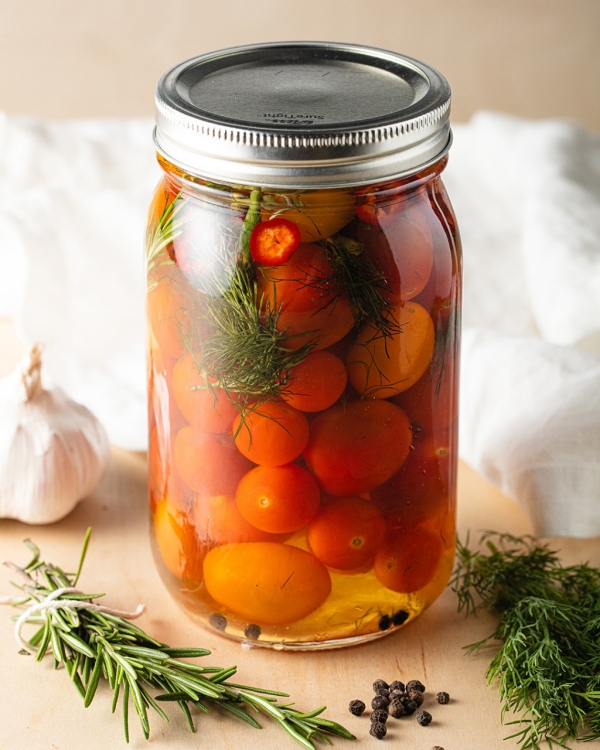 Just when you think you know everything about pickles, along comes the pickled tomato, a culinary revelation if ever there was one. One of the reasons it's surprising is that, unlike so many of the veggies we pickle, the tomato is soft — and that's a big part of its charm as a pickle. We love a pickled cherry tomato for the same reason we love any cherry tomato. The burst!
In a nod to the tomato's fruitiness, the brine has about twice as much sugar as our regular quick pickle recipe, as well as apple cider and white wine vinegar and a relatively small amount of salt. We stuff all kinds of aromatics in the jar too, including fresh herbs, a garlic clove, and slivers of jalapeño pepper for heat. The result is a well-rounded pickle: bite into it and you get a burst of dill, then sweet, juicy tomato, a hit of tangy-sweet brine, and finally, a long, mildly peppery finish.
Once you have a jar of pickled tomatoes, you'll want to use them everywhere. They're perfect as a stand-alone side with sausages or grilled fish, tucked in a burger or a grilled veggie sandwich, or scattered through a green salad. They also make an amazing cocktail garnish — plop them in a martini or Bloody Mary.
Yields: 1 quart of pickled tomatoes
Ingredients
For the pickling liquid:
¾ cup apple cider vinegar
¼ cup white wine vinegar
¾ cup water
¼ cup sugar
1 Tbsp salt
For the tomatoes:
1 lb cherry tomatoes, various colors and sizes, punctured 3 or 4 times with a toothpick
¼ oz fresh dill, roughly torn by hand
2 small sprigs rosemary
1 garlic clove
5 thin slices red jalapeño pepper
8 black peppercorns
Special equipment: 1 qt canning jar
Directions
To prepare the pickling liquid: In a small pot, combine the apple cider vinegar, white wine vinegar, water, sugar, and salt. Bring the mixture to a boil and whisk until the sugar and salt have dissolved.

Remove the liquid from the heat and let it cool for 30 minutes.

Meanwhile, in a 1-quart jar, combine the cherry tomatoes, dill, rosemary, garlic, red jalapeño, and peppercorns.

Once the pickling liquid has cooled, pour it into the jar and seal the jar tightly.

Let the pickled tomato mixture sit at room temperature for 2 hours, and then refrigerate it for up to 30 days.