Recipes
Pineapple Jalapeño Jam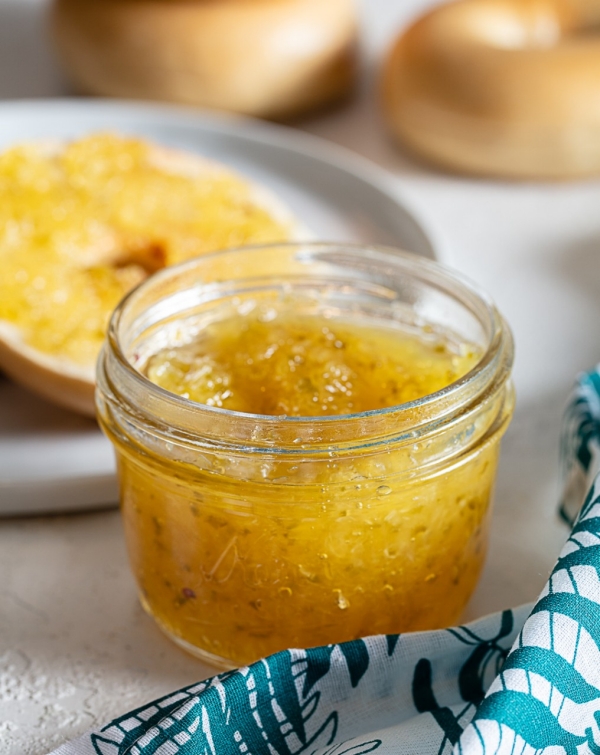 We always wish there was a second fridge in the kitchen just for condiments, especially during the pandemic. Cooking is still at an all-time high, our meals are a bit simpler than they might have been this time last year, and we find ourselves reaching for a little pot of something — mustard, hot sauce, chutney — to transform ho-hum leftovers into something thrilling.
We had all of that in mind when we made this tropical jam. Basically, you just mince up a little pineapple in the food processor and cook it down with sugar, lemon and lime juices, and a couple jalapeños. We seed the peppers, so they've got a little less bite. The result is a light jam with all the pineapple's sweet, fruity notes, some bright sunny citrus — and just a hint of the jalapeño's grassy green heat.
What can you do with it? Spread it on a sandwich with leftover chicken, cucumbers, and pickled onions. Dollop it on your grilled pork chop (so long, jiggly mint jelly). Set a bowl of it on your cheese and charcuterie board, or just as good, your Sunday brunch bagel board. On PB&J? Sure, it wouldn't be the first time spicy-sweet and peanutty got together.

Yield: 1 quart
Ingredients
1 pineapple, peeled, cored, and roughly chopped
1 cup water
2 cups granulated sugar
1 tsp lemon juice
1 tsp lime juice
2 large jalapeños, seeded and minced
Special equipment: sterilized, heatproof 1-quart jar
Directions
In the bowl of a food processor, pulse the pineapple until it is chunky and watery, but not puréed.

In a medium saucepan, combine the minced pineapple and water and bring to a boil over medium heat.

Reduce the heat to low and simmer for 1 hour.

Add the sugar, lemon juice, lime juice, and jalapeños, and simmer for 30 minutes.

Transfer the mixture to the jar and cool.

The jam can be stored in the refrigerator for up to 2 months.