Dinner Recipes
Plant-Based Chopped Salad
Chopped salads are all about texture — this one is no exception. It's got a bit of everything: crisp romaine and red onion, crunchy radicchio and pepperoncini, juicy cherry tomatoes, starchy chickpeas, and creamy provolone. But not just any provolone! A plant-based, smoked provolone from Violife that adds depth to all of the fresh veggies — and makes this salad perfect for vegans, the dairy-averse, and those of us who are trying to eat a little more sustainably.
The vinaigrette is a Mediterranean classic: lemon juice, red wine vinegar, shallot, garlic, and fresh oregano — so simple. It lightly coats everything and adds even more brightness and verve to the salad. We especially love how it contrasts with the bitterness of the radicchio, the smoke of the faux cheese, and the subtle heat of the pepperoncini.
This plant-based salad is super easy to throw together, however, there is quite a bit of chopping (it's in the name, after all). Just get out a giant cutting board so you have plenty of space and set the salad bowl nearby for smooth transferring — and then put on an episode of your favorite podcast and get into your happy chopping place!

Servings: 4 to 6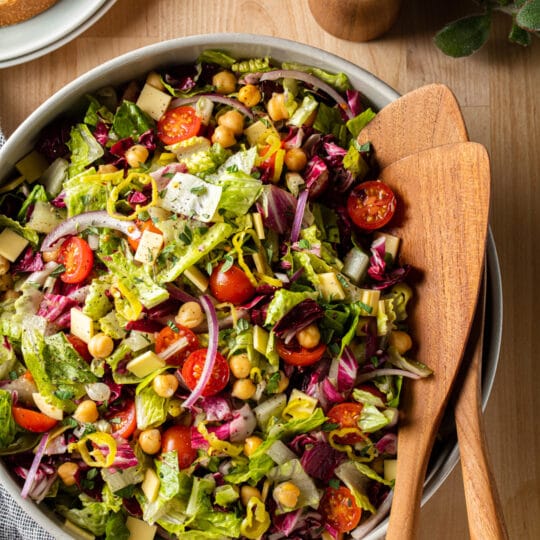 Dinner
Plant-Based Chopped Salad
Ingredients
1 ½ Tbsp freshly squeezed lemon juice
½ Gelson's peeled shallot, minced
1 Tbsp chopped Gelson's organic fresh oregano, plus more for garnish
½ tsp kosher salt, plus more to taste
Freshly ground Gelson's black pepper, to taste
¼ cup extra virgin olive oil
3 Gelson's organic fresh romaine hearts, trimmed and chopped bite-size
1 head radicchio, quartered, cored, and chopped bite-size
1 small red onion, thinly sliced
1 pt cherry tomatoes, halved
2 cans chickpeas, rinsed and drained
8 oz Violife smoked provolone, diced
8 pepperoncini, stemmed and sliced
Directions
To make the vinaigrette, in a small bowl, whisk together the lemon juice, vinegar, shallot, garlic, oregano, salt, and black pepper. Slowly pour in the olive oil, while whisking, to emulsify. Set aside.

In a large bowl, combine the romaine hearts, radicchio, red onion, tomatoes, chickpeas, provolone, and pepperoncini. Drizzle the dressing over the salad and toss gently to coat. Season with salt and pepper and toss again.

Garnish with chopped oregano and serve.
Recipe adapted from: Love and Lemons