Dinner Recipes
Pollo Guisado
One of our goals for Sunday supper is to fill the house with wonderful smells — the kind of comforting aromas that take the sting out of a school night. This Dominican-style stew delivers all that, plus a scrumptious dinner. Essentially, it's a braise: We marinate chicken and peppers in a veritable cupboard of aromatics, then set them to simmer on the back of the stove. In the final fifteen, we stir in tomato paste, chicken bouillon, more peppers, and pimiento-stuffed olives. The final result is a richly layered, hearty stew that can be served over rice and avocados. Trust us: everyone will go to bed feeling very loved, very content, and ready for the week ahead.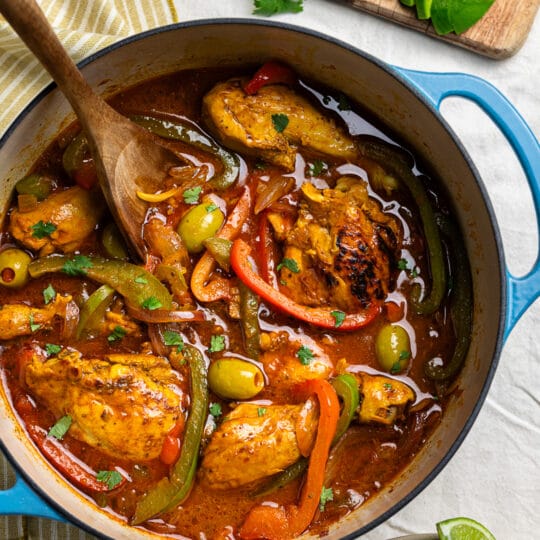 Dinner
Pollo Guisado
Serves: 4
Ingredients
4 bone-in chicken thighs, skin removed
4 bone-in chicken legs, skin removed
1 red bell pepper, half small diced, half thinly sliced, divided
1 green bell pepper, half small diced, half thinly sliced, divided
1 medium red onion, half small diced, half thinly sliced, divided
½ tsp freshly ground black pepper
1 tsp concentrated chicken bouillon
½ cup pimiento-stuffed olives
Rough chopped cilantro, for garnish
Sliced avocado, for serving
Directions
In a large bowl, combine the chicken thighs, chicken legs, diced red bell pepper, diced green bell pepper, diced red onion, lime juice, garlic, turmeric, coriander, cumin, oregano, garlic powder, smoked paprika, salt, and black pepper. Use a rubber spatula to toss until the chicken is fully coated.

Cover the bowl tightly with plastic wrap and marinate the chicken in the refrigerator for at least 1 hour or up to overnight.

In a large heavy bottomed pot or Dutch oven with a lid, combine the vegetable oil and sugar and heat over medium high heat. Once the sugar begins to brown and caramelize, about 3 minutes, remove the chicken from the marinade, brushing off any excess, and carefully add it to the pot.

Cook for about 3 to 4 minutes on each side, or until the chicken is deeply browned. Add the marinade from the bowl and ¼ cup of the water. Stir with a wooden spoon to combine and reduce the heat to medium-low. Simmer for 20 minutes until the vegetables are softened.

In a small bowl, whisk together the remaining ¼ cup of water, tomato paste, and chicken bouillon until fully combined.

Add the sliced red bell pepper, sliced green bell pepper, sliced red onions, tomato paste mixture, and the tomato sauce to the pot. Stir well to fully combine and let simmer for another 15 minutes until the chicken registers at 165º on an instant-read thermometer.

Add the pimiento-stuffed olives and stir to combine.

Garnish with rough chopped cilantro and serve over white rice with sliced avocado. Leftovers can be stored in an airtight container in the refrigerator for up to 3 days.
Recipe source: Sandra Valvassori