Dinner Recipes
Pork Chops With Tomato & Anchovy
Typically, braising meat is wonderfully long-winded: it's an excuse to nap, to read, and to binge-watch old HBO comedy specials while the meat takes its sweet, sweet time in the oven. As such, we usually reserve braised meat dishes for the weekend. Braised pork chops, on the other hand? Totally weeknight-friendly. They only take about 10 minutes to cook to tender, juicy perfection.
Here, True Story® heritage pork chops braise in an umami-rich tomato and anchovy sauce seasoned with red onion, garlic, and fresh rosemary. The tomatoes break down so they're soft, subtly sweet, and juicy, and the rosemary's ubiquitous earthy-floral flavor suffuses through them. But we especially love how the anchovy's intensely savory flavor practically melts into the sauce — and how its irresistible aroma has the power of luring people into the kitchen to ask what's cooking.
Pork chops with anchovy-laced tomatoes feels very rustic: it's simple and comforting yet deeply aromatic. We like to serve it with rice; all the little grains do a bang-up job of soaking up the excess juices of the pork and sauce. It's also wonderful with spaghetti or another long pasta if you want something the sauce can cling to — or creamy, cheesy polenta if you want to feel like you're dining in a countryside Italian kitchen … in which case you'll absolutely need a glass of red wine, too.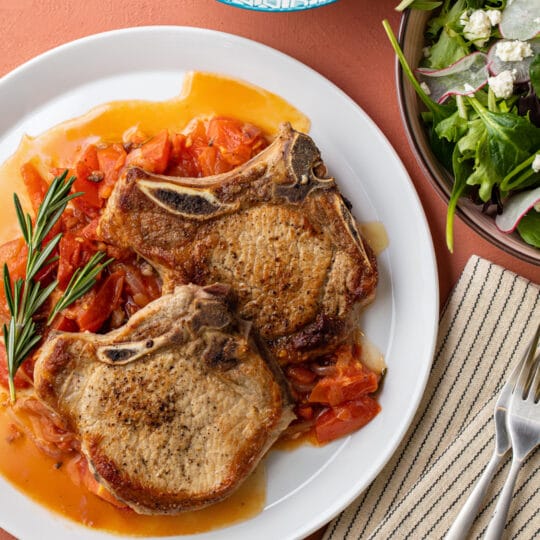 Dinner
Pork Chops With Tomato & Anchovy
Serves: 4
Ingredients
4 1"-thick True Story® bone-in heritage pork chops
Freshly ground Gelson's black pepper, to taste
2 Tbsp extra virgin olive oil, divided
3 large Gelson's organic fresh rosemary sprigs
3 anchovy fillets, minced
2 lbs fresh plum tomatoes, roughly chopped
Cooked rice, polenta, or pasta, for serving
Directions
Preheat the oven to 350°. Rinse the pork chops and pat them dry with a paper towel.

Generously season the pork chops with salt and black pepper.

In a large, oven-safe nonstick skillet, heat 1 tablespoon of olive oil over medium-high heat. Add the pork chops and sear until golden brown, 3 to 4 minutes per side. Transfer them to a plate.

Reduce the heat to medium and add the remaining 1 tablespoon of olive oil to the skillet. Add the red onion and rosemary and sauté until golden brown, 3 to 4 minutes.

Add the garlic and anchovies and sauté until very fragrant, about 1 minute.

Add the tomatoes and water and stir occasionally until the tomatoes begin to break down, 5 to 6 minutes. Season with salt and black pepper.

Return the pork chops to the skillet, cover, and bake in the oven for 7 to 10 minutes, until the internal temperature reaches 145° on an instant-read thermometer.

Remove the pan from the oven and allow the pork chops to rest in the pan for 5 minutes.

Serve the pork chops and tomatoes immediately over rice, polenta, or pasta.
Recipe adapted from: New York Times