Dinner Recipes
Pumpkin & Lentil Soup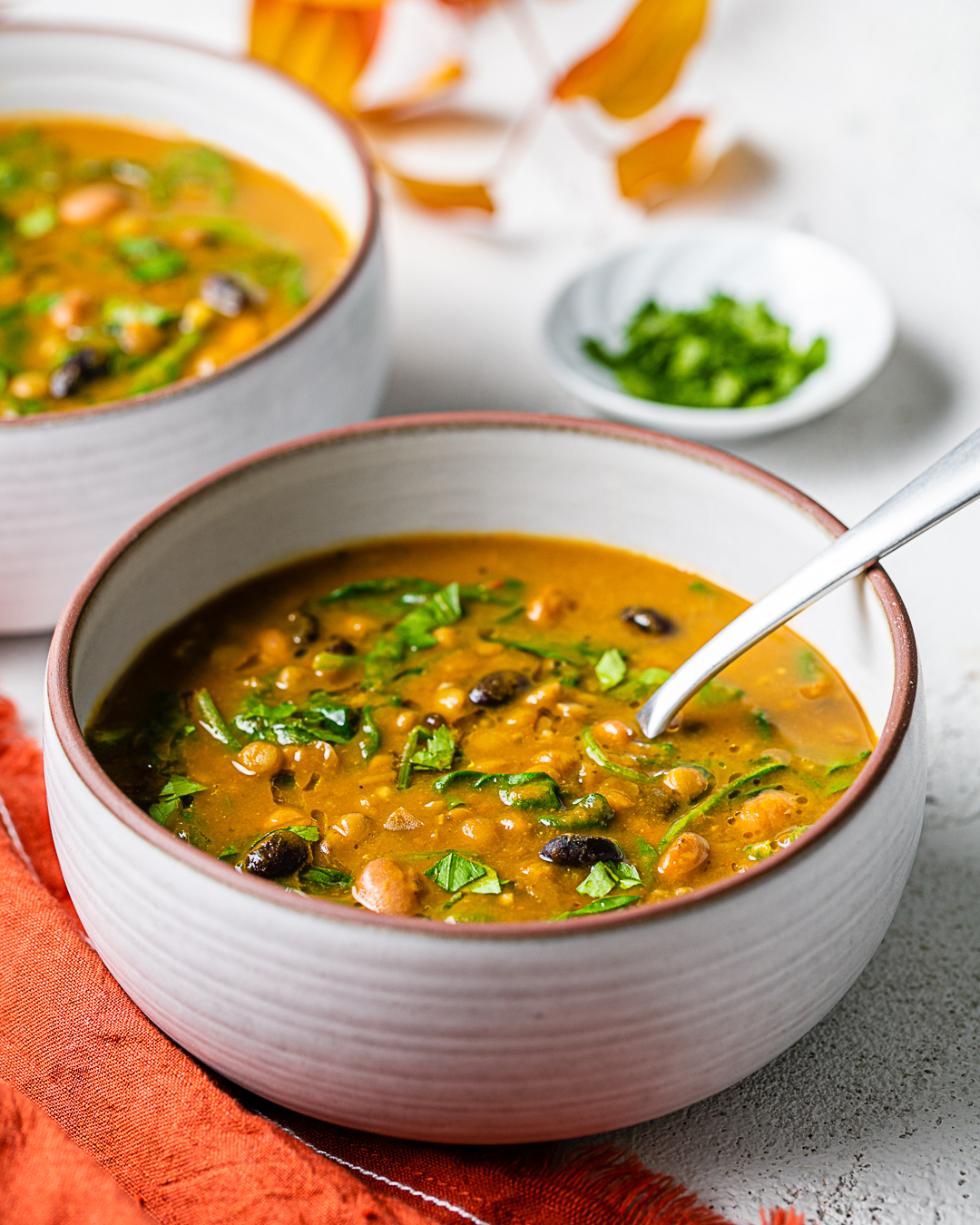 Good surprises are always day-makers: finding a $5 bill in your jacket, having the car in front of you pay for your drive-thru latte, or getting a handwritten letter from a friend you haven't seen in a while.
This colorful and comforting soup is full of good surprises. The first surprise is how easy it is to make using mostly dry and canned ingredients that are probably already on your pantry shelf. The second surprise is a little seasonal pumpkin that gives the broth a nice creaminess and a light, squashy sweetness. And the final surprise is the secret ingredient that adds significant zest to the proceedings: just half a cup of Gelson's fresh salsa is all it takes to give this meal-in-a-bowl a bright, memorable kick — one of the nicest surprises you'll have all day.
Our tip: Having soup in the freezer is like having money in the bank. Scoop any leftovers into freezer-safe containers. Then, on the next rainy Saturday afternoon or stressed-to-the-max weeknight, you'll be thanking your past self for taking care of today's self in such a lovely and nourishing way.
Servings: 6
Ingredients
3 cups water
3 cups reduced-sodium chicken broth
⅔ cup dried lentils, rinsed and drained
2 garlic cloves
1 Tbsp ground cumin
2 tsp dried oregano
1 15-oz can pinto beans, rinsed and drained
1 15-oz can black beans, rinsed and drained
1 15-oz can pumpkin purée
½ cup Gelson's fresh mild salsa
½ tsp salt
5 cups fresh spinach, lightly packed
2 Tbsp chopped fresh parsley
Directions
In a 6-quart stockpot, bring the water, broth, lentils, garlic, cumin, and oregano to a boil. Cook, covered, over medium heat until the lentils are tender, 20 to 25 minutes.

Stir in the pinto beans, black beans, pumpkin, salsa, and salt until incorporated. Return to a boil.

Reduce the heat and simmer, uncovered, for 20 minutes more, stirring occasionally.

Stir in the spinach and cook until wilted, about 3 minutes.

Garnish with chopped parsley and serve hot.
Recipe source: Taste of Home