Dessert Recipes
Pumpkin Pecan Squares
November 7, 2018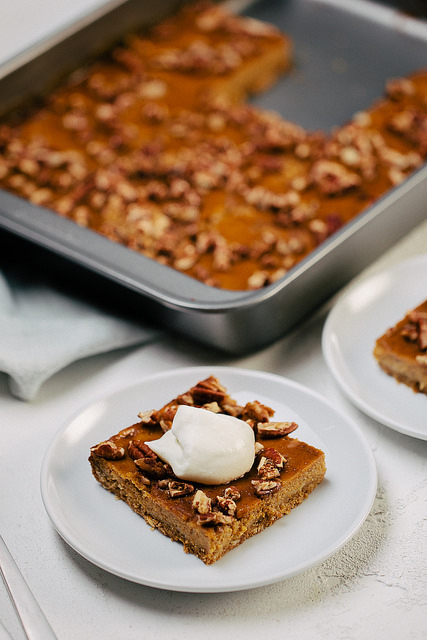 When we tested these squares, our chefs and our tasters went nuts! The crust is full of oats and butter and has the texture of a tender shortbread. The pumpkin topping is light as air and redolent with pie spice, a marvelous contrast with the crunchy candied pecans sprinkled over it. All in all, a perfect bite!

But here's the magical part: While these little squares pack in all the fall flavor of a pumpkin pie (and then some!), they prep in 10 minutes and they're out of the oven in 60.
Servings: 12
Ingredients
1 cup all-purpose flour
½ cup old-fashioned oats
½ cup packed brown sugar
½ cup butter, softened
¾ cup granulated sugar
1 15-oz can Libby's 100% Pure Pumpkin
1 12-oz can Nestlé Carnation Evaporated Milk
2 large eggs
2 ¼ tsp pumpkin pie spice
½ cup pecans, chopped
¼ cup packed brown sugar
Whipped Cream
Directions
Preheat the oven to 350°.
Combine the flour, oats, brown sugar, and butter in small mixer bowl. Beat on low for 1 to 2 minutes or until crumbly.
Press the mixture into the bottom of an ungreased baking pan measuring 9 by 13 inches, and bake it for 15 minutes.
Combine the granulated sugar, pumpkin, evaporated milk, eggs, and pumpkin pie spice in a large mixer bowl, beat them on medium for 1 to 2 minutes, and then pour the mixture over crust.
Bake the bars for 20 minutes.
In the meantime, combine the pecans and brown sugar in small bowl. Sprinkle the pecan topping over filling. Continue baking the bars for 15 to 25 minutes, or until a knife inserted in center comes out clean.
Cool completely in pan on wire rack. Cut into bars. Top with whipped cream.
Recipe source: Very Best Baking by Nestle.