Recipes
Pumpkin Quick Bread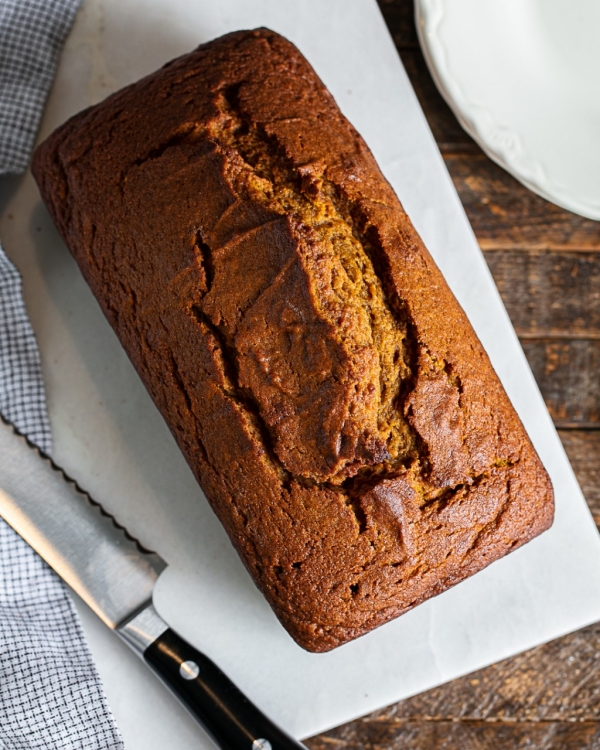 Pumpkin lovers are enjoying their favorite season right now, living in a world where they can indulge in their favorite flavor from their first warm beverage in the morning to their last spoonful of pumpkin spice ice cream at night. But when it comes to baking your own blue-ribbon entry for this seasonal Pumpkin Mania, it can be difficult to decide on just the right recipe. With everything coming up pumpkin, you're looking for just the right blend of sweetness, spice and — above all — lots and lots of pumpkin flavor.
Never fear, pumpkin lovers. We've got you covered with this quick bread recipe that delivers deep pumpkin flavor, some whole grain goodness, and even a little kick from a splash of bourbon, should you choose to make an "adults only" version (and yes, it's okay to do a little sipping while the loaves are baking). If you're thinking that two loaves might be too many, our test kitchen chefs offer this observation: "The first loaf will be gone before you know it." And if there's a fellow pumpkin lover out there who could use a sweet treat, today might be the day to make a gift of loaf No. 2 (and get started on a new batch right away).
Yield: 2 8 ½" loaves
Ingredients
1 stick unsalted butter, plus more for greasing pans
¼ cup bourbon, apple cider, or water
1 Tbsp vanilla extract
1 15-oz can pumpkin purée
4 large Gelson's eggs, room temperature
½ cup vegetable oil
2 cups all-purpose flour
1 cup whole wheat flour
1 ¾ cups packed light brown sugar
1 ½ tsp baking soda
1 tsp kosher salt
1 tsp ground cinnamon
½ tsp ground ginger
½ tsp ground cardamom
Directions
Preheat the oven to 350° and arrange a rack in the center. Grease the insides of 2 5x8 ½" loaf pans with butter.

In a large skillet, melt the stick of butter over medium-high heat. Reduce the heat to medium and cook until fragrant and golden brown, 5 to 7 minutes, and then remove from the heat. Brown butter can burn quickly, so watch it carefully.

In a 1-cup liquid measuring cup, combine the bourbon and vanilla. Add water until you reach the ⅔-cup mark.

In a large bowl, whisk together the bourbon mixture, pumpkin purée, eggs, and oil. With a spatula, scrape the brown butter from the skillet into the pumpkin mixture and stir to combine.

In another large bowl, whisk together the flours, brown sugar, baking soda, salt, cinnamon, ginger, and cardamom. Pour the liquid ingredients into the dry ingredients and stir to combine.

Divide the batter between the 2 greased loaf pans. Place them on a rimmed baking sheet and transfer to the oven. Bake for 50 to 60 minutes, or until a tester or toothpick inserted into the center of the loaf comes out clean. Allow the bread to cool completely before removing from the pans.
Recipe adapted from: New York Times