Dessert Recipes
Raspberry Chocolate Cake
This test kitchen … is full … of rebels — the kind who love musicals and chocolate cake! Yes, like you, we have watched the preview for Matilda a few hundred times, and we might be more excited for that pack of revolting children to drop on December 25th than we are for Santa Claus.
We plan to greet them with this super tall chocolate cake. It's a wonderfully dense, dark-chocolate devil's food cake (how appropriate!) layered with fluffy chocolate Swiss meringue buttercream frosting. Sound decadent? And how! It's made with three kinds of chocolate and two pounds of butter — and a couple pints of bright, sweet tart raspberries to keep things lively.
Raspberry Chocolate Cake is the sort of dessert that will make everyone at Christmas dinner (read: watch party) ooh and ahh and mmm with delight. There's nothing like the thrill of a triple-layer cake, and this one is so rich, so smooth and cocoa-rific. It's a real chocolate lover's dream.
And if our revolting children dig into it with their fingers, we're not going to get all Trunchbull about it — in fact, we might join them. What are forks to criminals like us?

Serves: 10 to 12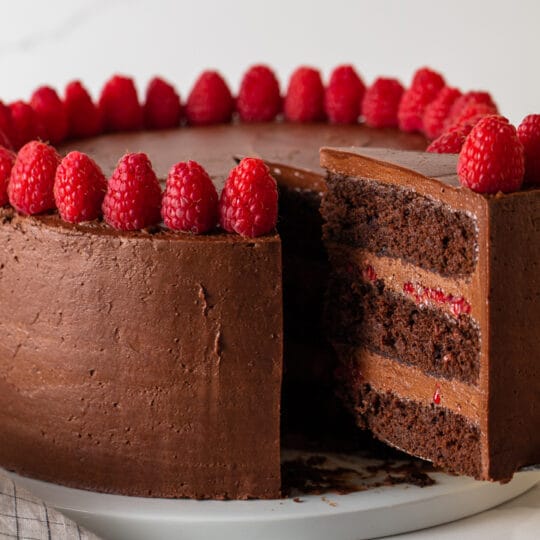 Dessert
Raspberry Chocolate Cake