Dessert Recipes
Raspberry-Chocolate Pots de Creme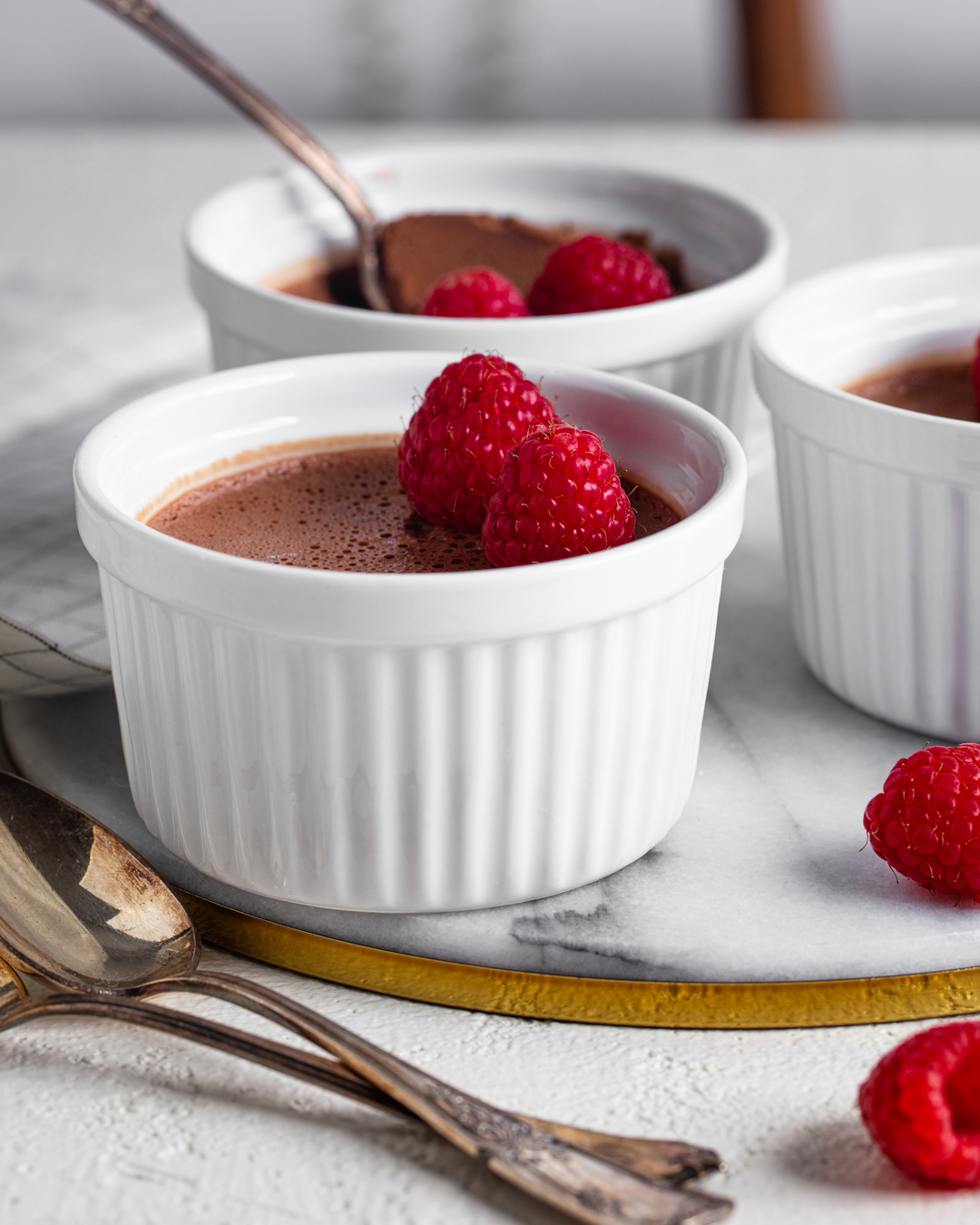 Deep, dark, chocolate infused with raspberry liqueur and whipped into a mousse that is at once lush and decadent and unbelievably light. Pot de crème is one of life's sublime delights and — though you may choose not to share it — the perfect dessert for celebrating the people you love because it looks just as fancy and splendid as it tastes, but it's remarkably easy to make. (Almost too easy!)
We serve ours with a little pile of ruby red raspberries. They provide a fresh sweet-tart note to complement all that dreamy creaminess, and they look so pretty on top of the chocolate.
Servings: 4
Ingredients
6 oz Scharffen Berger semisweet chocolate, chopped
1 Eggland's Best egg
2 Tbsp sugar
2 tsp Chambord Black Raspberry Liqueur
¾ cup nonfat milk
1 pt fresh raspberries

Directions
In the work bowl of a food processor combine the chocolate, egg, sugar, and Chambord. Pulse a few times to mix.
Heat the milk in a heavy saucepan over medium-high heat. When little bubbles form around the edge of the pot, remove from heat.
While the food processor is running, pour the hot milk over the other ingredients and blend for 1 minute, until chocolate is melted and little bubbles are present near the surface.
Divide mixture among four ½-cup ramekins. Refrigerate at least 2 hours, until set.
Garnish with fresh raspberries and serve.
Each ramekin contains:
Calories 305
Fat 16 g
Saturated Fat 10 g
Cholesterol 45 mg
Sodium 40 mg
Total Carbohydrate 34 g
Dietary Fiber 2 g
Sugars 26 g
Protein 8 g
Vitamin A 4% DV
Vitamin C 12% DV
Calcium 9% DV
Iron 9% DV