Beverage Recipes
Raspberry-Ginger Hard Seltzer
Raspberry-Ginger Hard Seltzer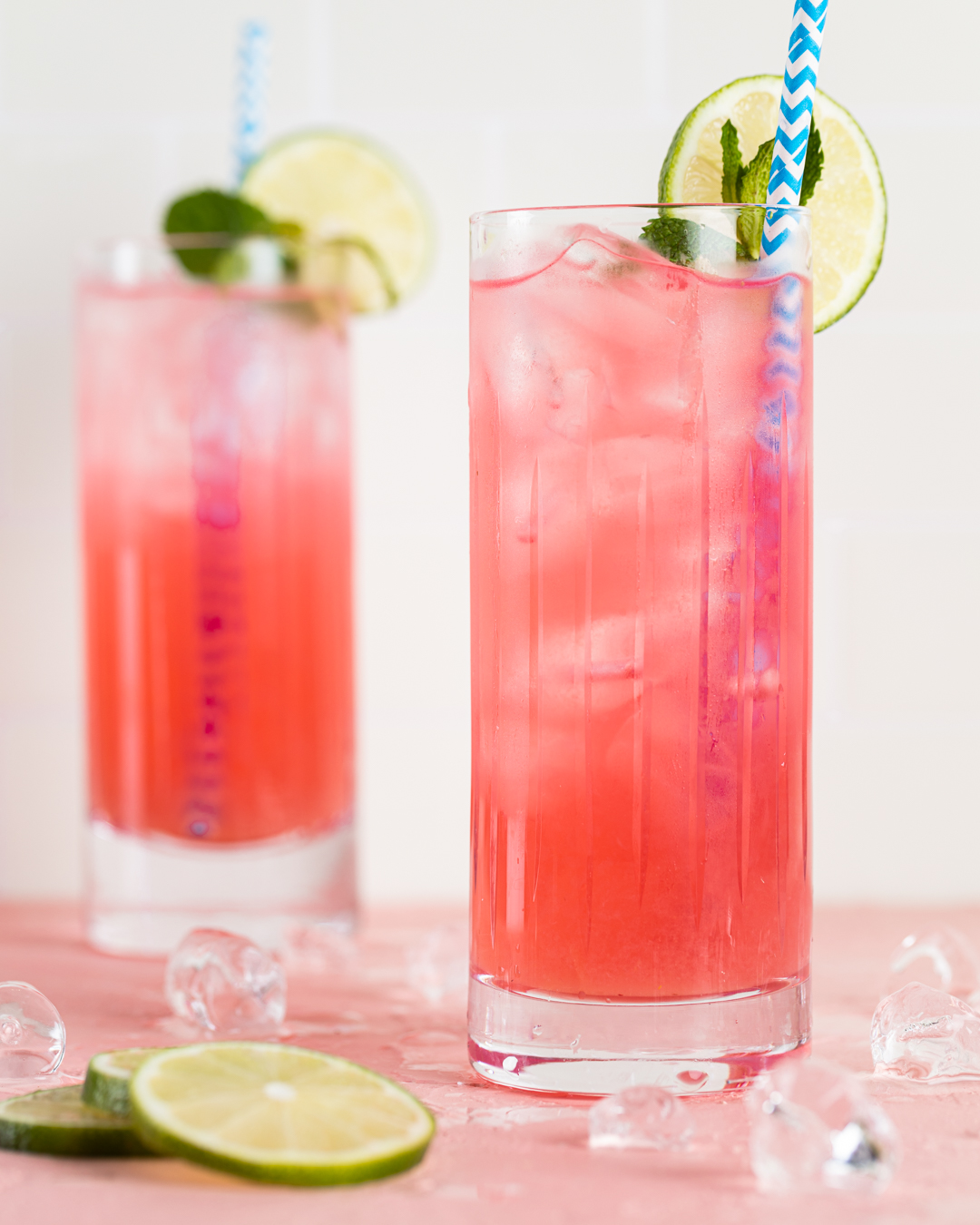 We're big fans of straight up cocktails — the complex layers, the fancy glasses, the sophistication, we love it all. But the dog days of summer call for something a little more cheerful and thirst quenching. And ice, lots and lots of ice. Enter: the raspberry-ginger hard seltzer! It's very juicy, lightly boozy, and an absolute A+ in long, tall, and reviving.
The pretty-in-pink heart of this drink is a make-ahead raspberry-ginger juice. We muddle up raspberries, ginger, and mint leaves with water, and then leave the concoction in the fridge overnight, so the aromatics have time to work their magic. (Be sure to strain the juice in the morning; otherwise, that ginger will take over!)
When the cocktail hour strikes, we shake up the raspberry-ginger juice with some lime juice, simple syrup, and vodka. Pour it over ice, top it off with seltzer water, and voila — nothing could be easier or more refreshing. The flavor matches the color: it's super fruity and raspberry forward with just a hint of ginger spice and a fresh, minty finish. That little shot of lime keeps it from being too sweet, and the vodka adds a subtle booziness you might miss if you weren't the bartender.
In short, this cocktail is just as easy to drink as a hard seltzer should be — and the perfect end to a hot day. (If said day ends at 2 p.m. with a festively late lunch, even better.)
Servings: 4
Ingredients
6 oz raspberries
1 ½" piece ginger, peeled and thinly sliced
¼ cup loosely packed Gelson's organic mint leaves
1 cup water
1 oz freshly squeezed lime juice
1 oz simple syrup
3 oz vodka
Ice
8 oz seltzer water, divided
Lime wheels, for garnish
Gelson's organic mint sprigs, for garnish
Directions
Combine the raspberries, ginger, mint leaves, and water in a jar, and muddle the fruit and aromatics to release their juices. Cover and store in the refrigerator overnight to allow the flavors to infuse.

In the morning, strain the raspberry-ginger juice through a sieve and discard the pulp.

In a pint-size jar, combine the raspberry-ginger juice, lime juice, simple syrup, and vodka. Seal the jar and shake to combine. The raspberry-ginger concentrate can be stored in the refrigerator for up to 1 week.

To make 1 cocktail, pour 2 ½ oz of the raspberry-ginger concentrate into a Collins glass filled with ice. Top with 2 oz seltzer water and stir to combine.

Garnish with a lime wheel and a mint sprig. Enjoy!
Calculate nutrition information for this recipe.