Dessert Recipes
Raw Carrot Cake Bars (Vegan)
In the test kitchen, our crew of taste testers approached this cake with boisterous trepidation. After all, they pooh-poohed, "raw cake" is kind of an oxymoron. But we chefs had great expectations, mainly because of all the fantastic ingredients that go into this cake. Yes, cake — we're owning it. Spoiler: we were right.
The cake is a coarse blend of carrots, walnuts, raisins, and coconut flakes whirled up with orange juice, honey, and cinnamon. You'd expect it to be crunchy and sweet, and it is, but it sets up more like a soft, nutty quick bread than a granola. The frosting is a very smooth and creamy spread of cashews, coconut oil, vanilla, orange zest, and cinnamon — it looks just like frosting, and it's very pretty on the orange cake.
The first forkfuls were, to quote our tasters, shockingly good. "The flavor is lovely and not too sweet," one said. "And the frosting makes it the perfect chewy, crunchy, soft bite — it tastes just like a carrot cake should taste."
Make this cake with your kids. It feels like a bit of a science project, since it's raw, and there's a lot of dumping involved. After that, the blender really does all the work — except making it pretty, and that's all you and the kiddos. We like this cake in the late afternoon when our energy is starting to wane. It satisfies the sweet craving, it tastes wonderful with a cup of black tea, and it's not the least bit carb-crashy.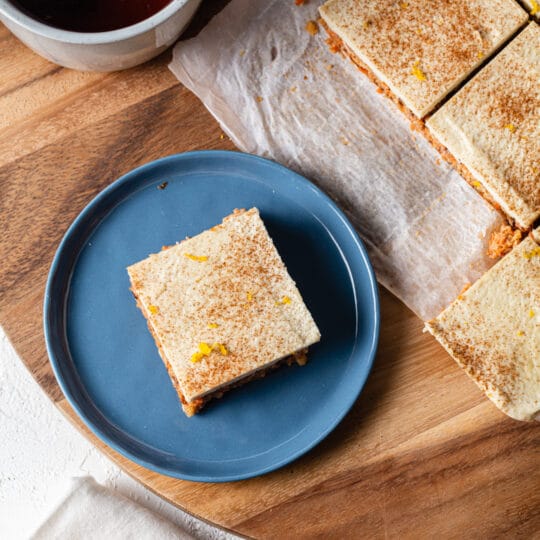 Dessert
Raw Carrot Cake Bars (Vegan)