Recipes
Red Pepper Pesto & Penne Recipe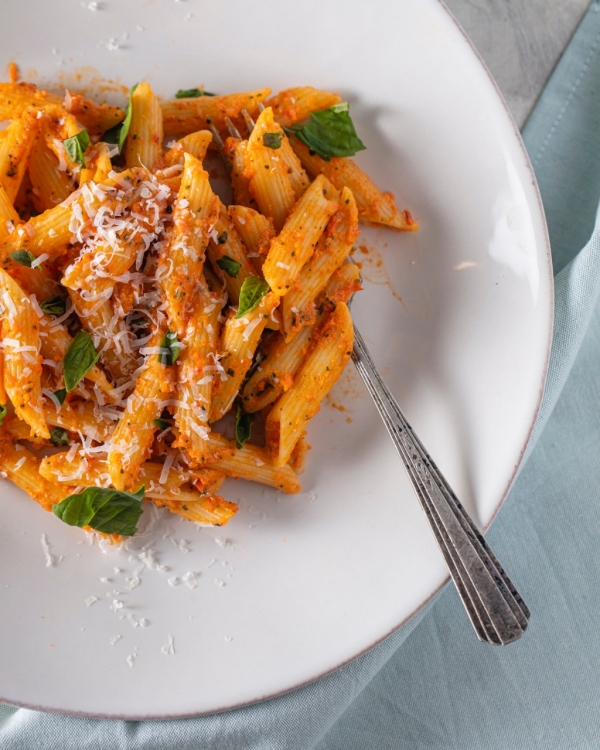 If roasted red peppers had a fan club, we'd definitely be on the development committee — development of new recipes, that is. We're always looking for fun things to do with them, and this pine nut-free pesto is especially appealing to those of us able to taste the tinny side of the little seeds.

The bell peppers are lightly pan roasted, and then sautéed with fresh tomato, peppery basil, red pepper flakes, and aromatic garlic. (Oh my, the warm, comforting smells!) We whirl up that mixture with ricotta, Parm, and a wee bit of white wine vinegar. The result is a rich, creamy sauce that has all of the red pepper's deep smoky sweetness — plus a vibrant, garlicky kick. Who misses the pine nuts? Not us.

It's a lovely departure from the pestos and primaveras of summer, and it comes together in minutes. Make a double batch on Monday, and take the leftovers to work with you. It's even more delicious the second day.

Our tip: The red pepper pesto is terrific layered on a veggie sandwich, drizzled over fish, or added to a cheese and charcuterie board. We also love it as the base layer on a simple pizza. (Think mozzarella, red onions, arugula, and slivers of spicy andouille sausage.)
Servings: 2
Ingredients for the Red Pepper Pesto & Past

1 ½ red bell peppers, stemmed, seeded, and cut into ¼-inch strips, divided
1 ½ Tbsp extra-virgin olive oil, divided
1 ¾ tsp kosher salt, plus more to taste
½ small onion, chopped
1 plum tomato, seeded and chopped
¼ cup basil, chopped
¼ to ½ tsp red pepper flakes
½ tsp garlic, minced to paste, divided
¼ cup ricotta cheese
2 Tbsp Parmesan cheese, grated, plus more for serving
⅛ tsp black pepper, plus more to taste
½ tsp white wine vinegar
8 oz penne
How to Make the Red Pepper Pesto & Penne Pasta
In a 10-inch nonstick skillet, toss together ⅔ of the red bell peppers, 1 ½ teaspoons olive oil, and a pinch of salt. Cover and place over medium-low heat. Cook, stirring occasionally, until the bell peppers are softened and just starting to brown, about 15 minutes.

Add the onion, tomato, basil, red pepper flakes, and ¼ teaspoon garlic and continue to cook, uncovered, stirring occasionally, until the onion is softened and the bell peppers are browned in spots, 6 to 7 minutes longer. Remove the skillet from the heat and let the mixture cool for 5 minutes.

In the bowl of a food processor, combine the ricotta, Parmesan, remaining bell peppers, remaining ¼ teaspoon garlic, ¼ teaspoon salt, and black pepper.

Add the cooked bell pepper mixture and process for 20 seconds. Scrape down the sides of the bowl.

With the food processor running, add the white wine vinegar and remaining 1 tablespoon olive oil. Process for about 20 seconds, scrape down the sides of the bowl, and then continue to process until smooth, about 20 seconds.

Meanwhile, bring 2 quarts of water to a boil in a large pot. Add the pasta and 1½ teaspoons salt and cook, stirring often, until the pasta is al dente.

Reserve ¼ cup of the cooking water, then drain the pasta and return it to the pot. Add the pesto and toss to combine, adjusting consistency with reserved cooking water as needed.

Season with salt and pepper to taste. Serve, passing extra Parmesan separately.
Recipe source: Cook's Illustrated