Recipes
Refried Beans Recipe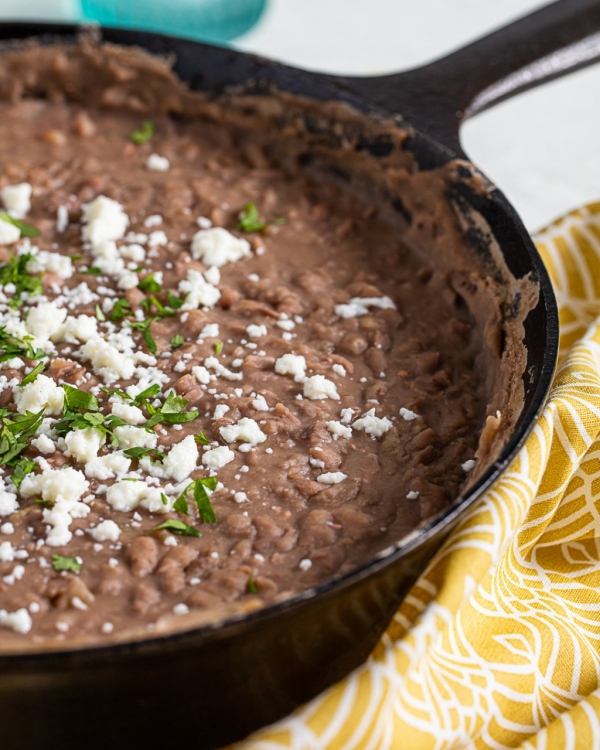 Contrary to what their name suggests, refried beans are not fried twice (that little re prefix is a bit of a linguistic false friend). The Spanish name, frijoles refritos, more accurately translates to "well-fried beans." And thanks to a hedonistic amount of bacon fat, our take on the northern Mexican dish is unquestionably well fried.

But first, we soak dried pinto beans overnight, and then simmer them in a pot with garlic, onion, jalapeño, cumin, and a dash of cayenne pepper. After about two hours, the beans should be nice and tender, so you can easily mash 'em into a thick, soupy paste before frying.
While the traditional cooking method calls for sizzling the mashed pintos in lard, we like to use bacon fat. It's an excellent way to use up that jar of leftover grease in the back of the fridge (or a sneaky excuse to fry up a few extra strips of bacon with breakfast!). But the real trick to truly sublime refried beans? Heat the fat slowly, until its rippling hot and a tinge golden, before adding the beans to the pan. It helps ensure that everything is perfectly cooked — or in other words, well fried.
From there, it's smooth sailing (or in this case, stirring). After just 10 minutes, that soupy paste will have transformed into a rich, creamy mash infused with smoky flavor and a subtle spice. And to balance out all that savoriness, we finish the skillet with a sprinkling of fresh cilantro, a squeeze of zippy lime juice, and a scattering of salty queso fresco. They add just the right amount of brightness to make us want to take bite after bite … after bite.
Fair warning: This recipe makes a boatload of beans. Enough to potentially feed your family all week. Of course, refried beans are a trusty companion dish to classic Mexican fare like fajitas or chilaquiles. We also like to fold them into a simple burrito with cheese for our kids' lunches — or use them as filling for homemade pupusas. But honestly, sometimes we just like to eat these warm, savory frijoles unaccompanied, by the (large) spoonful. They're a comfort food in their own right.
Our tip: No bacon fat on hand? You can substitute vegetable oil in a pinch.

Servings: 8 to 12
Ingredients for the Refried Beans
1 lb dried pinto beans
8 cups water
3 garlic cloves, roughly chopped
1 jalapeño, stemmed, seeded, and roughly chopped
1 large yellow onion, diced, divided
1 tsp ground cumin
¼ tsp cayenne pepper
2 tsp kosher salt, plus more to taste
¼ tsp ground black pepper, plus more to taste
½ cup bacon fat or vegetable oil, for frying
Juice of ½ small lime
Queso fresco, crumbled, for garnish
Chopped cilantro leaves, for garnish
Lime wedges, for garnish
How to Make the Refried Beans
Rinse the beans and check for bad beans and rocks. Transfer the beans to a large pot and cover them with 8 cups of water. Let the beans soak overnight.

When you're ready to cook the beans, add the garlic, jalapeños, and ½ the onions to the pot and stir to combine. Bring to a boil, cover, and simmer for 1 ½ hours.

Stir in the cumin, cayenne, salt, and pepper. Simmer, uncovered, until the beans are tender, 30 to 45 minutes more.

Remove the pot from the heat and, using a potato masher, mash the beans into a paste. They will resemble a puréed soup.

Meanwhile, heat the bacon fat or oil in a large cast iron skillet or Dutch oven over medium heat. Add the remaining onions and cook until browned, about 10 minutes.

Turn off the heat and add the mashed beans to the skillet. Be careful: the hot oil may splatter. Cook the refried beans over medium-low heat, stirring frequently, until thick, about 10 minutes.

Stir in the lime juice and season with salt and pepper.

Garnish the beans with queso fresco and chopped cilantro leaves. Serve hot with lime wedges. Refried beans can be stored in an airtight container in the refrigerator for up to 5 days.