Lunch Recipes
Reuben Sandwich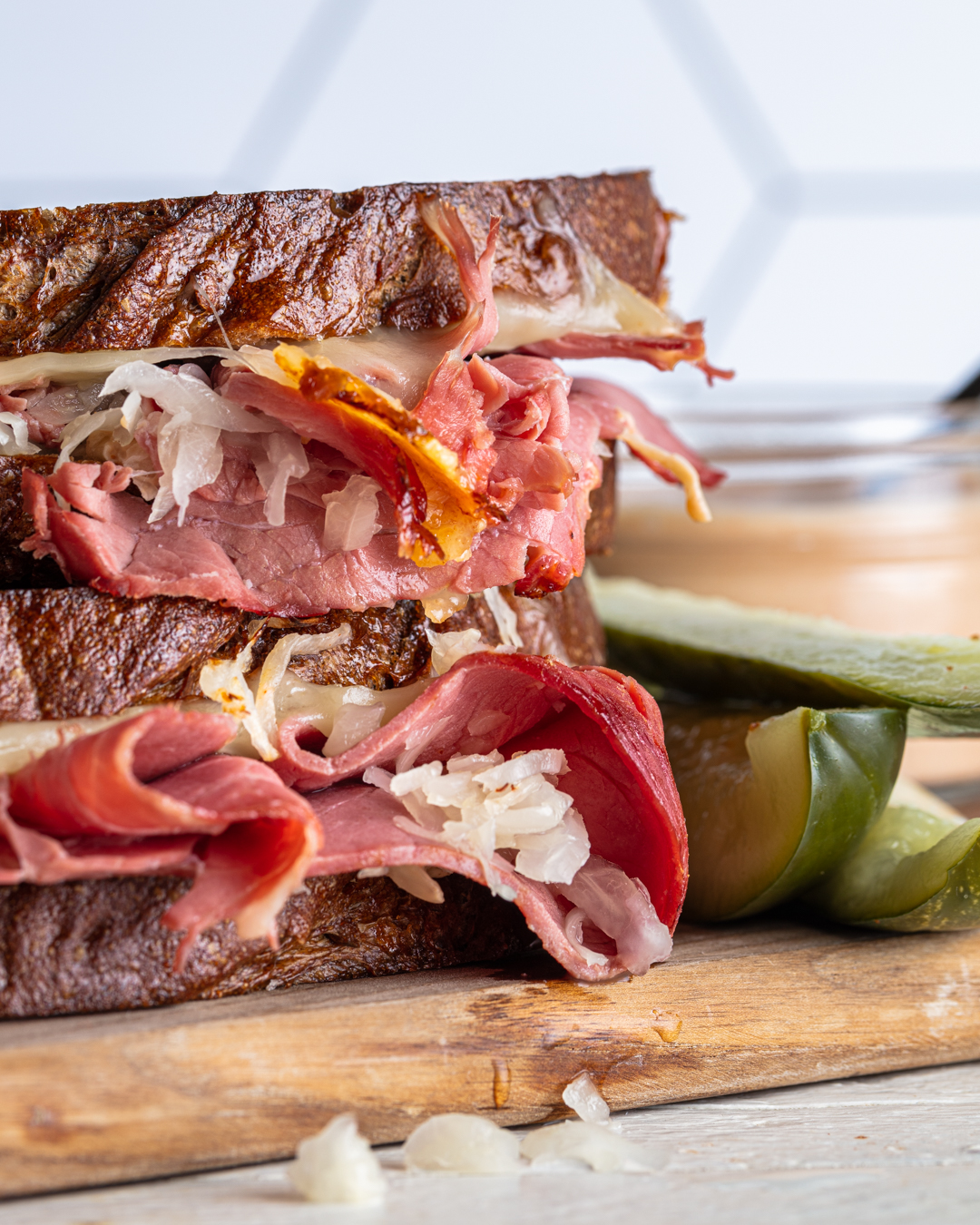 There are a couple of theories about the origins of the Reuben sandwich: One posits that the sandwich was created by Arthur Reuben, owner of New York's once-famous Reuben's delicatessen, on behalf of Annette Seelos, the leading lady in a 1914 Charlie Chaplin flick. Another says that Reuben Kay, a wholesale grocer from Omaha, invented it during a poker game in 1955. The following year, an employee of one of his poker buddies entered the recipe in a national sandwich competition, and it won.
Rather than subscribe to either one of those theories, we like to imagine this perfect sandwich has some mythical provenance that's long been shrouded in mystery by the deli gods that be. Yes, it's silly and far-fetched — but when any food is as satisfying, mouthwatering, and comforting as a Reuben, it's hard for us to put it on the same level as any other earthly pleasure. (We're a pretty gushy group here in the test kitchen.)
This Reuben is loaded up with all the usual suspects: peppery, thinly sliced corned beef, perfectly melted Swiss cheese, and piles of tangy-sweet sauerkraut. We like to layer it all between slices of mild rye bread, so all that goodness isn't overpowered by a pungent caraway flavor. And we slather the bread with plenty of butter, so when it comes out of the frying pan, it's greasy in all the right ways. But the secret to a truly exceptional Reuben? Homemade Russian dressing.
We start with a mayonnaise base for the dressing, and then whisk in some ketchup, Worcestershire sauce, horseradish, paprika, and a teeny bit of sugar. It's full of umami, with some heat from the sharp horseradish and a hint of sweetness from both the sugar and paprika. We slather it on both slices of bread, so it seeps into all the nooks and crannies of the Reuben. It's the punchy, peachy-pink glue that holds this delectable sandwich together!
Reubens make for an A+ weekday lunch. You can quickly throw one together between Zoom calls (especially if you make the dressing in advance), scarf it down in front of your computer, and feel perfectly sated until dinnertime. But if you have the time, we highly recommend letting yourself savor each crispy, buttery, saucy bite while perched up on a barstool at the kitchen island, like you might at a deli counter. There's just something about sitting at a hightop that makes a Reuben taste even better.
Our tips: If you want more heat in your Russian dressing, simply add more horseradish or a couple dabs of hot sauce. And, of course, don't forget the side of pickle spears!

Servings: 4
Ingredients
For the Russian dressing:
½ cup mayonnaise
3 Tbsp ketchup
2 Tbsp horseradish
2 tsp Worcestershire sauce
1 Tbsp granulated sugar
¼ tsp Gelson's paprika
Kosher salt, to taste
Freshly ground Gelson's black pepper, to taste
For the sandwich:
4 Tbsp unsalted butter, softened
8 slices rye bread
¼ cup Russian dressing
8 slices Swiss cheese
¾ lb corned beef
1 cup sauerkraut
Directions
To make the Russian dressing: In a medium bowl whisk together the mayonnaise, ketchup, horseradish, Worcestershire sauce, granulated sugar, and paprika until combined. Season with kosher salt and black pepper.

To make the sandwich: Spread ½ tablespoon unsalted butter on one side of each slice of rye bread. On the non-butter side of each slice, spread ½ tablespoon of Russian dressing.

Top half the slices of bread with 1 slice of Swiss cheese, corned beef, sauerkraut, and a second piece of cheese. Top the sandwiches with the remaining slices of rye bread, butter-side up.

Heat a medium skillet over medium heat. Place 1 sandwich in the skillet and cook until the bread is golden and the cheese is melted, 3 to 4 minutes per side. Repeat with the remaining sandwiches and serve warm.
Recipe source: Delish