Recipes
Roasted Acorn and Delicata Squash Salad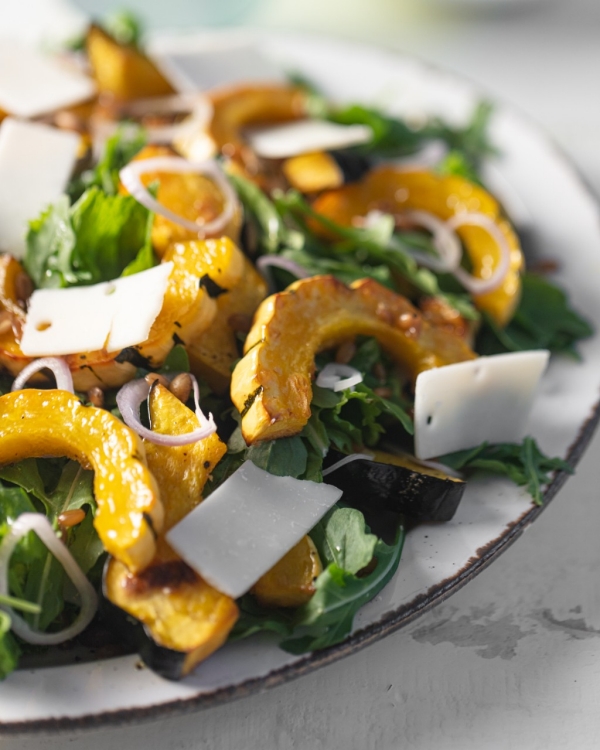 This salad is to fall what the crisp, leafy green salad is to summer. We love all the nutty flavor that comes from the sweet squash, toasty pumpkin seeds, aged goat cheese, and wheat berries. It's dressed in a very simple apple cider vinaigrette, the perfect light, puckery note. The salad's composition makes the most of all that flavor and texture: We built it in two layers, so that every bite comes together in creamy, crunchy, chewy, leafy harmony. This salad will not leave you with a pile of goodies in the bowl and nothing but lettuce on your plate.
We also really appreciate how easy it is to make this salad. Squash can sometimes feel arduous because peeling them is such a bear. This recipe is peel-free! Both the acorn and delicata squash have thin, delicate skins that soften right up in the oven. In fact, the delicata's skin practically melts away.

Winter squash salad is hearty enough to make a really nice lunch. At dinner, we'd pair it with a rich protein, like a grilled steak or pork chop — even better if it's slathered in rosemary or sage butter.

Our tip: We love the chewy heft the wheat berries add to the salad, but if you're short on time, you could use a different grain. Farro would be a great candidate because it has a similar texture but a quicker cook time, especially if you soak it overnight.

Servings: 4 to 6
Ingredients
1 medium acorn squash (1 ½ lb), quartered lengthwise, seeded, sliced ⅓-inch thick
1 medium delicata squash (1 lb), halved lengthwise, seeded, sliced ⅓-inch thick
2 Tbsp, plus ¼ cup extra-virgin olive oil, divided
Sea salt, to taste
Freshly ground black pepper, to taste
4 tsp apple cider vinegar
½ cup cooked wheat berries, drained, cooled
4 cups mustard greens, loosely packed
4 cups arugula, loosely packed
¼ cup shallots, thinly sliced
4 oz aged goat cheese, rind removed, shaved
¼ cup toasted pumpkin seeds
Directions
Preheat the oven to 400°. Line 2 rimmed baking sheets with parchment paper. Place the acorn squash slices on 1 tray and delicata slices on the other. Toss each with 1 tablespoon of olive oil and a pinch each of sea salt and black pepper.

Roast the squash for 30 minutes, and then flip the slices, rotate the trays, and roast for another 10 to 15 minutes or until just beginning to brown. Remove the squash from the oven and set aside to cool.

In a small bowl, whisk the apple cider vinegar, ¼ cup oil, pinch of salt, and pepper to taste.

Add the wheat berries to the vinaigrette and stir to combine.

Spread half of the greens over a serving platter or the bottom of a wide bowl, then add half of the acorn squash, delicata squash, shallots, goat cheese, and pumpkin seeds. Drizzle with half of the dressing.

Repeat with the remaining ingredients and dressing, and then toss lightly and serve immediately.
Recipe source: Epicurious