Lunch Recipes
Roasted Beet & Pistachio Salad with Horseradish Crème Fraîche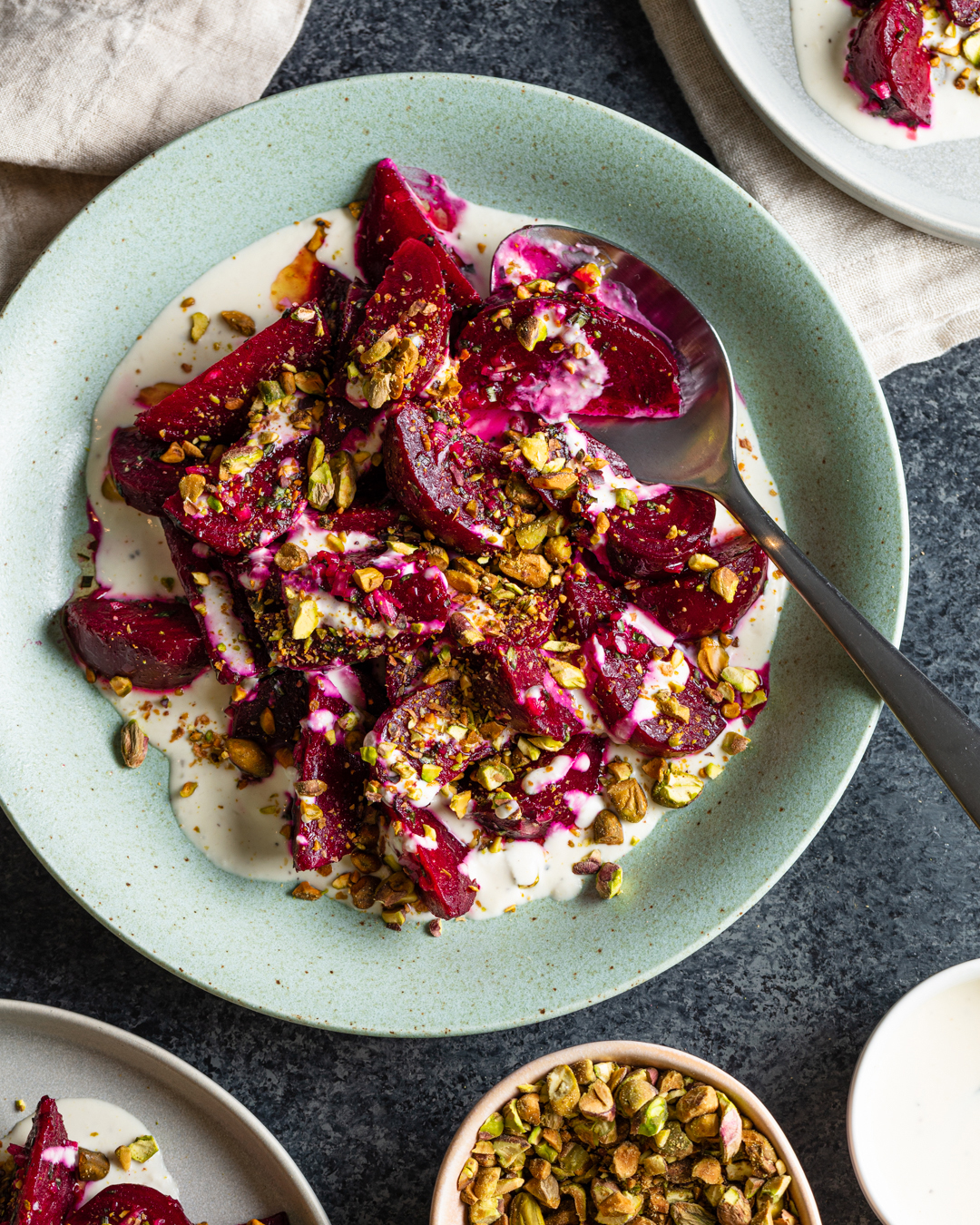 This salad exudes rustic, pared-down vibes. But flavorwise, it's kind of a tour de force: We roast sweet, earthy beets until they're tender and juicy, and then toss them in an herb-forward vinaigrette of licorice-y tarragon and bright chives that's punctuated with lemon juice, shallots, and honey. The dressed beets sit in a shallow pool of crème fraîche, which we lace with spicy horseradish. And on top? A hearty sprinkle of toasted pistachios.
Those crunchy green nuts are the perfect complement to the soft fuschia beets — opposites on both the color wheel and the texture wheel. We also love how the bright pink of those beets swirls through the crème fraîche, creating a culinary facsimile of a painter's palette. (Aesthetically, it's always the standout dish in a dinner party spread.)
This beet salad is decidedly a side dish, and we often like serving it with lighter entrées. Think: grilled salmon (that smoke is great with the salad's herbs) or lemony roasted chicken. For wine, we'd go with a fruity, medium-bodied red, like a Beaujoulais Cru, to play with the earthy notes of the beets — or a full-bodied white with sweeter inclinations, like a spätlese riesling, as a foil to the horseradish's heat.
Servings: 4
Ingredients
2 lb red beets, trimmed and rinsed
4 Tbsp extra virgin olive oil, divided
Kosher salt, to taste
Freshly ground Gelson's black pepper, to taste
4 oz crème fraîche
2 Tbsp prepared horseradish
1 Tbsp freshly squeezed lemon juice
1 Tbsp finely chopped Gelson's organic fresh tarragon
1 Tbsp finely chopped Gelson's organic fresh chives
1 small shallot, minced (about 2 Tbsp)
1 tsp honey
4 oz pistachios, toasted and roughly chopped, for garnish
Directions
Preheat the oven to 375°.

In a medium bowl, coat the beets in 1 tablespoon extra virgin olive oil. Season with kosher salt and black pepper, and then wrap the beets in a double layer of tinfoil and seal tightly.

Place the wrapped beets on a rimmed baking sheet and slide it in the oven. Roast the beets until they are tender and an inserted toothpick meets little to no resistance, 45 to 55 minutes, then let cool.

When the beets are cool enough to handle, peel them by gently rubbing the skins off with a towel. Cut the beets into 1 ½" wedges and set aside. Note: if you want to make them ahead, the roasted beets can be stored in the refrigerator for up to 5 days.

In a small bowl, stir together the crème fraîche and horseradish. Season with kosher salt and black pepper. Cover and refrigerate until ready to use.

In another small bowl, combine the lemon juice, tarragon, chives, shallots, and honey. While whisking vigorously, slowly drizzle in the remaining 3 tablespoons olive oil. Season with kosher salt and black pepper.

In a medium bowl, toss the beets with the dressing.

To serve, spoon half of the crème fraîche mixture on the bottom of a serving plate. Place the beets on top, drizzle with the remaining crème fraîche mixture, and sprinkle with pistachios. Serve warm or cold.
Recipe source: Serious Eats
Calculate nutrition information for this recipe.