Recipes
Roasted Beet & Shaved Root Salad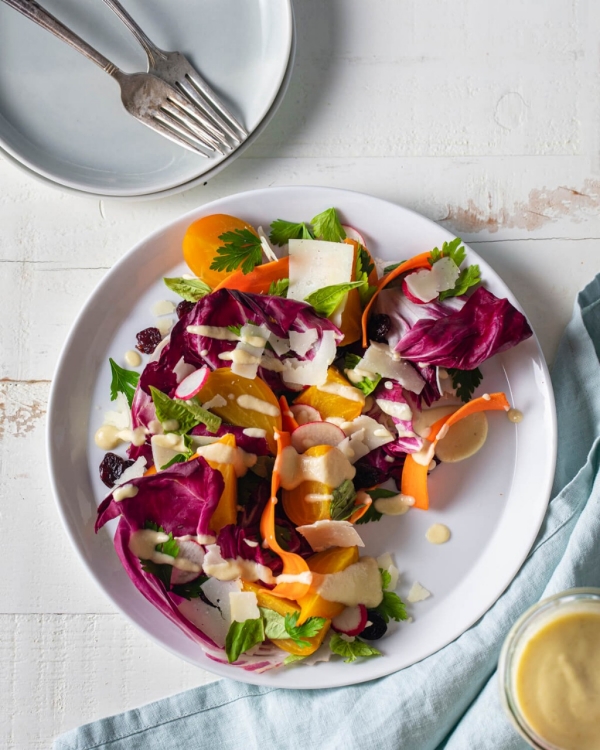 In late fall, it's easy to become infatuated with roasted root vegetables and forget how bright, spicy, and crispy they can be raw. This salad is the best of both worlds. It's thick carrot and radish shavings curled around earthy-sweet roasted beets, wilted radicchio leaves, and nutty Manchego cheese. We drizzled a punchy pear vinaigrette over it that's creamy enough to cling to curves — and just sweet-tart and bright enough to foil those bitter greens.
In the test kitchen, the salad disappeared with a speed generally reserved for things like air-fried donuts and candied nuts. It may have been its fancy good looks — those veggies are so full of color and whimsy, the salad shines like a piece of art. It's irresistible, and it tastes fantastic. It will definitely impress Mom if you bring it to Thanksgiving dinner.
Our tip: You may have some leftover pear vinaigrette. Save it for other dishes, like a post-Thanksgiving rice bowl with turkey, slivers of celery, chopped apples, and pecans.

Servings: 4 to 6
Ingredients
For the salad:
4 golden beets (2 cups)
Kosher salt, to taste
¼ cup radishes
½ cup carrots
¼ cup dried tart cherries
2 cups radicchio, torn into bite-size pieces
¼ cup parsley leaves
¼ cup Gelson's organic basil leaves, torn
2 oz Manchego cheese, shaved
For the vinaigrette:
1 ripe pear, seeded and chopped
1 Tbsp Dijon mustard
2 cloves garlic
½ cup olive oil
1 shallot, chopped
¼ cup cider vinegar
Kosher salt, to taste
Black pepper, to taste
Directions
Preheat the oven to 350º.

Wash and scrub the beets, and then season them with a pinch of salt.

Wrap the beets in aluminum foil, place them on a baking sheet, and bake them until fork tender, about 1 hour. Allow them to cool to the touch, peel them with a towel or paring knife, cut them into quarters, and set them aside.

In the meantime, shave the radishes and carrots into a bowl of ice water and set them aside to get crispy until you need them.

In a blender, combine the pear, Dijon mustard, garlic, olive oil, shallot, and cider vinegar and purée until fully emulsified and smooth.

Season the dressing with salt and pepper and set aside.

Drain the radishes and carrots, and pat them dry with a paper towel.

In a large salad bowl, combine the beets, radishes, carrots, tart cherries, radicchio, parsley, and basil.

Using a veggie peeler, shave the Manchego cheese over the salad.

Drizzle 3 tablespoons of the vinaigrette over the salad. Serve it with the vinaigrette on the side.