Lunch Recipes
Roasted Chicken with Coconut Rice and Ginger Cucumbers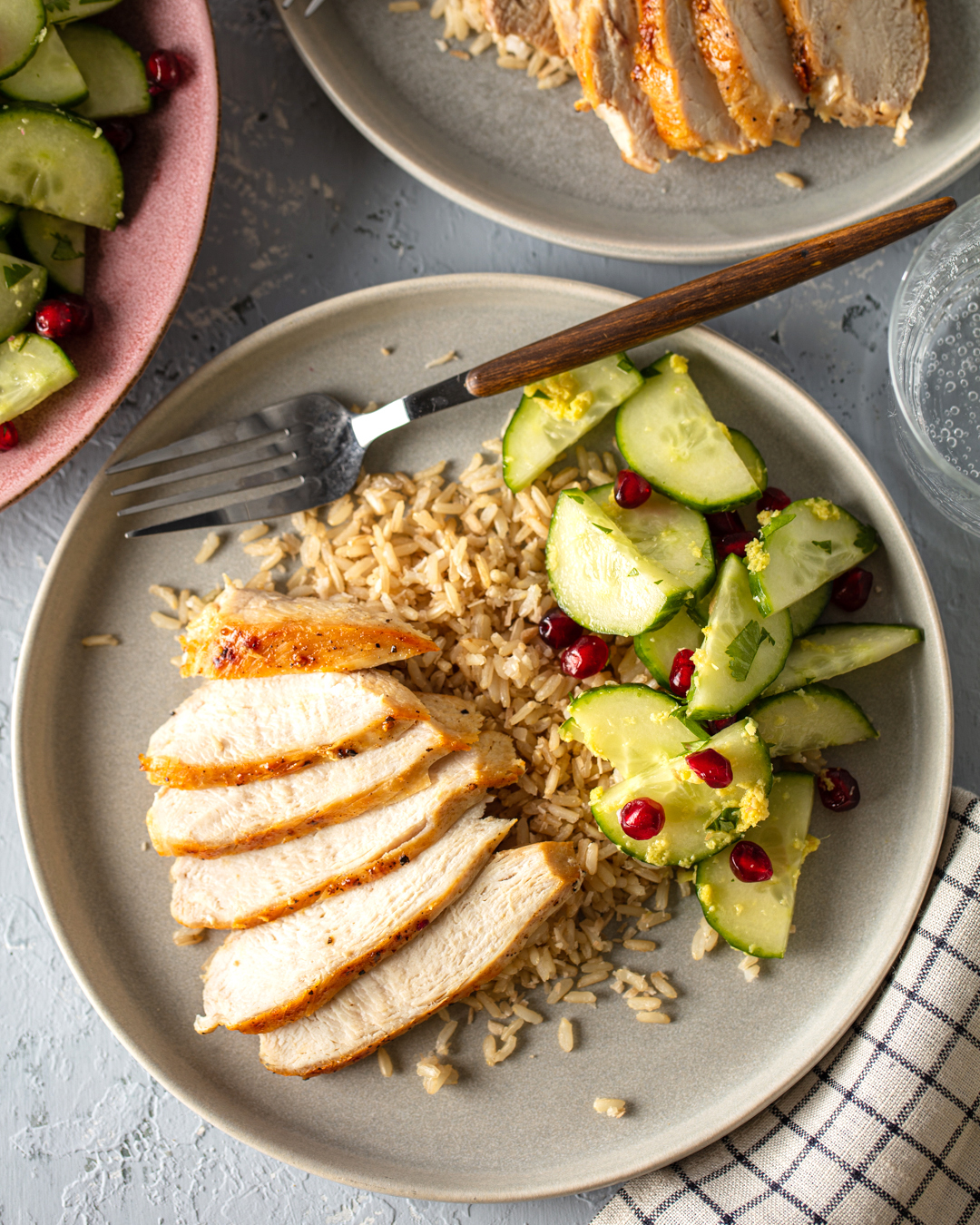 This is a light single bowl meal, but it's full of Asian flavors and rich in texture: Sweet, crunchy coconut rice piled high with tender chicken, crisp ginger cucumbers, and pomegranate seeds, and then drizzled in a tangy sweet vinaigrette.

We like to make this for dinner early in the week so we can have the leftovers for WFH lunches — it only gets better as all the flavors soak into the rice. In fact, you could even meal prep it, and portion the whole thing out across your week. It's the kind of healthy, balanced meal you can feel good about eating a few times!
Our tips: Save the extra molasses and vinaigrette, they're both pretty handy. The molasses can be used as a glaze on meat or roasted veggies (sweet potato!) or whirled into dips that need a little extra tang. And the vinaigrette is wonderful on a variety of salads — we like it drizzled over heirloom tomatoes and mozzarella!
Servings: 4
Ingredients
For the pomegranate molasses:
3 cups pomegranate juice
¼ cup sugar
1 lemon, juiced

For the pomegranate vinaigrette:
1 ½ oz white balsamic vinegar
1 oz fresh orange juice
1 oz Pomegranate Molasses
1 small shallot, diced fine
1 ¼ cups grapeseed oil
Kosher salt, to taste

For the roasted chicken, coconut rice & ginger cucumbers:
3 Tbsp shredded coconut, toasted
2 cups cooked brown rice
2 chicken breasts
Kosher salt, to taste
Freshly ground Gelson's black pepper, to taste
1 Tbsp canola oil
1 English cucumber, halved and sliced
1 Tbsp ginger, peeled and grated
1 Tbsp chopped cilantro
1 tsp sesame oil
½ cup pomegranate seeds, for garnish
Directions
Preheat the oven to 325º.
Prepare brown rice according to package instructions.
Spread the coconut flakes on a baking sheet in a thin layer and bake until lightly toasted, about 5 to 10 minutes, stirring in the middle. When the rice is done, stir the coconut into it.
For the pomegranate molasses: Combine pomegranate juice, sugar, and lemon juice in a saucepan; bring to a simmer. Reduce until a very thick syrup forms that can thickly coat the back of a spoon, then cool to room temperature.
For the vinaigrette: In a small mixing bowl, combine the vinegar, orange juice, pomegranate molasses, and shallots.
Slowly whisk in the oil and season with salt. Set aside.
For the chicken: Pat the chicken dry and season it on both sides with salt and pepper. In a sauté pan, heat the oil to medium high heat, and lay each breast in the hot oil (gently dropping them away from your body). Sear the chicken until it is golden brown, about 5 to 7 minutes. Flip and sear the second side, about 4 to 6 minutes more. The chicken is done when it's firm and 170º on an instant-read thermometer.
In the meantime, prepare the cucumber salad: In a medium bowl, combine the cucumbers, ginger, cilantro, and sesame oil in a small bowl and set aside to marinate.
When the chicken is done, allow it to rest 5 minutes before slicing.
Place the coconut rice in center of plate and top it with chicken, cucumbers, a drizzle of the pomegranate vinaigrette, and a sprinkle pomegranate seeds on top.
Recipe source: Pom Wonderful .