Appetizer Recipes
Roasted Rainbow Carrots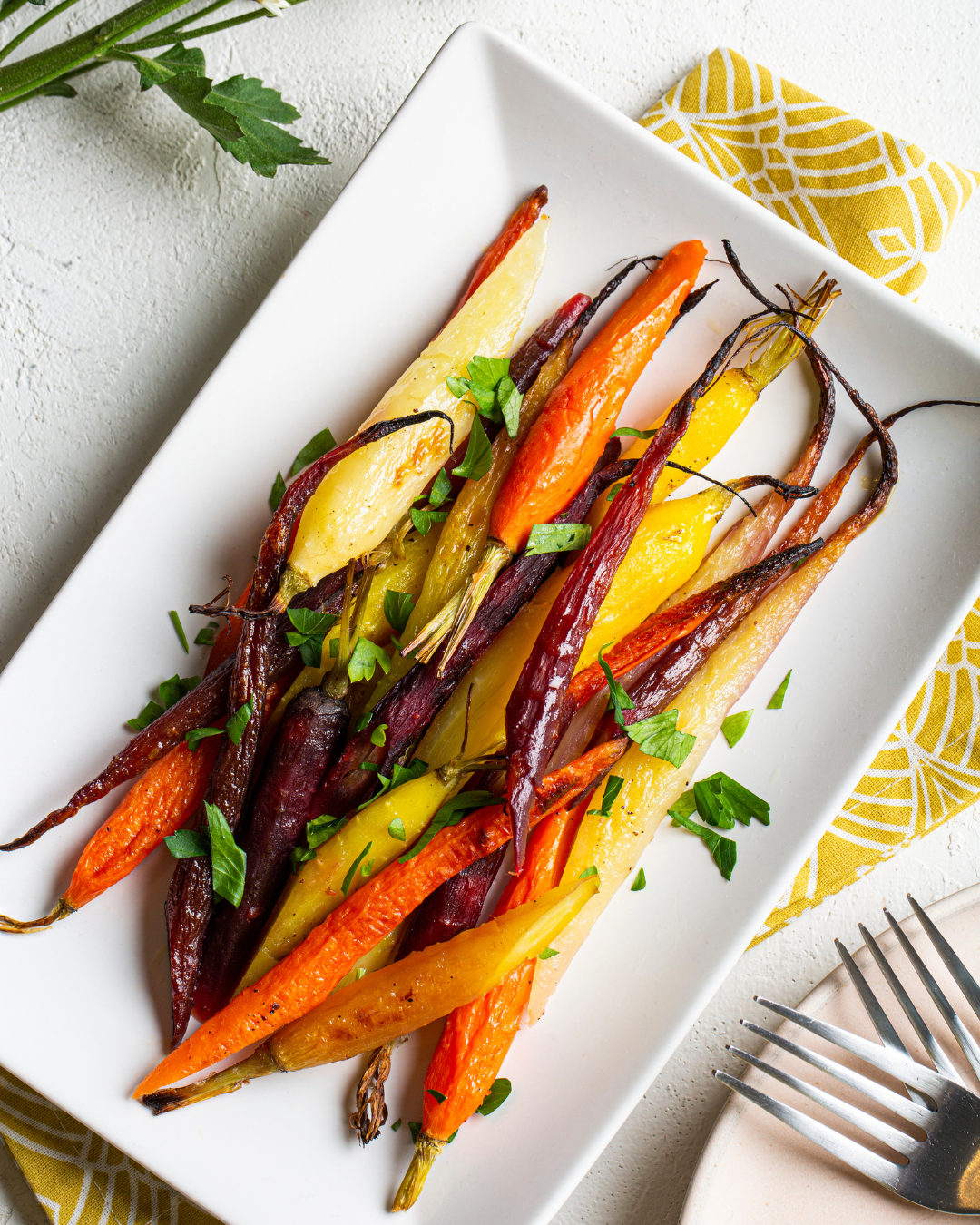 We love rainbow carrots for all their brilliant hues: Red, purple, yellow, and white, they add color to the plate and feel extra special. And while roasted carrots are simple and unfussy, done well they reveal the carrot's complex flavors. Here we've roasted them to the point of caramelization, which heightens their earthy sweetness. Some zippy lemon juice and a sprinkle of fresh, green parsley just before serving help to balance out that sweetness and bring back some of the carrot's sharper, raw flavors.

Our tip: Keep an eye on the carrots. Turn them at the midpoint, so they cook evenly, and check them often, poking with a fork to make sure they don't cook to the point of mushiness.
Servings: 4
Ingredients
1 2-lb bag Colorful Harvest rainbow crunch carrots, peeled and cut into 4-inch pieces on the diagonal
1 ½ Tbsp Napa Valley Naturals Organic Extra Virgin Olive Oil
¼ tsp salt
½ tsp black pepper
2 Tbsp water
½ lemon
¼ cup Italian parsley leaves, minced

Directions
Preheat oven to 425º.
Toss the carrots with the olive oil, salt, and pepper and place them in a roasting pan. Add the water to the pan and cover the pan tightly with aluminum foil. Cook for about 45 minutes.
Remove the pan from oven and carefully uncover it. Squeeze the lemon over carrots and sprinkle it with half of the diced parsley. Stir the carrots well, so that they'll cook evenly, and return them to the oven for 10 to 15 more minutes, or until the carrots are brown and caramelized.
Sprinkle with the remaining parsley and serve.
Each 1-cup serving contains:
Calories 70
Fat 3 g
Saturated Fat 0 g
Trans Fat 0 g
Cholesterol 0 mg
Sodium 140 g
Total Carbohydrate 11 g
Dietary Fiber 3 g
Sugars 5 g
Protein 1 g
Vitamin A 384% DV
Vitamin C 14% DV
Calcium 4% DV
Iron 3% DV