Dinner Recipes
Roasted Squash & Red Onions
This side is an autumnal showstopper! We roast honeynut squash and red onion until they're sweet, earthy, and delicately charred — and then top them with a garlicky, lemony tahini dressing and toasted pine nuts. Those nutty, subtly bitter notes are just divine with roasty-sweet veggies. As one of our tasters said, "My gosh, the dressing and the onion together!" And the sprinkle of fresh cilantro and mint is a perfectly herbaceous finishing touch.
Roasted squash and red onions are a great side to bring to a small dinner party. For one, it's a simple, throw-together sort of dish (read: you won't spend hours in the kitchen before scrambling to pick out your outfit). Second, its bright colors make any table feel convivial, and we find it plays well with a number of wines, including dry riesling, oaky malbec, and bubbly prosecco. And finally, this side tastes lovely with everything from short ribs to roast chicken — so it'll vibe with whatever main the host is making (and maybe even outshine it!).
Our tip: You can substitute the honeynut squash with a different type of squash, like butternut — or even sweet potato. Simply adjust the roasting time as needed.
Servings: 8 to 10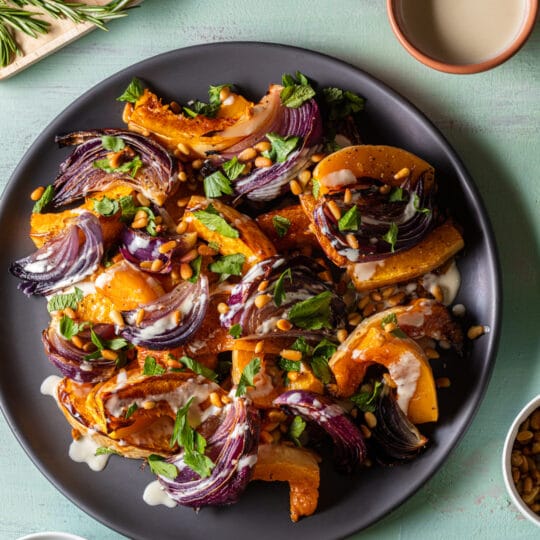 Dinner
Roasted Squash & Red Onions
Ingredients
6 Tbsp extra virgin olive oil, divided, plus more if needed
1 ¾ tsp kosher salt, divided, plus more to taste
¼ tsp freshly ground Gelson's black pepper, plus more to taste
4 to 6 large (about 4 lb) honeynut squash, unpeeled, cored, and cut into 1" wedges
⅓ cup Gelson's pine nuts, plus more for garnish
2 Tbsp freshly squeezed lemon juice
1 small garlic clove, grated
1 Tbsp roughly chopped Gelson's organic mint, for garnish
1 Tbsp roughly chopped Gelson's organic cilantro, for garnish
Directions
Preheat the oven to 475°. Lightly coat two large baking sheets with extra virgin olive oil.

Peel the red onions, leaving the root ends intact. Cut each onion in half from stem to root. Cut each half into 1" wedges, leaving the root intact so that each wedge holds together.

Place the wedges on one baking sheet, sprinkle with kosher salt and black pepper, and drizzle with 2 tablespoons extra virgin olive oil. Toss until evenly coated.

Place the honeynut squash on the second baking sheet and toss with 3 tablespoons extra virgin olive oil, 1 teaspoon kosher salt, and ¼ teaspoon black pepper. Turn the squash peel-side down.

Place both baking sheets in the oven and roast for about 30 minutes, or until the vegetables have taken on some color and are cooked through. Keep an eye on the onions, as they may cook faster than the squash and may need to be removed earlier.

Meanwhile, in a small skillet, add the remaining 1 tablespoon extra virgin olive oil and place over medium-low heat. Add the pine nuts and ½ teaspoon salt, and cook for 2 to 3 minutes, stirring often, until the nuts are golden brown and smell fragrant. Immediately remove from the heat and pour into a small bowl to stop the cooking. Set aside to cool.

In a medium bowl, whisk together the tahini, lemon juice, water, garlic, and remaining ¼ teaspoon salt. Whisk until the sauce is the consistency of honey, adding more water or an additional tablespoon of extra virgin olive oil, if necessary.

To serve, combine the roasted vegetables on a large serving platter. Drizzle the tahini sauce on top, and garnish with mint, cilantro, and pine nuts.
Recipe adapted from: The New York Times