Appetizer Recipes
Roasted Sweet Potatoes and Shallots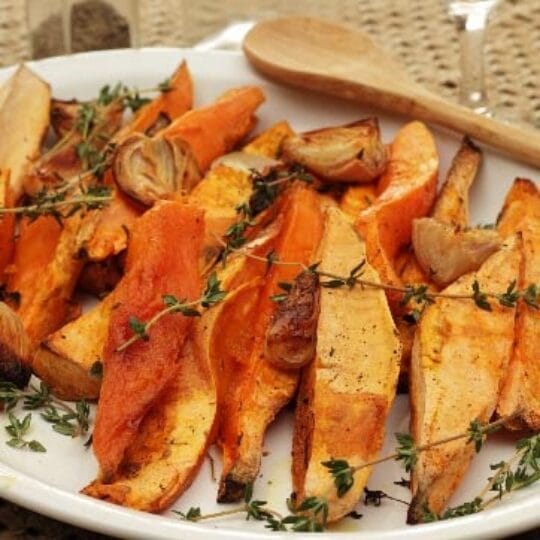 Appetizer
Roasted Sweet Potatoes and Shallots
Serves: 4
Ingredients
1 3 ounce package Melissas organic shallots peeled thinly sliced
1 teaspoon Napa Valley organic olive oil
2 pounds orange flesh sweet potatoes also called yams
1 tablespoon fresh parsley minced
Directions
Preheat oven to 375 Fahrenheit.
Separate the shallot slices and place them on a large sheet of aluminum foil. Drizzle with olive oil and sugar. Seal foil tightly and place in a small dish and put into a corner of the oven.
Prepare sweet potatoes by slicing them into inch thick rounds discard the ends. Arrange them in a single layer in a large baking pan. If you need to use two pans then allow yourself extra time for cooking. Spray tops with olive oil spray and place on the middle rack in the oven. Cook for 30 minutes. Use a spatula to flip the potatoes once. Spray lightly again with olive oil, but it is not necessary. Return to oven for about 30 more minutes, until they are tender but not too wet. Do not cook them so long that they get crisp and chewy. Remove sweet potatoes and shallots at the same time.
Arrange sweet potatoes on a serving dish and scatter the shallots on top. Sprinkle with parsley and serve.