Recipes
Romesco & Grilled Shrimp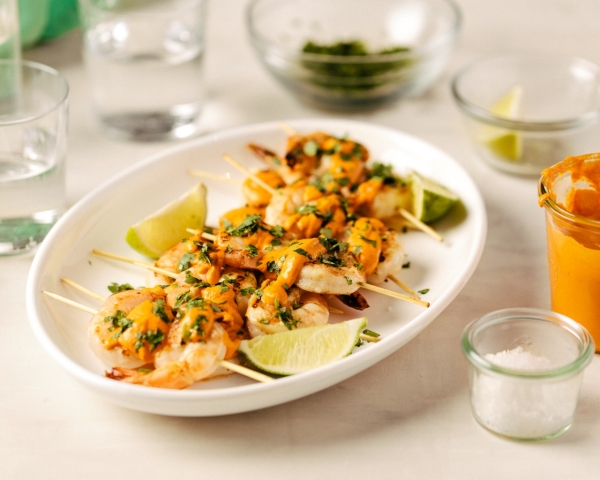 Sweet and tangy with a mild cayenne kick and a rich, smoky aroma, romesco sauce hails from Tarragona, an ancient city on the coast of Spain, where fisherman use it as a condiment for seafood. Here we've paired the deep red sauce with shrimp. Grilled just until they're tender and firm and have a nice snap and little of the grill's smoky char, they're the perfect complement to the romesco's bright flavors.

Our tip: Make a double, nay triple, batch of the romesco. You'll find all kinds of things to do with it, like spooning it over an open-faced sandwich of grilled toast, eggplant, and zucchini or using it as a dipping sauce for crispy roasted potatoes.

Serves 8 to 10
Romesco Sauce
Ingredients
½ cup toasted almond slivers
¼ cup olive oil
1 12-oz jar roasted red peppers
2 garlic cloves
2 tsp sherry vinegar
1 tsp smoked paprika
⅛ tsp cayenne pepper
½ lime for juicing
Flake salt, to taste

Directions
In a small sauté pan, toast the almonds on medium heat for 3 or 4 minutes.
In a blender, puree all of the ingredients but the lime juice together until smooth.
Add lime juice to taste, and reserve in a small bowl until you need it.
Grilled Shrimp
Ingredients
10 5-inch bamboo skewers
1 bag frozen shrimp (20)
Olive oil
Salt to taste
1 bunch cilantro, chopped
½ lime for juicing
Flake salt, to taste

Directions
Thaw, peel, and devein the shrimp, if needed, then place them in a strainer and rinse with ice cold water.
Pat the shrimp dry, and then toss them in oil, season with salt, and put 2 on each skewer.
Grease the grill or grill pan with oil, and then grill the shrimp over medium-high heat, until firm.
Place the shrimp on a platter and spoon romesco sauce over them. Garnish with cilantro, a squeeze of lime juice, and a sprinkle of course salt. Serve hot.