Breakfast Recipes
Root Vegetable Hash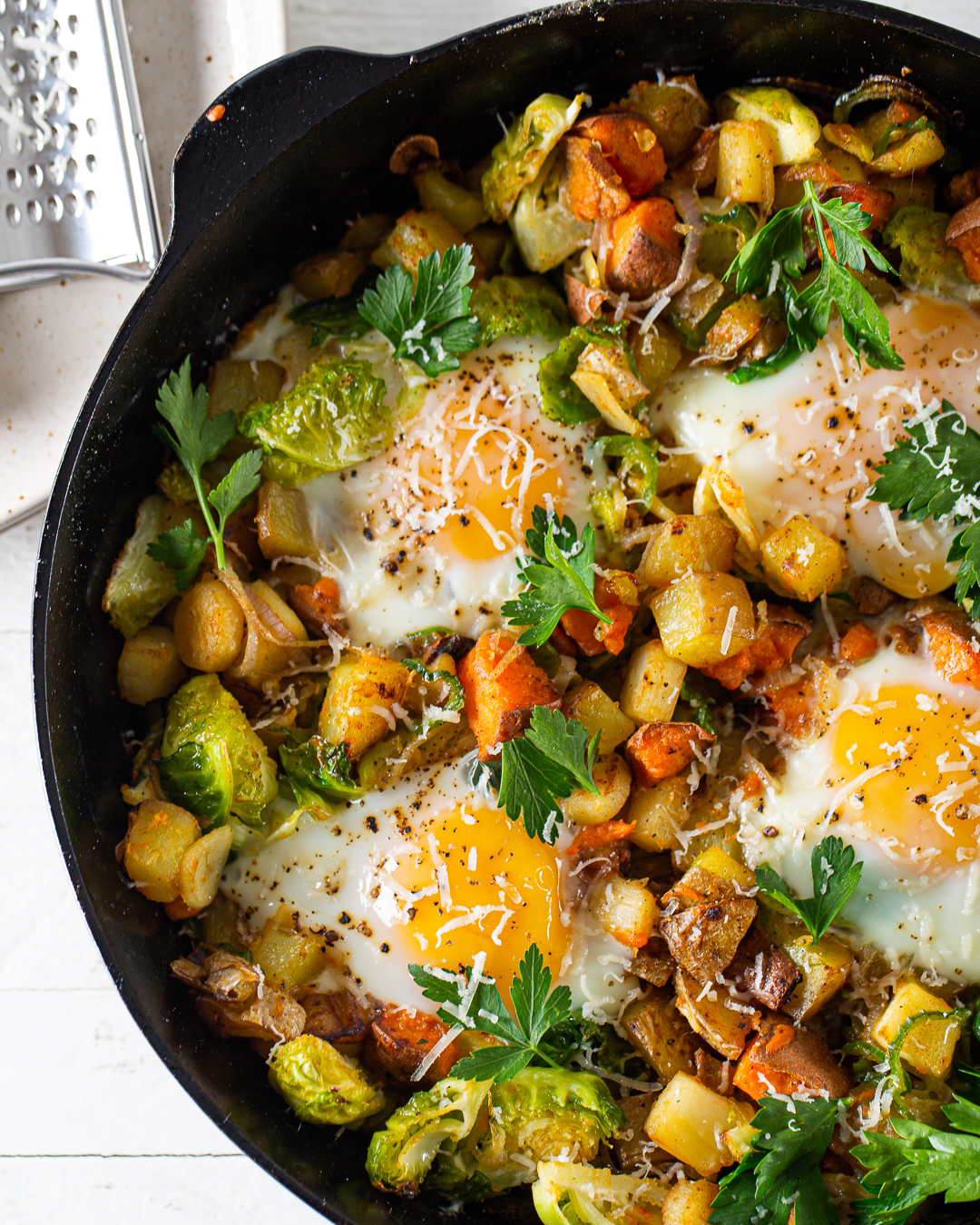 It's funny how humble root vegetable hash sounds, but just look at it: orange sweet potatoes, leafy green parsley, golden egg yolks. It's a cornucopia of fall flavors, textures, colors — and it tastes so warm and comforting, too.
It's also our new favorite family breakfast for reasons of ease and economy. It's super adaptable, so you can throw in whatever potatoes and veggies you have in the fridge. ( P.S. They don't even have to be roots; we've used broccoli, spinach, and asparagus.) We also love an egg dish in which all the eggs cook at once, so we're not making eggs onesie-twosie and running multiple plates of breakfast out to the table. The eggs nestle into the hash and cook to a perfect sunny-side up. It's lovely to have everyone sit down at once and eat together — and it's lovely to wash just one pan at the end of the meal. That's the beauty of a hash.
Hash is by nature very easy to make, but we do have one cooking tip from the kitchen: Potatoes can be rather starchy little critters, and a hot pan will burn up those starches before the inside of the potato has time to cook. We parcook the potatoes — just a handful of minutes in the microwave — before we toss them in the hash pan, so they cook up crispy on the outside and pillowy soft on the inside.
This is a quick, hearty dish that's perfect for those weekend mornings when your family wants to get outside for some hiking, biking, yard work — or whatever fun the day holds.
Servings: 4
Ingredients:
1 ½ lb potatoes, any variety (we used sweet potatoes and Yukons)
5 Tbsp extra-virgin olive oil
1 parsnip, chopped into ½-inch cubes
Kosher salt, to taste
Black pepper, to taste
2 shallots, thinly sliced
4 garlic cloves, thinly sliced
12 oz Brussels sprouts, trimmed and halved or quartered
1 jalapeño, thinly sliced
¼ tsp cayenne pepper
4 large Gelson's eggs
Grated Parmesan, for garnish
Chopped parsley, for garnish
Directions:
Preheat the oven to 400°.

Using a fork, pierce the potatoes multiple times and cook in a microwave for 4 to 5 minutes, or until they're al dente. Let them cool, then cut into ¾-inch cubes.

In a medium cast-iron pan, heat the olive oil over medium-high heat, until shimmering. Add the parsnips and potatoes, and season generously with salt and black pepper. Let them cook, stirring occasionally, for 5 to 7 minutes, or until all sides are browned.

Add the shallots, garlic, Brussels sprouts, jalapeño, and cayenne pepper. Season with salt and black pepper. Cook, stirring occasionally, until the vegetables are tender and browned, about 7 to 10 minutes.

Make 4 shallow wells in the hash. Crack an egg into each well, and then season with salt and black pepper.

Place the cast-iron pan in the oven for 4 to 6 minutes, or until the eggs set.

Garnish with Parmesan and parsley. Serve hot.