Dessert Recipes
Saint Lucia Buns
Many centuries ago, Saint Lucia of Syracuse brought aid and food to Christians hiding from persecution in the dark Roman catacombs. She lit the subterranean passages with a wreath of candles, which she wore on her head — so that she could carry as much food as possible in her arms. Today, people in Scandinavia, Italy, and parts of Eastern Europe celebrate St. Lucia's feast day on December 13, which once marked the winter solstice on Julian calendars.
In one of the sweeter traditions associated with the day, Scandinavian girls will dress up like St. Lucia — in a white dress, red sash, and crown of candles — and deliver coffee and golden saffron buns to their parents.
Why the saffron buns? We could not find a conclusive answer, but according to Atlas Obscura there may be a clue in the Swedish name for the buns, lussekatter, which translates to Lucy's cats: some believe that eating the buns may protect one from the demons that roam free on long, dark winter solstice nights. Others say there is no such connection, and that the name derives from duivekater, a Dutch midwinter feast bread that translates to "devil's tomcat" — a thing, they insist, of no folkloric significance. We'll let you be the judge.
In the meantime, we all should be eating these wonderful buns. Made with sour cream, saffron-infused milk, and cardamom, they have a delicately sweet, floral flavor and a light, buttery texture that's vaguely reminiscent of hot cross buns. We love their swirly s-shape and golden hue: they look so cheerful perched on a breakfast saucer next to a cup of steaming hot coffee. Give us a pat or two of sweet cream butter, and we could eat a dozen of them.
Our tip: These sturdy little buns are made for travel. Although we can't recommend putting lit candles on your head (lawyers!), we do support delivering warm buns and coffee to your friends and family on St. Lucia Day. Our SoCal winters may not be long or dark, but we could all use a bright, sunny treat now and then.
Yield: 14 buns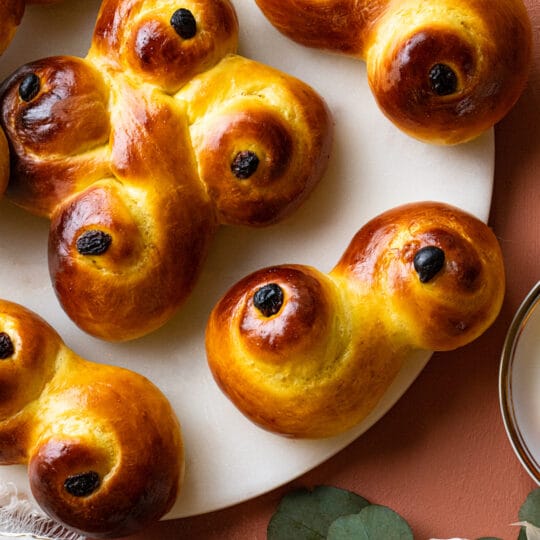 Dessert
Saint Lucia Buns
Ingredients
¼ cup plus 1 tsp granulated sugar, divided
1 pkg active dry yeast (2 ¼ tsp)
4 cups all-purpose flour, plus more if needed
¼ cup unsalted butter, room temperature
3 Gelson's large eggs, divided
Directions
Line 2 rimmed baking sheets with parchment paper.

In a small pot, heat the milk, saffron, and 1 teaspoon of sugar together until the milk is steaming hot and the sugar is dissolved. Cool the milk to about 115°, or warm to the touch, but not hot.

Sprinkle the yeast over the warm milk and let sit for 5 to 10 minutes, or until foamy.

In the bowl of a stand mixer, whisk together the flour, remaining ¼ cup sugar, salt, and ground cardamom.

Make a well in the center of the flour and add the milk, butter, sour cream, and 2 eggs.

Using a dough hook attachment, mix on low speed for 1 minute. Increase speed to medium for 2 to 4 minutes, or until dough comes together in a ball and no longer sticks to the bottom of the bowl. If the dough is too sticky, add more flour, 1 tablespoon at a time.

Turn the dough out onto a lightly floured surface, and knead it a few times, shaping it into a ball. Transfer the dough into a large, greased bowl, cover it with plastic wrap, and let it rest in a warm place for 1 to 2 hours, or until the dough has doubled in size.

On a lightly floured surface, gently press the dough down and knead it a couple of times. Using a bench knife, divide the dough into 14 pieces, approximately 2 ¼ oz in weight each, and form them into balls.

Roll a ball into a 12" snake and curl the ends in opposite directions to form an s-shaped bun. Place the bun on the baking sheet and repeat with the rest of the dough.

Cover the baking sheet with plastic wrap, and allow the buns to rest in a warm spot until they double in size, 30 to 60 minutes.

Preheat the oven to 400°.

In a small bowl, beat the remaining egg to make an egg wash and use a pastry brush to coat the tops and sides of the uncooked buns.

Place the raisins in the center of each spiral, 2 per bun.

Bake the buns for 10 to 12 minutes, or until they're golden brown. Cool for 5 minutes on the baking sheet and then enjoy warm or room temperature.
Recipe adapted from: Simply Recipes