Dinner Recipes
Salade Niçoise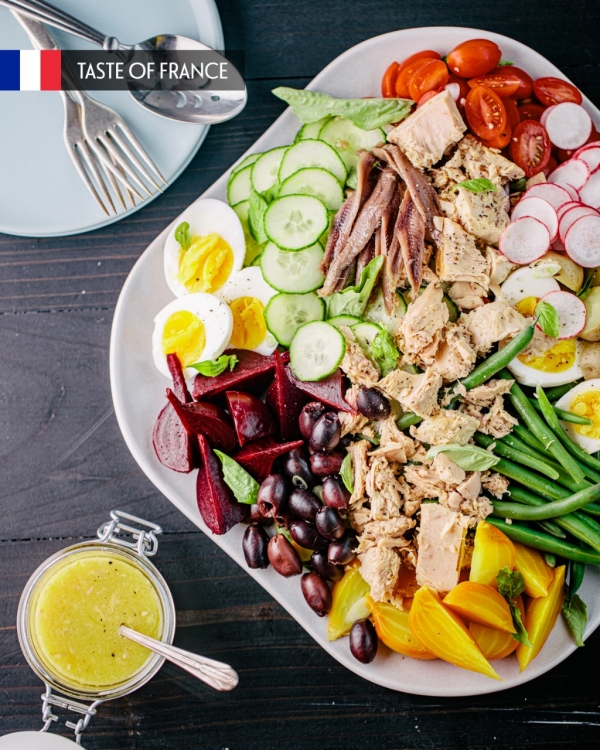 When taking lunch in style — let's say on the patio of a swell restaurant whilst on vacation — salade niçoise is always our salad of choice. It's light enough that it won't tank an afternoon of sightseeing, hearty enough to see us through the adventures, and lovely enough to justify a nice glass of wine.
Traditionally, this French salad is an assemblage of olives, anchovies, tuna, green beans, potatoes, and hard-boiled eggs. This recipe offers a very pretty update with gold and red beets, spicy radishes, crunchy cucumbers, and fresh basil. It's a veggie lover's dream — crisp and full of color. We love how the lemony Dijon vinaigrette coats everything and gives the salad a bright, satisfying intensity.
We like to serve this salad for lunch. It's just right for a family — everyone can curate their perfect salad — or a scrumptious midday tête-à-tête with the S.O. But there's no reason why it can't double as an appetizer: think happy hour in the shade of the patio with a dry rosé.
Our tip: Salade niçoise was invented for meal preppers. Boil, blanch, and slice everything up, tuck it in the fridge, and you'll be lunching in style all week long.
Servings: 4 to 6
Ingredients
For the dressing:
1 clove garlic
Kosher salt, to taste
⅓ cup olive oil
2 Tbsp lemon juice
1 Tbsp Dijon mustard
1 shallot, minced
Freshly ground black pepper, to taste
For the salad:
1 lb small new potatoes, boiled until tender
6 oz yellow baby beets, boiled until tender, peeled
6 oz red baby beets, boiled until tender, peeled
8 oz haricots verts, blanched
12 oz cherry tomatoes, halved
½ cup black niçoise olives
8 small radishes, trimmed and thinly sliced
8 salt-packed anchovies, drained and rinsed
4 hard-boiled eggs, halved lengthwise
1 small cucumber, thinly sliced
3 4-oz cans high-quality oil-packed tuna, drained
½ cup loosely packed basil leaves, for garnish
¼ cup thinly sliced scallions, for garnish
Directions
To make the dressing: Mince the garlic on a cutting board, and sprinkle it heavily with salt. Using a knife, scrape the garlic and salt together to form a smooth paste. Transfer the paste to a small bowl and whisk in the oil, lemon juice, mustard, shallot, and salt and pepper. Set it aside.

To make the salad: Arrange all of the ingredients in separate rows on a large serving platter. Drizzle the salad with the dressing, season it with salt and pepper, and garnish it with basil and scallions just before serving.

Recipe adapted from: Saveur