Lunch Recipes
Salmon with Curry Yogurt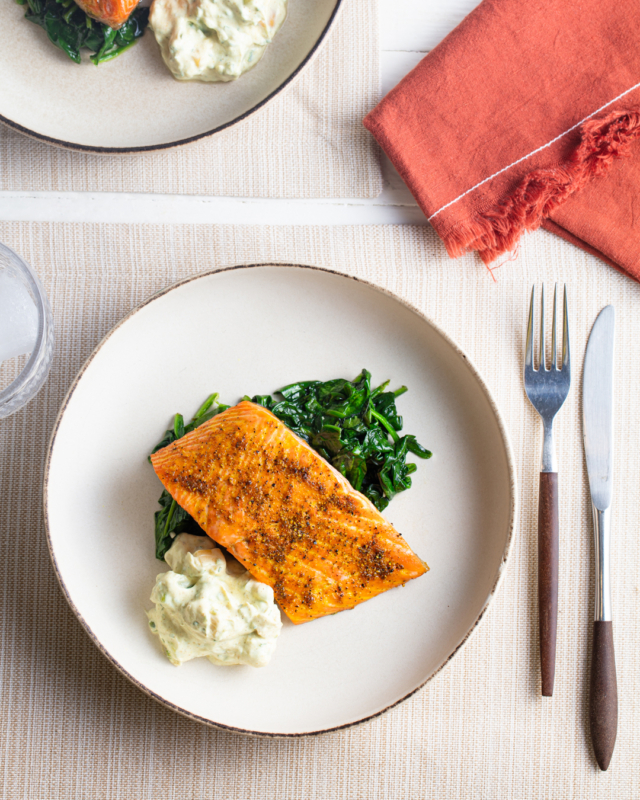 As is so often the case, the sauce is the star of this dish. It brings together yogurt, yellow curry, mint, ginger, mango, and jalapeño to create a flavor profile that is tangy, bright, sweet, and mildly spicy in all the right proportions. It sits light and lovely on the salmon and greens, complementing their flavors rather than overpowering them.

And it should be noted that curry, fish, and leafy greens are a powerful combination — all three give your brain a boost, supporting healthy cognition.

Our tip: The yogurt sauce needs to be made at least 2 hours in advance so that all those good flavors have time to meld. We like to make it a full day in advance, so it's ready to go when we want to make dinner — and the flavors only get better.

Servings: 4
Ingredients
½ English cucumber, peeled and diced
1 ripe mango, diced
1 red jalapeño pepper, seeded and minced
1½ tsp fresh minced ginger root
4 tsp chopped fresh mint leaves
2 cups Straus organic nonfat Greek yogurt
1 Tbsp plus ¼ teaspoon McCormick curry powder, divided
1 tsp fresh lemon juice
4 tsp Napa Valley organic olive oil, divided
4 6-oz salmon filets
½ tsp Le Saunier de Camargue fleur de sel sea salt
½ tsp black pepper
½ tsp ground turmeric
2 cloves Melissa's organic garlic, minced
5 oz organic baby spinach, rinsed but not dried


Directions
Combine cucumber, mango, jalapeño, ginger, and mint in a medium mixing bowl.
Stir in yogurt, lemon juice, 1 tablespoon of the curry powder, and 2 teaspoons of the olive oil. Refrigerate for a minimum of 2 hours or until ready to serve.
Preheat the oven to 450°.
Line a baking sheet with parchment paper, and place the salmon on it skin down.
In a small ramekin or bowl, mix together the salt, pepper, turmeric, and the remaining 1/4 teaspoon of curry powder. Season the tops and sides of the fish with spice mixture.
Bake the fish in the middle of the oven for 15 – 18 minutes without turning.
While salmon is cooking, heat remaining 2 teaspoons of olive oil in a large skillet over medium heat.
Add the minced garlic and damp spinach; cover for 2 minutes to wilt. Toss the spinach with the olive oil and garlic until all the leaves are just wilted.
Arrange spinach on a serving platter to make a bed for the salmon. Place the fish on top and serve immediately with the yogurt sauce on the side.