Dinner Recipes
Salmon Banh Mi Sliders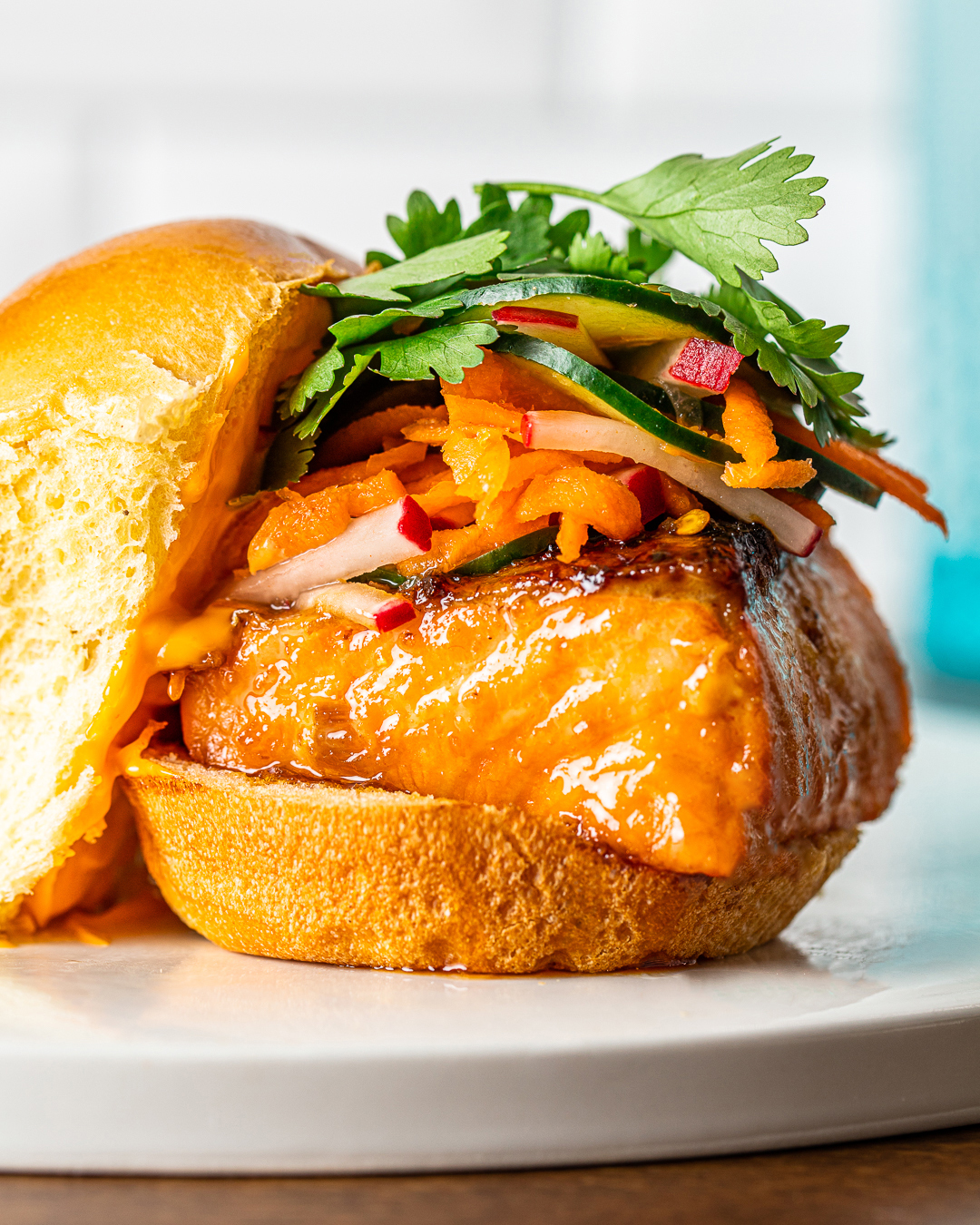 Crispy, sweet and spicy glazed salmon, bright pickled veggies, Sriracha mayo, and cilantro tucked in a pillowy brioche bun — this little slider is everything a sandwich should be! What's its secret? Balance. It's soft and it's crunchy, and hidden in its layers are all the flavors a chef likes to hit: delicately sweet and acidic rice wine vinegar, salty soy sauce, tart lime, spicy chile paste, and buttery Scottish salmon with its higher fat content.

Of course, sliders are always a natural for couch-dining scenarios, like movie or game night. We'd also make these for family celebrations, like a birthday or a big promotion.
Our tip: Serve these sliders with a few bags of fancy kettle chips and a colorful platter of fresh, juicy fruit. And for fun, pair them with a light, dry or off-dry Lambrusco. Its soft fruity notes and dry finish will complement the salmon perfectly — and its creamy bubbles and low alcohol will be just right at lunch.

Servings: 8

Ingredients

For the pickled vegetables:
¾ cup carrot, shredded
¾ cup cucumbers, sliced thin
½ cup radish, julienned
2 Tbsp rice wine vinegar
2 tsp sugar
Salt, to taste

For the sweet and spicy soy glaze:
1 clove garlic, grated
1 Tbsp fresh ginger, grated
1 tsp chile paste
⅓ cup honey
3 Tbsp soy sauce
½ lime

For the Sriracha mayo:
1 tsp Sriracha sauce
½ cup mayonnaise

For the banh mi:
2 lb salmon, skinned and cut into 8 portions
2 Tbsp grapeseed oil
1 lime, cut into wedges
1 bunch cilantro sprigs, cleaned
8 brioche slider buns

Directions:
Preheat the oven to 400º.

To make the pickled vegetables: in a small bowl, combine all of the carrot, cucumber, radish, rice wine vinegar, sugar, and salt and let stand at room temperature for at least 30 minutes.
To make glaze: in a small bowl, combine the garlic, ginger, chili paste, honey, soy sauce, and about 2 squeezes of lime and set aside.
To make the Sriracha mayo: in yet another small bowl, combine the Sriracha sauce and mayonnaise and set aside.
To make the banh mi: In a large, nonstick, oven-safe pan, heat the oil over high. When it's hot, add the salmon pieces and cook until a golden crust has formed on the bottom.
Flip the salmon over and spoon the glaze over each piece. Move it to the oven to finish, cooking until the salmon is firm and reaches 165º on an instant-read thermometer.
Slice the buns in half and spread Sriracha mayo on both sides. Place one piece of salmon on the bottom of the bun. Top with pickled vegetables, cilantro, and lime.