Recipes
Salmon & Sunchokes Grain Bowl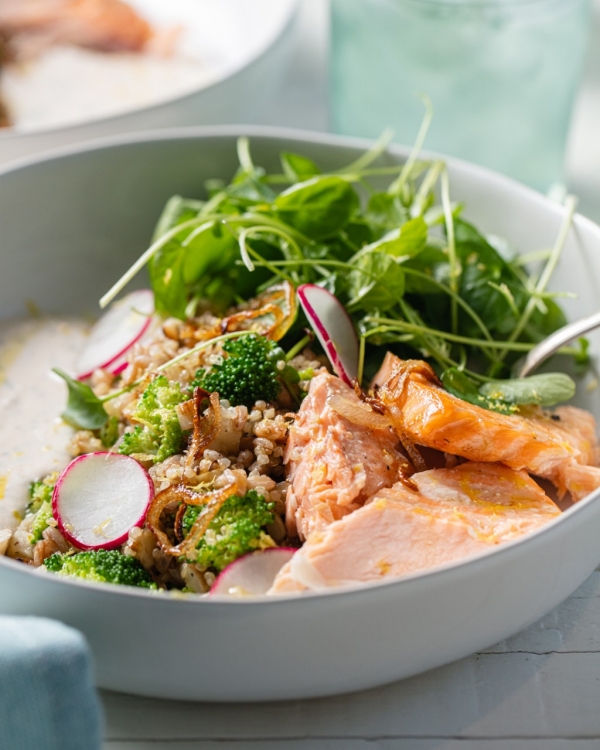 This grain bowl has all the wintry comfort of a warm salmon dinner — and all the bright, lively spirit of a spring salad. We roast the salmon with a little salt and pepper and tuck it into a cozy bowl of quinoa, farro, broccoli florets, and sunchokes. And then we top it with slivers of radish, a handful of peppery watercress, and some very crispy fried shallots. Oh yes, and a dollop of dill-yogurt sauce: so unexpectedly tangy and upbeat.
If it sounds mercurial, it is — in the most delightful way. Dig in, and you could get any combination of texture and flavor. A forkful of the tender salmon, crisp radish, and chewy farro with a dab of creamy dill-yogurt sauce is nice. We love the dry sweetness of the sunchokes with the savory fried shallots. But every bite of this bowl is a winner. "It's so over-the-top healthy," one of our tasters said, "I feel good just eating it, but it's also warm and hearty. Who needs pizza and pasta? More salmon bowl for me!"

Servings: 2
Ingredients
For the dill-yogurt sauce:
½ cup plain Greek yogurt
1 ½ tsp olive oil
1 tsp chopped Gelson's organic fresh dill
3 Tbsp grapefruit juice
1 small garlic clove, grated
½ tsp Champagne vinegar
Kosher salt, to taste
Black pepper, to taste
For the salmon and grain bowl:
8 oz salmon fillet
Kosher salt, to taste
Black pepper, to taste
4 Tbsp olive oil
1 shallot, sliced into thin rings
2 large sunchokes, small diced
3 sprigs Gelson's organic thyme leaves
1 cup chopped broccoli florets
2 Tbsp water
1 cup cooked farro
1 cup cooked quinoa
2 radishes, thinly sliced
1 cup watercress
Lemon zest, for garnish
Olive oil, for garnish
Directions:
Preheat the oven to 450º.

To make the dill-yogurt sauce: Combine the yogurt, olive oil, dill, grapefruit juice, garlic, and Champagne vinegar. Whisk until well combined, and season with salt and pepper to taste. Put it in the refrigerator until you're ready to use it.

To cook the salmon: Season the salmon with salt and pepper, and bake until the salmon flakes or until the thickest part of the salmon registers 145º on an instant-read thermometer, about 12 to 14 minutes. Break up the salmon into large flakes and set it aside.

To make the crispy shallots: In a medium nonstick skillet, heat the olive oil on medium-high heat until it shimmers. Add the shallots, and cook them, stirring continuously, until they're browned and crispy, about 3 minutes. Transfer the shallots to a plate lined with paper towels. Season with salt.

In the same skillet, pour out almost all of the remaining oil, leaving about 1 tablespoon. Add the sunchokes to the skillet. Add the thyme, and season with salt and pepper. Sautè the sunchokes until cooked through and browned in color, about 5 minutes. Transfer the sunchokes to a medium bowl and set aside.

Add the broccoli florets and water to the hot skillet. Cover and steam for about 1 minute, until the broccoli is cooked and bright green. Add the broccoli to the sunchokes.

Add the cooked farro and quinoa to the sunchokes and broccoli and toss together. Season lightly with salt and pepper to taste.

To assemble the bowls: Divide the grain and vegetable mixture between two bowls. Top each bowl with ½ of the salmon, 1 sliced radish, ½ cup watercress, and a big dollop of dill-yogurt sauce. Garnish with crispy shallots and lemon zest. Drizzle olive oil over the bowl and serve immediately.