Dessert Recipes
Salted Caramel Brownies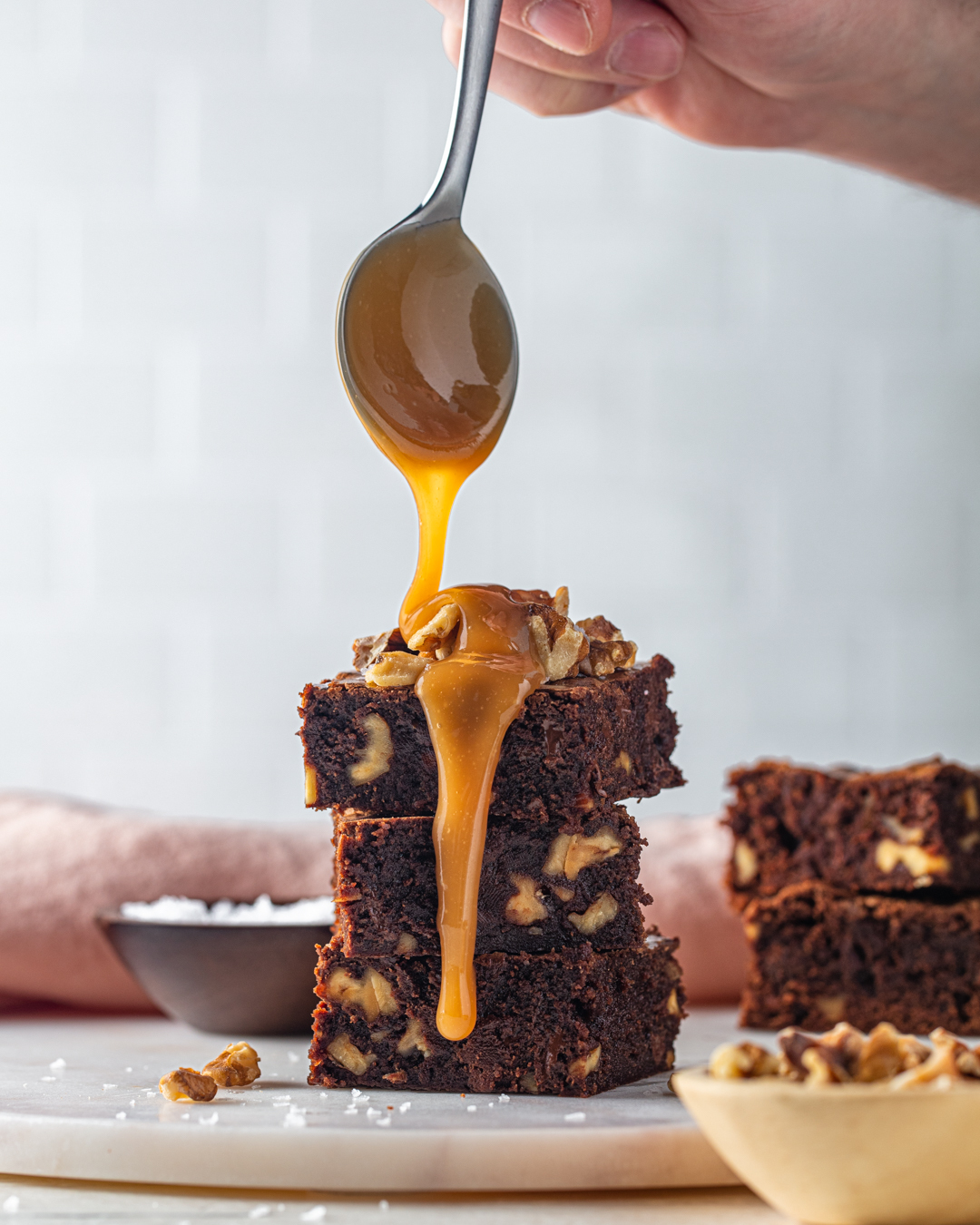 You may remember that, during the bake-a-thon that was this past holiday season, our test kitchen came up with a delightful recipe for Mint Oreo Brownies. In the ensuing months, we haven't been able to stop thinking about their dense, fudgy base, and it seemed like a fun idea to play with it.
In our minds, this is the time to go all in on decadence. So in place of the minty Oreos, we've swapped in a full cup of semisweet chocolate chips. We've also added a bunch of toasted walnuts and a (heavy) drizzle of satiny-smooth salted caramel sauce. When you bite into these brownies, you hit pockets of melted chocolate — bittersweet, gooey, and punctuated by crunchy toasted nuts. They have all the sophistication of a really good bar of chocolate, and then you add the rich, buttery salted caramel. Gilding the lily? Perhaps, but we'll take it. It's like a salty-sweet-buttery-chocolate smooch.
It almost goes without saying that these brownies are meant to be shared. Make them for your BFF and leave them in a box on the front porch with a happy whatever-day-it-is card. Make them for your S.O. and their wicked sweet tooth. And make them for you, sweet, you: there's no one more deserving of a gooey-sweet puddle of chocolate and salted caramel.
Servings: 20
Ingredients
6 Tbsp unsalted butter, diced
½ cup vegetable oil
10 oz bittersweet chocolate, chopped
1 ½ tsp espresso powder
¾ cup granulated sugar
½ cup firmly packed brown sugar
4 large Gelson's eggs, plus one egg yolk
2 tsp vanilla extract
1 cup all-purpose flour
¾ tsp kosher salt
1 ½ cups Gelson's walnut pieces, toasted, plus more for serving
1 cup semisweet chocolate chips
1 ½ cups salted caramel sauce
Flake salt, for garnish
Directions
Preheat the oven to 350°. Line a baking pan measuring 9 x 13 inches with parchment paper, leaving a 1-inch overhang on two sides.

In a double boiler over simmering water, melt the butter, vegetable oil, bittersweet chocolate, and espresso powder, stirring to combine. Let cool.

In a large bowl, whisk together the melted chocolate mixture and sugars. Whisk in the eggs and egg yolk, one at a time, until just combined. Mix in the vanilla extract.

Fold in the flour and salt, just until combined. Fold in the walnuts and the semisweet chocolate chips.

Pour the batter into the prepared pan and bake for 20 to 25 minutes, or until a toothpick inserted in the center comes out almost clean. A little bit of creamy batter on the toothpick is okay.

While the brownies are baking, you can make the salted caramel sauce and let it cool.

To serve the brownies, cut them into squares, and top each serving with toasted walnut pieces, a drizzle of caramel sauce, and a sprinkle of flake salt. Brownies can be stored in an airtight container for up to 3 days. The extra caramel sauce should be stored separately in the refrigerator for up to 2 weeks.