Dessert Recipes
Salted Chocolate Almond Cookies
All cookies are good cookies in our book. But every now and then, you encounter a cookie that is so scrumptious, you can't help but eat an entire plate (read: sheet pan) in a single sitting. This slice-and-bake recipe yields such cookies. They may be small, but their crumb is rich with cocoa and speckled with glorious pockets of melted chocolate chunks. Their little slivers of almond add some nutty flavor and a subtle crunch. And the flake salt sprinkled on top…well, that just makes them all the more snackable.
Another great thing about these cookies? They're fantastically unfussy. Nevertheless, here are a couple of tips to make the whole process ultra breezy: Make sure the butter and sugar are well-whipped — this is a drier cookie dough, so getting that butter and sugar nice and fluffy will make it easier to mix in the flour, nuts, and chocolate chunks. And when you do mix them in, you can knead the dough by hand a couple of times to make sure everything gets fully incorporated.
This recipe makes approximately a truckload of cookies, so it's a great candidate for the giftable cookie tins each and every one of your friends and neighbors has come to expect during the holidays. Not on the cookie-tin train? Keep a log or two of the dough in the freezer (it'll keep for about a month) and slice off a few rounds to bake up whenever the chocolate cravings hit.
Yield: 8 dozen cookies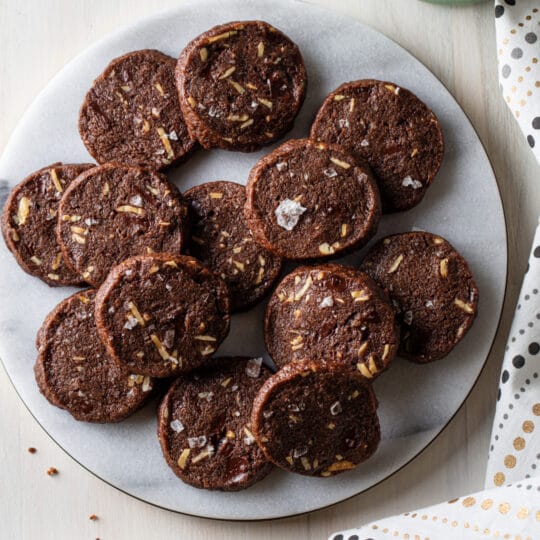 Dessert
Salted Chocolate Almond Cookies
Ingredients
2 ½ cups all-purpose flour
½ cup unsweetened cocoa powder
1 ¼ cups unsalted butter, at room temperature
1 ¼ cups lightly packed brown sugar
5 oz bittersweet chocolate, chopped
1 cup sliced almonds, toasted, coarsely chopped
Gelson's Cyprus flake salt, for garnish
Directions
In a medium bowl, sift together the flour, cocoa powder, and baking soda.

In a stand mixer fitted with a paddle attachment, cream the butter, brown sugar, salt, and vanilla on medium speed until light and fluffy, 3 to 4 minutes. Scrape down the sides of the bowl as needed.

Reduce speed to low and gradually add the dry ingredients, mixing until just combined.

Add the egg white and mix until just combined.

Using a rubber spatula, fold in the chopped chocolate and almonds until evenly distributed.

Divide the dough into 4 pieces and press each piece into a ball. Roll each piece into a log, about 1 ½" in diameter. Wrap the logs tightly in plastic wrap and chill until firm, at least 4 hours or overnight.

When you're ready to bake the cookies, preheat the oven to 350° and line 2 baking sheets with parchment paper.

Using a serrated knife, cut each dough log into ¼"-thick rounds. Place the cookies 1" apart on the prepared sheet pans.

Sprinkle the cookies with flake salt and bake, rotating the sheets halfway through, until the cookies are set around the edges and the centers look dry, 10 to 12 minutes.

Transfer the cookies to wire racks and let cool completely. Reuse the sheet pans and continue baking until all the dough is baked. You can also freeze some of the logs for up to 30 days. Bake from frozen, adding 1 or 2 minutes to the baking time if needed.