Appetizer Recipes
Sausage and Cornbread Stuffing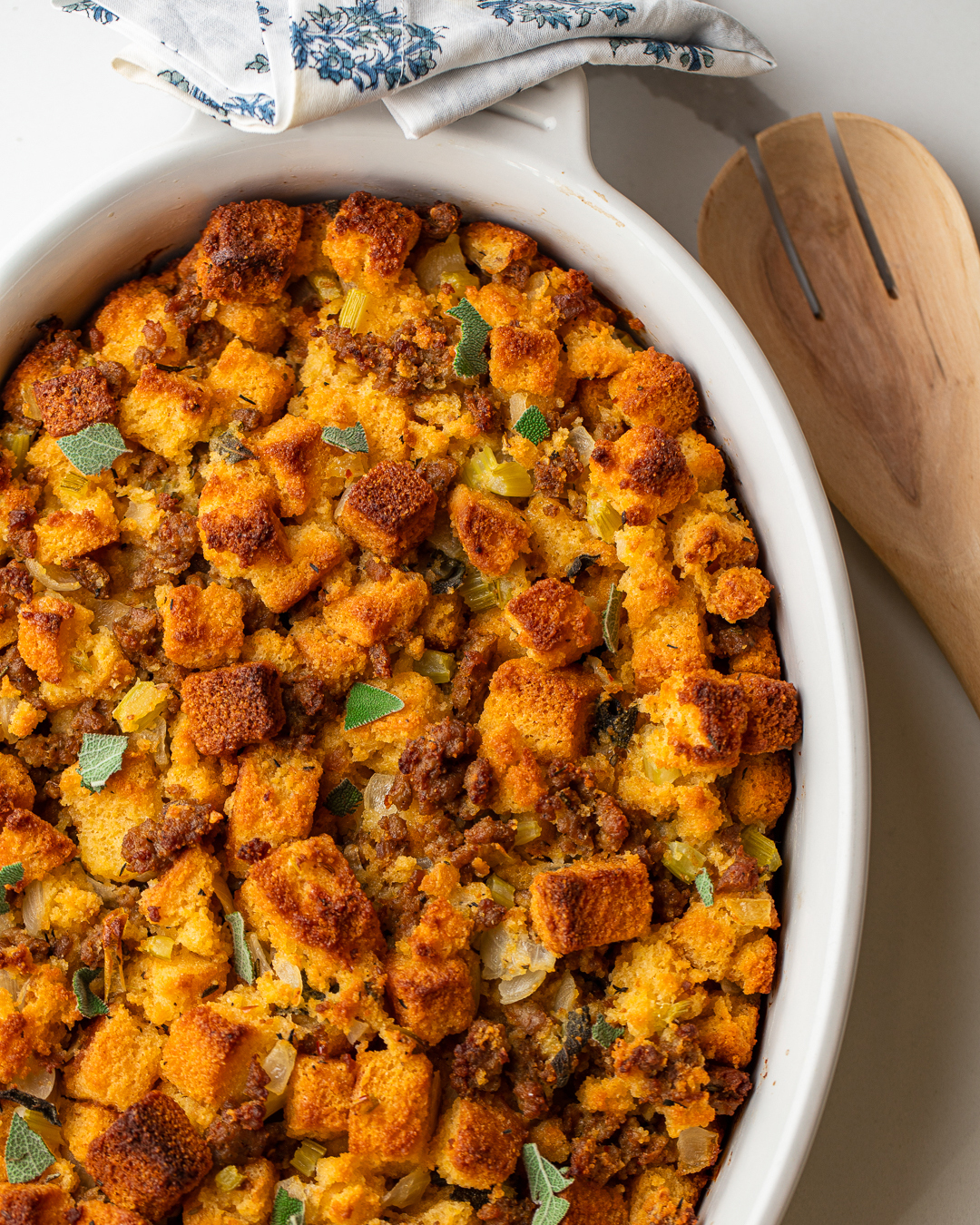 Cornbread stuffing is a Southern tradition, and like all things regional and holiday, there are probably as many versions of it as there are families. Our recipe uses a sweet, toasted cornbread. Mixed up in the stuffing, it absorbs all the broth, gaining a moist density, much like a savory-sweet bread pudding.

If it sounds too sweet and cakey, it's not. Its lush texture and corn sweetness complement the rest of the dish's ingredients beautifully, from the classic herbs — parsley, sage, rosemary, and thyme — to the crunchy celery and crispy bits of salty, hot Italian sausage.

Our tip: To remove the sausage from its casing, slice the sausage from end to end and tip the meat into the pan. Once you've cooked the sausage, use the same pan (and all the leftover drippings) to cook your onions. Less washing up, more flavor!
Servings: 10-12
Ingredients
1 loaf Gelson's Cornbread, cut into 1-inch cubes
1 lb Gelson's Hot Italian Sausages
1 stick unsalted butter, plus 2 Tbsp or so for greasing the pan
1 large, white onion, diced
3 stalks celery, diced
3 cups chicken broth
2 large eggs
½ cup parsley, chopped
1 Tbsp sage, torn
½ Tbsp thyme, chopped
½ Tbsp rosemary, chopped
2 tsp salt
1 tsp black pepper

Directions
Preheat the oven to 300º and grease a baking dish measuring 9 by 13 inches.
Place the cornbread on a baking sheet and bake it for 20 minutes.
Remove the sausages from their casings, break them apart with a fork, and cook them over medium-high heat for 8 to 10 minutes, or until cooked through. Reserve in a bowl.
Remove the cornbread from the oven and add it to the bowl.
Turn the oven up to 350º.
In a medium-size skillet, melt the butter over medium-high heat.
Add the onions and celery to the skillet and cook them for 8 to 10 minutes, or until softened. Add the veggies to the bowl.
In a large measuring cup, whisk together the broth, eggs, parsley, sage, thyme, rosemary, salt, and pepper.
Pour the wet ingredients into the bowl and mix everything together — being gentle, so you don't break up the cornbread.
Pour the stuffing mixture into the greased baking dish and cover it with foil.
Bake the stuffing for 40 minutes covered, and then bake it for another 45 minutes uncovered.
Serve hot out of the oven — or make it a day ahead and reheat before serving.