Recipes
Sausage Croissant Breakfast Bake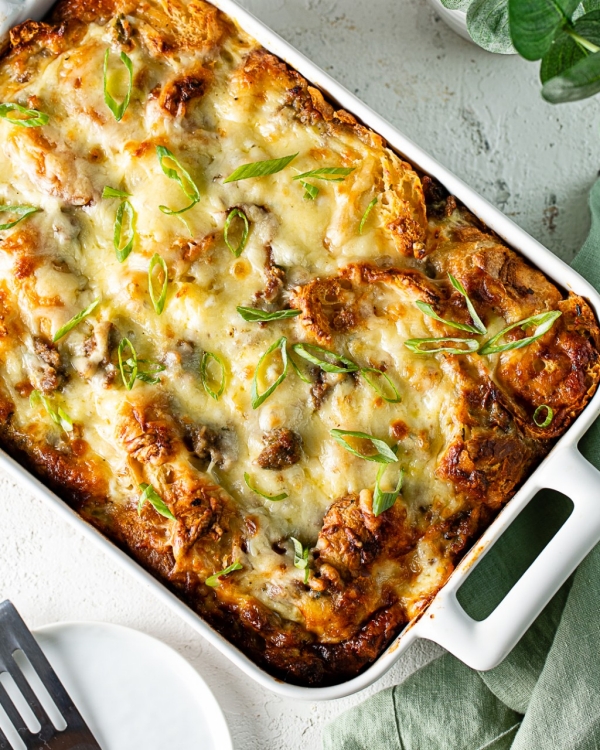 This one is for the folks who lean savory at brunch. It's a comforting hodgepodge of sweet Italian sausage, eggs, cream, Gruyère, and, no kidding, a pound of croissants. What texture! It's as light and airy as a soufflé, with chunks of chewy sausage, buttery-soft pastry, and an enviable cheese pull. We went for the mild, sweet Italian rather than hot variety because we like how its aromatic fennel blends with the fresh sage and green onions in the bake — this dish is light on the fork, but deeply flavorsome on the palate.
Of course, a plate of warm sausage croissant bake is a wonderful way to wake up. It's got everything you need in one dish, but you could balance the plate with a blueberry muffin or a slice of pumpkin bread. Coffee is a must, Champagne delightful. We'd also serve this bake for dinner; it only wants a fall salad dressed in something bright and lively to feel like a square meal.
Servings: 10 to 12
Ingredients
1 lb croissants (about 5 to 7), split in half lengthwise
1 Tbsp extra-virgin olive oil, plus more for the baking dish
1 bunch green onions, thinly sliced, reserving some for garnish
¾ lb sweet Italian sausage, casings removed
2 tsp finely chopped fresh sage
8 large Gelson's eggs
3 cups whole milk
1 cup heavy cream
2 cups grated Gruyère, divided
1 ¼ tsp kosher salt
1 tsp black pepper
Directions
Preheat the oven to 500°.

Spread the croissants on a large rimmed baking sheet and toast, cut-side up, until golden brown, 4 to 7 minutes (watch carefully to see that they do not burn). Let cool, then tear into large, bite-size pieces.

In a medium skillet over medium-high heat, warm the olive oil. Add the green onions and Italian sausage and cook, breaking up the meat, until the mixture is browned, about 5 minutes. Stir in the sage, and remove from the heat.

In a large bowl, toss together the croissants and the sausage mixture until fully combined.

In a separate large bowl, whisk together the eggs, milk, cream, 1 ½ cups of Gruyére, salt, and pepper.

Lightly oil a 9x13" baking dish. Turn the croissant mixture into the pan, spreading it evenly over the bottom. Pour the egg mixture over the top and press the croissants down gently to help absorb the liquid. Cover the pan with plastic wrap and refrigerate for at least 4 hours or overnight.

When you are ready to bake the casserole, preheat the oven to 350°.

Scatter the remaining grated Gruyére over the top of the casserole. Bake 50 to 55 minutes, or until the casserole is golden brown and firm to the touch. Let stand 10 minutes. Garnish with additional sliced green onions before serving.
Recipe adapted from: NYT