Recipes
Scalloped Potatoes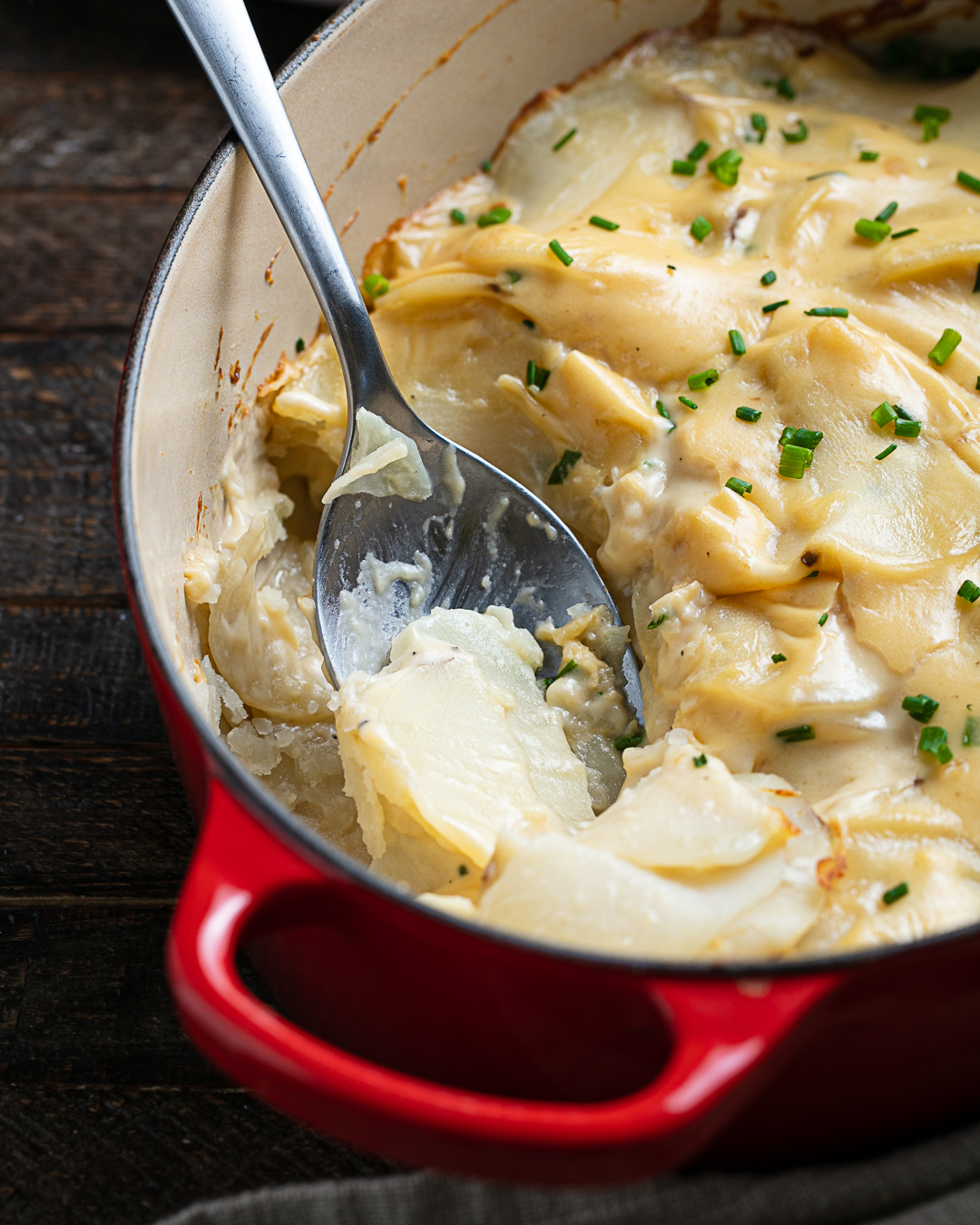 In terms of comfort, cheesy goodness, and popularity, scalloped potatoes have everything but the noodles in common with homemade mac & cheese — and yet, who scallops potatoes on the weekly? No one. That may be because they have an elegant, grown-up vibe, like they could be hard to make and should probably be saved for candlelit meals with elegant serving spoons. This recipe is going to change that: oh yes, it's splendid and classic as all get out, but it's also weeknight easy.
The secret to speed is cooking the potatoes ahead of time. It only takes 10 minutes, but it makes all the difference: the potatoes need less than a half hour in the oven, and they emerge tender and creamy. If you're making them for a holiday dinner, you could do this step a day ahead, and then bake the scalloped potatoes when the tofurkey, ham, or rib roast comes out of the oven.
The cheese sauce, of course, is the real heart of this dish, and it comes together with a few minutes of stirring, an ease that belies its perfection. We start with a rich garlic butter, add the cream, and let it thicken on the stove for a bit before we add the fresh chives and cheddar cheese. That creates ultra comforting scalloped potatoes with a texture that's more creamy than gooey. They're flavorful too: scented with garlic and full of the cheese's tang and the chive's delicate onion notes.
Scalloped potatoes are practically foolproof, super adaptable, and one of the most flexible sides around. As mentioned above, they're well suited to the holiday table. But they're also a hardworking, kid-friendly, weekday side: serve them with everything from grilled salmon to pot roast to dinner salads. Feeling like a big bowl of comfort for supper? They'll be terrific all by themselves. (Take that, mac & cheese!)
Our tip: On the subject of adaptable, feel free to switch up the cheeses and the aromatics, depending on what you've got in the fridge. Green onions will work in place of the chives — just make sure you add them to the butter with the garlic so they soften. If you like a funkier cheese profile, a mix of Gruyére and Parm would be nice. Cooking for kiddos with picky palates? American cheese will work great.
Servings: 4 to 6
Ingredients
2 lb Idaho potatoes, peeled, cut into ¼"-thick slices
3 Tbsp butter, plus more for baking dish
1 garlic clove, minced
3 Tbsp all-purpose flour
2 ½ cups milk
1 cup shredded Gelson's sharp cheddar cheese
2 Tbsp Gelson's organic fresh chives, plus more for garnish
Kosher salt, to taste
Black pepper, to taste
Directions
Heat the oven to 350° and lightly butter a 3-quart baking dish.

In a medium saucepan, cover the potatoes with cold water and bring to a boil. Reduce the heat to medium-low and boil for 10 minutes. Transfer the potatoes to a colander, drain, and set aside.

In the same saucepan, heat the butter over medium heat. Add the garlic and cook for 30 seconds.

Stir in the flour until incorporated, and continue stirring continuously for 2 minutes more.

Gradually add the milk and stir continuously until thickened. Stir in the cheese and chives, and season with salt and pepper.

Arrange the potatoes in layers in the buttered baking dish, adding cheese sauce to the top of each layer.

Bake the scalloped potatoes for 30 to 35 minutes, or until bubbling.

Let them rest for 5 to 10 minutes, and then garnish with chives and serve.
Recipe source: The Spruce Eats
Calculate nutrition information for this recipe.