Dinner Recipes
Sea Bass & Fennel Salad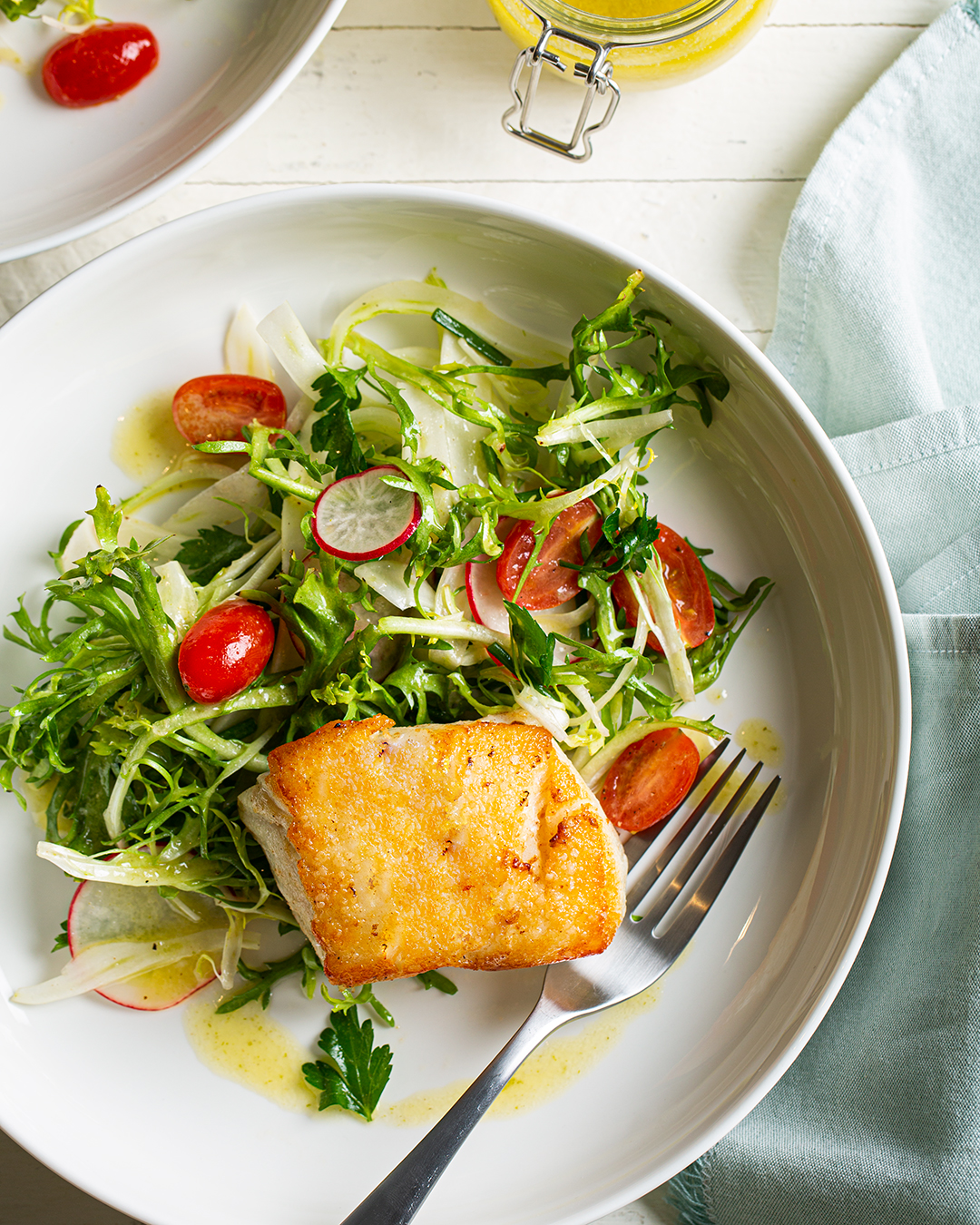 Spring is certainly in the air, but no matter the season, this bright dinner always makes us feel like it's the peak of summer. The sea bass (one of our favorite fishes) is sweet, mild, and perfectly flaky, and in this recipe, it crisps up beautifully when we sauté it in the hot pan. We even basted it in a knob of butter, so it's got some heartiness to it — but it's not so rich that it overpowers the very light, very colorful salad.
To make the salad, we toss together shaved fennel, lacy frisée, thinly sliced radishes, juicy grape tomatoes, and a handful of fresh parsley and chives. It's so fresh and full of contrasting flavors and textures. We dress it in a vinaigrette of lime, white wine vinegar, shallot, and Dijon mustard (which, by the way, whirls up in the blender in a flash). It brings exactly the right amount of acid and tang to balance the delicate bitterness of the salad — and we just love all that crispness and zing with the subtle fattiness of the sea bass.
This is a simple dish, the sort of thing we could eat every day. And yet, it's got a sophistication that makes it perfect for special dinners and celebrations. We'd gladly make it for an at-home date night on the patio — a glass of white wine in hand, the twinkle lights sparkling overhead, and Getz/Gilberto playing softly in the background.
Our tip: A variety of white wines would pair well with this dish, but we'd recommend a crisp Sancerre, an unoaked chardonnay, or if you're craving a little effervescence, a citrusy vinho verde.
Servings: 4
Ingredients
For the lime vinaigrette:
Zest of 1 lime
¼ cup freshly squeezed lime juice
2 Tbsp white wine vinegar
2 garlic cloves
1 Tbsp minced shallot
1 tsp Dijon mustard
1 tsp honey
⅔ cup extra-virgin olive oil
Kosher salt, to taste
Freshly ground Gelson's black pepper, to taste
For the fennel salad and sea bass:
2 cups fennel, cored and shaved
3 cups frisée, trimmed
½ cup thinly sliced radishes
½ cup grape tomatoes, halved
¼ cup fresh parsley leaves
¼ cup Gelson's organic fresh chives, cut into ½" batons
1 pinch flake salt
2 cracks Gelson's black pepper
1 ½ lb fresh sea bass, cut into 6-oz fillets
Kosher salt, to taste
2 Tbsp grapeseed oil
3 Tbsp butter
Directions
To make the lime vinaigrette: In a blender combine the lime zest, lime juice, white wine vinegar, garlic, shallots, Dijon mustard, and honey. Turn on the blender and slowly pour in the olive oil until emulsified. Season with kosher salt and black pepper. Set aside.

To make the fennel salad: in a large mixing bowl, toss together the fennel, frisée, radishes, grape tomatoes, parsley, chives, flake salt, and black pepper, and refrigerate.

To make the sea bass: Preheat the oven to 375º. Pat the sea bass fillets dry with a paper towel and season with kosher salt on one side.

In a medium skillet, heat the grapeseed oil to medium-high heat. Gently place the fillets in the hot pan, seasoned-side down, setting them down away from you to ensure they do not splash any oil. Sear the first side of the fillets for 3 to 4 minutes, or until golden brown and crispy.

Flip the fillets, add the butter, and let it begin to foam. Baste each fillet a few times and transfer the skillet to the oven to cook for 5 minutes more.

Meanwhile, dress the fennel salad with a ¼ cup of the lime vinaigrette.

Carefully remove the skillet from the oven and use a fish spatula to transfer the fillets to a plate. Let the fillets rest for 2 to 3 minutes.

Divide the salad between 4 plates and place 1 fish fillet on top of each salad. Drizzle each plate with an additional 1 to 2 tablespoons of the lime vinaigrette, and serve hot.
Calculate nutrition information for this recipe.