Recipes
Sea Bass & Roasted Tomatoes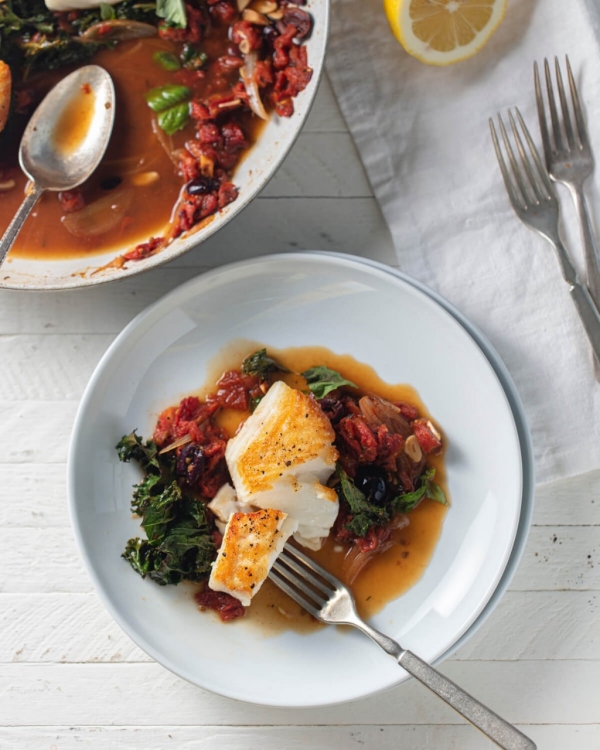 This is the dish we want to curl up with on autumnal days. Essentially, we bake the sea bass — after the skin has been seared to a golden, brown crisp — in a simple stew of roasted tomatoes, silky soft kale, kalamata olives, and aromatics. Mild sea bass is perfect for this recipe: it has a wonderfully tender texture, but it's firm enough to hold up in broth. We love the rich, concentrated flavors of the herby tomatoes and briny olives against the mild fish.
It's a rustic, beautiful dish. The dark green kale, black olives, and deep, roasty red of the tomatoes complement the pale sea bass — and the bright green basil is a fresh finish. You could serve it in a low bowl with a hunk of crusty bread, and it would please even the fussiest guest. But we say, make it for a cozy night at home with the S.O. and a good bottle of wine.
Servings: 4
Ingredients
3 Tbsp grapeseed oil
1 lb sea bass cut into 4-oz fillets (skin removed)
1 cup roasted tomatoes, chopped
⅛ cup kalamata olives, halved
2 cloves garlic, sliced
2 Tbsp shallot, julienned
2 cups kale, torn
1 cup white wine
1 cup vegetable stock
Fresh basil leaves, for garnish
Kosher salt, to taste
Black pepper, to taste
1 Tbsp lemon juice
Directions
Preheat the oven to 450º.

Heat a large, nonstick skillet to high heat and add the grapeseed oil.

Using a paper towel, pat the sea bass fillets dry, season them with salt and pepper, and gently lay them down in the hot oil — away from you to avoid spattering.

Sear the sea bass until golden brown, about 3 minutes. Transfer the fillets to a plate and set aside, sear side up. Leave the oil in the skillet.

Lower the heat to medium and add the roasted tomatoes, olives, garlic, and shallot, and sauté for 3 minutes, tossing periodically.

Toss in the kale and sauté until wilted.

Remove the skillet from the heat and add the white wine and vegetable stock. Return the skillet to the stove, bring the mixture to a rapid simmer, and reduce it by a quarter.

Add the fish fillets back to the skillet, sear side up, drizzle with lemon juice, transfer the skillet to the oven, and roast uncovered until the internal temperature of the fish reaches 165º on an instant-read thermometer, 5 to 7 minutes.

Plate the fish with the veggies and broth and serve warm.