Snacks Recipes
Sea Salt and Rosemary Beet Chips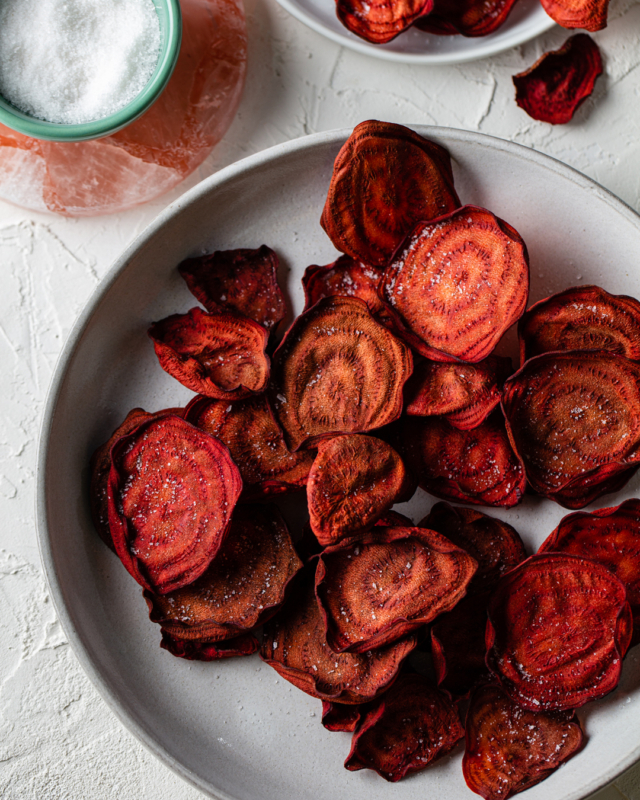 It's hard to eat these chips because they're so lovely when they come out of the oven — even the parchment they bake on looks like a modernist print in beet juice. But then again, it's not hard at all because they are phenomenal. They're cut very thin, so they bake up delicate and crunchy, with an intense, earthy beet flavor that's wonderful with the rosemary and sea salt.

The chips feel fancier than store-bought veggie chips, and they'll delight your family. You could mess around with the flavor too — think honey and chili powder, sage and smoky paprika, or garlic and black pepper.
Our tips: The beet chips are best when they've had a chance to crisp up, so time them to come out of the oven a few minutes before you want to eat them. For accompaniments, something like a light chive or dill dip would be great. The chips would also be good as part of an ensemble that includes fresh veggies and hummus.
Ingredients
6 medium red beets, sliced thin
1 tsp kosher salt
6 sprigs rosemary
2 tsp olive oil
1 tsp sea salt, for garnish

Directions
Preheat the oven to 300º and line a baking sheet with parchment paper.
Toss the beets with kosher salt, rosemary sprigs, and olive oil and let them sit for 15 minutes. The beets will sweat a bit. Drain them and remove the rosemary.
Toss the beets with sea salt and transfer them to the baking sheet, laying the beet slices out in a single layer.
Bake the beets for 45 minutes, and then check them. They should be dark red and curled on the edges. If not, bake them for another 15 minutes or longer if necessary.
Transfer to a cooling rack to crisp up, and then serve immediately.