Dinner Recipes
Seared Ahi Tuna with Shiitake Ginger Sauce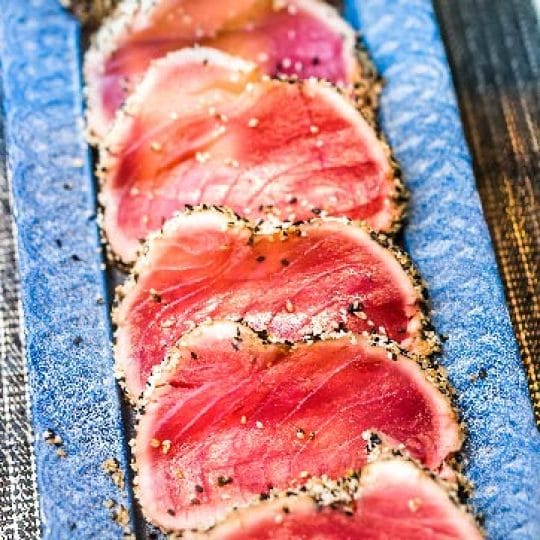 Dinner
Seared Ahi Tuna with Shiitake Ginger Sauce
Serves: 4
Ingredients
1 cup Lundberg wild and whole grain rice
1 4 cup box Pacific organic free range low sodium chicken broth divided
2 tablespoons Hollywood canola oil
2 9 ounce fresh Ahi tuna steaks about one inch thick
1 tablespoon McCormick cracked black pepper
1 tablespoon McCormick black sesame seeds
3 cloves Melissas organic garlic minced
4 green onions green parts only thinly sliced
2 generous tablespoons fresh ginger root peeled and minced about a 2 inch piece
3/4 pound fresh shiitake mushrooms wiped clean stems removed caps thinly sliced
4 tablespoons sake divided
2 tablespoons Yamasa less sodium soy sauce
2 tablespoons Horizon Organic half and half
1 bag Manns stringless sugar snap peas
Directions
Heat warming drawer or oven to 200 Fahrenheit. Measure one and a half cups of broth into a separate pot with a lid for blanching the sugar snap peas.
Place pepper and sesame seeds in separate shallow dishes. Press one side of tuna steaks into pepper and the other side into sesame seeds.
Heat a large frying pan with canola oil over high heat. Place both steaks in pan side by side. Sear two minutes. Use tongs to flip steaks and sear two more minutes for rare steaks. Turn off heat. Transfer to a plate and keep warm in oven or warming drawer. Boil broth for sugar snap peas.
Heat tuna frying pan over medium heat. Add garlic, green onions, ginger and shiitake mushrooms to the pan. Cook one minute. Pour in a quarter cup chicken broth, three tablespoons sake, and two tablespoons soy sauce. Cook for four minutes, scraping up bits from the bottom of the pan. Add two more tablespoons chicken broth, one tablespoon sake and two tablespoons half and half. Cook one more minute. Blanch sugar snap peas in boiling broth for one minute and drain.
Slice steaks with a sharp knife into 1/4 inch thick pieces. Arrange on a bed of two cups of rice and pour sauce on top and around. Serve with sugar snap peas on the side.