Dinner Recipes
Seared Sea Bass with Lemon-Olive White Beans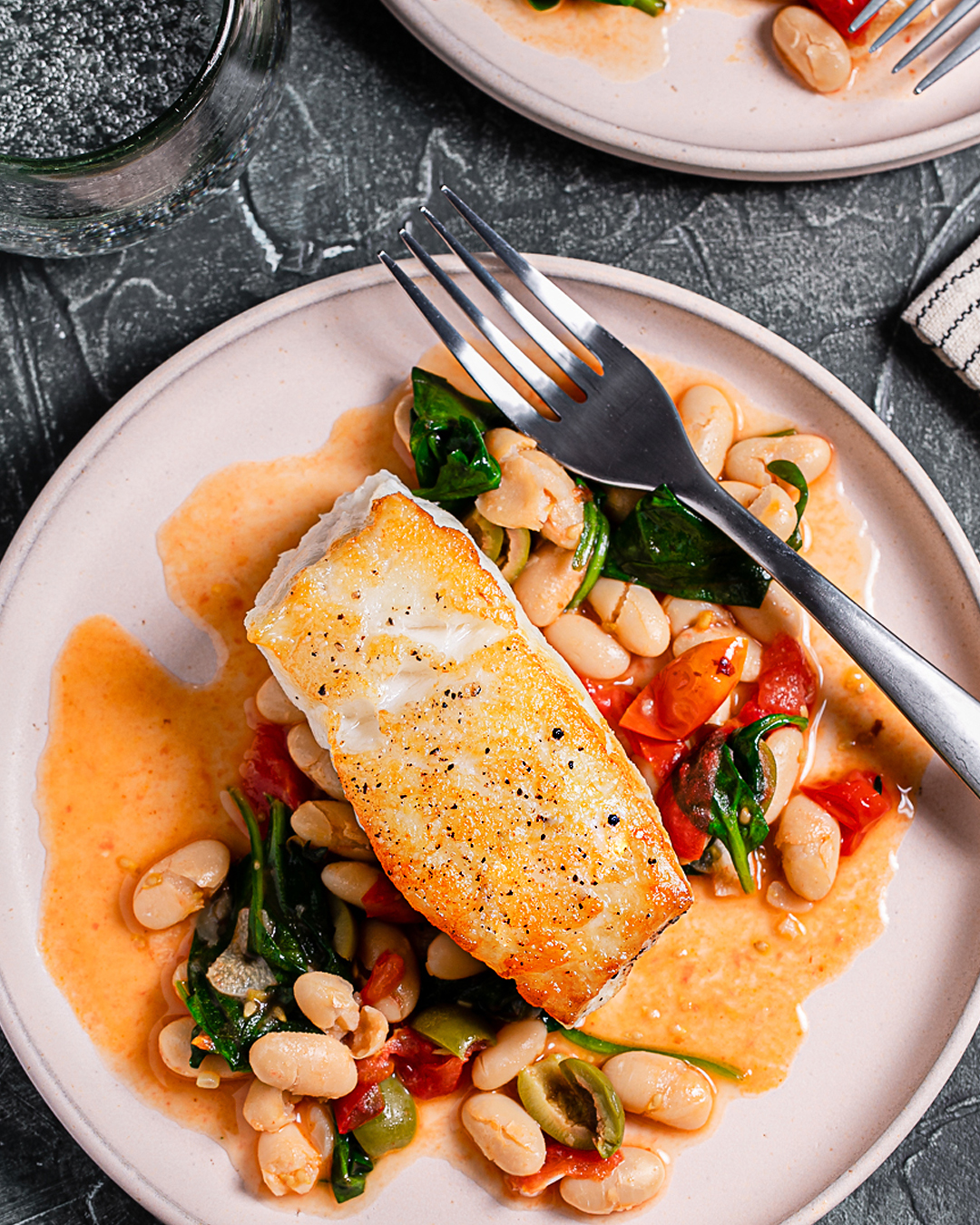 Seared Sea Bass & White Beans with Lemon and Olives
Lady Gaga used to be Stefani Joanne Angelina Germanotta. Bruno Mars used to be Peter Gene Hernandez. And sea bass used to be Patagonian toothfish. It was renamed in 1977 by a fish wholesaler who wanted to rebrand the deliciously mild fish for a wider market.
What genius! With a new name, the humble fish got a fresh start. Sea bass has increased in popularity over the years, and it's no wonder: it has a subtly sweet sea flavor and moist, flaky flesh that happily takes on the intense flavors around it. It's the perfect choice for that person — partner, kiddo — who declares that they'd like fish just fine if it didn't taste so darn "fishy."
It tastes amazing in this recipe, where it's served with a quick-prep sauce that delivers so much complexity, it tastes like a weekend-long project. In fact, it couldn't be any easier to pull together, and it's a bit of a one-pan wonder: we sauté the fillets, and then set them aside and stir the garlic, herbs, tomatoes, chicken stock, beans, and olives into the same pan. All that goodness bubbles away into a silky reduction that tastes just like an Italian seafood stew. Add some fresh spinach to brighten things up, and it's a lovely meal. Of course, it's always a good idea to serve something this delectably saucy with a porous, rustic bread to soak up those last bits of herby sauce.
Servings: 4
Ingredients
4 6-oz skinless sea bass fillets
¾ tsp kosher salt, divided
½ tsp freshly ground black pepper, divided
3 Tbsp extra-virgin olive oil, divided
5 garlic cloves, thinly sliced
2 tsp fresh thyme leaves
8 cherry tomatoes, halved
⅔ cup chicken stock
1 15-oz can cannellini beans, rinsed and drained
2 Tbsp freshly squeezed lemon juice
1 oz pitted Castelvetrano olives, quartered (about ⅓ cup)
5 oz fresh baby spinach
Directions
Heat a large nonstick skillet over medium-high heat. Pat the fillets dry and sprinkle the fish with ¼ teaspoon of salt and ¼ teaspoon of black pepper.

Add 1 tablespoon of the olive oil to the skillet and swirl to coat the pan. Gently add the fillets to the pan, away from you to avoid splatter, and sear until golden brown, 4 to 5 minutes. Using a fish spatula, gently release the fillets from the pan, flip, and cook for 4 to 5 minutes more.

Remove the fish from the pan and drain off any drippings.

Tent the fish with foil to keep warm.

Reduce the heat to medium and heat the remaining 2 tablespoons of olive oil in the skillet. Add the garlic and sauté for about 1 minute. Stir in the thyme, tomatoes, stock, beans, lemon juice, olives, and remaining salt and pepper. Bring to a simmer, then add the spinach, stirring until wilted.

Divide the bean mixture between 4 bowls and top each one with a fish fillet. Serve hot.
Recipe adapted from: Cooking Light
Calculate nutrition information for this recipe.