Dessert Recipes
Sesame Miso Chocolate Chip Cookies
If you're thinking, "Hmmmm, miso in a chocolate chip cookie?" you're not alone. Some of our test kitchen folks were wary too. When it came to tasting, they broke off modest pieces of their warm cookies and nibbled at them like trepidatious mice — and then quickly, nay greedily, grabbed the rest.
Here's the thing: You can't really taste the miso, but it combines with the brown butter to give the cookie dough more rich depth. We love the texture of the cookie too. It's soft and chewy yet very crisp at the edges. Add in melty pools of dark chocolate and a sprinkle of nutty sesame seeds, and you have a very luxe cookie.
Is it weird to say that a cookie is filling? This one is very satisfying. Still, our only complaint about the recipe might be that it only makes 10 cookies. Double the recipe — you'll eat them!


Yield: 10 cookies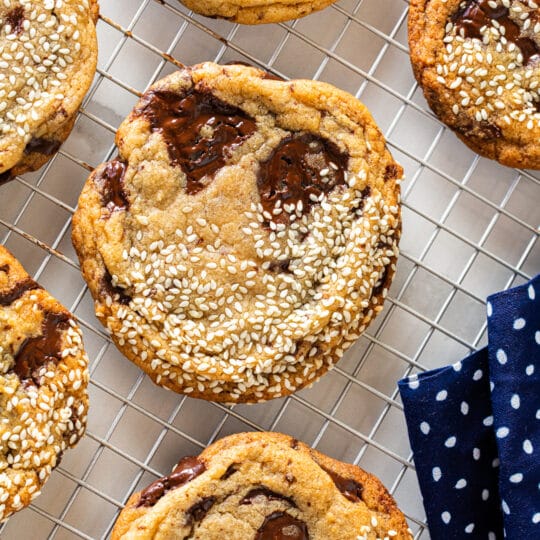 Dessert
Sesame Miso Chocolate Chip Cookies
Ingredients
1 ½ Tbsp white miso paste
1 ¼ cups Gelson's all-purpose flour
½ cup packed dark brown sugar
6 oz 80% dark chocolate bar, roughly chopped
3 Tbsp white sesame seeds
Directions
In a small saucepan, melt the butter over medium heat. Cook, watching closely, until the butter foams and turns a light golden brown, 5 to 7 minutes.

Immediately pour the butter into a heatproof bowl. Stir in the miso paste. Let cool to room temperature, 15 to 20 minutes.

Preheat the oven to 350º and line 2 baking sheets with parchment paper.

In a medium mixing bowl, whisk together the flour, baking powder, baking soda, and salt. Set aside.

In a stand mixer fitted with a paddle attachment, combine the cooled miso butter, granulated sugar, and brown sugar. Beat on medium speed until combined, about 30 seconds.

Add the egg and vanilla extract and beat until creamy and light in color, about 1 minute.

Add the dry ingredients and beat until just combined. Add the chopped dark chocolate and beat to incorporate.

Use a large 2-oz scoop or ¼ measuring cup to portion out the cookie dough and gently roll it into balls.

Place the sesame seeds in a small dish. Gently press the cookie dough balls into the sesame seeds to cover one side.

Place 5 cookies, 2 to 3 inches apart, on each baking sheet, making sure about ½ to ⅔ of the sesame seeds are face up. Bake for 8 to 10 minutes, or until the edges are a light golden brown and the centers are just set.

Transfer the cookie sheet to a cooling rack by dropping the pan from 6" in the air onto the rack. This will slightly flatten the cookies. Allow the cookies to rest on the baking sheet for about 5 minutes, then transfer them to a wire rack to cool completely.

Leftover cookies can be stored in an airtight container at room temperature for up to 5 days.
Recipe adapted from: Butternut Bakery