Breakfast Recipes
Sheet-Pan Breakfast Tostadas
We've all breakfast burrito-ed and breakfast taco-ed — but have you ever breakfast tostada-ed? Spoiler alert: it's amazing AND ridiculously easy, especially if you use a sheet pan to bake a whole bunch at once.
Here, we top corn tortillas with sharp white cheddar, savory chorizo, crispy golden brown potatoes, and an egg. In the oven, the tortillas crisp up into crunchy flying saucers, the cheese gets nice and melty, and the egg yolks bake to runny perfection. We love breaking them so the yolk runs over the whole tostada, filling all the nooks and crannies amid the potatoes and sausage and pulling everything together like a rich cream sauce.
Bonus: Sheet-pan breakfast tostadas are great if you need to feed a lot of people. You can cook the chorizo and potatoes the day before. In the morning, do the rest of the prep and set out all the toppings — avocado, radish slices, jalapeño, cherry tomato halves, fresh cilantro, salsa, and lime wedges — before people come a-knockin'.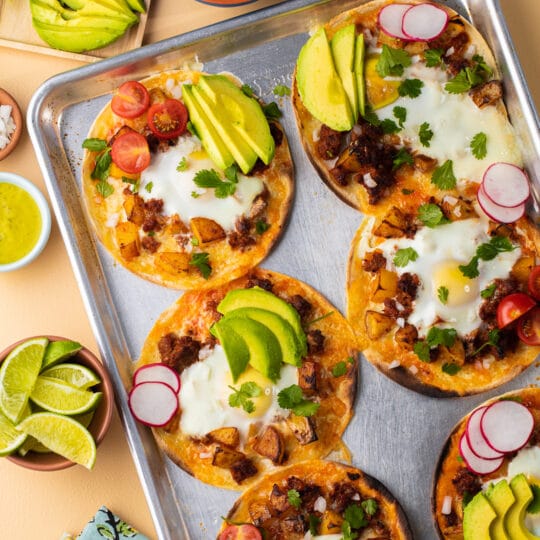 Breakfast
Sheet-Pan Breakfast Tostadas
Serves: 6
Ingredients
½ small white onion, small diced, divided
2 tsp Gelson's 100% California extra virgin olive oil
8 oz Yukon gold potatoes, diced ½" thick
4 oz sharp white cheddar cheese, grated (about 2 cups)
Freshly ground Gelson's black pepper, to taste
1 red radish, thinly sliced, for serving
1 avocado, thinly sliced, for serving
1 jalapeño, thinly sliced, for serving
½ cup cherry tomatoes, halved, for serving
Cilantro leaves, for garnish
Guacamole salsa, for serving
Directions
Preheat the oven to broil.

Heat a medium pan over medium-high heat. Add the chorizo and ¾ of the onion, reserving the rest for garnish. Cook until the chorizo browns and crisps on the edges, 4 to 5 minutes. Transfer to a bowl and set aside.

Add the olive oil and potatoes to the pan, lower the heat to medium, and cook until golden brown and fork-tender, about 10 minutes. Transfer the potatoes to the bowl with chorizo and mix to combine. Set aside.

Spray a rimmed sheet pan with cooking spray, and place 6 tortillas on the pan in a single layer. Divide and sprinkle the cheese over the tortillas. Divide and scatter the potatoes and chorizo on top, making a small well in the middle of each tortilla.

Carefully crack an egg into the center of each well. Season with salt and black pepper.

Broil for 2 to 3 minutes for a runny yolk, watching carefully and rotating the pan to keep the tostadas from overcooking.

Plate each tostada with your favorite toppings like radish, avocado, jalapeño, and tomatoes. Garnish each tostada with cilantro, and serve with salsa and lime wedges.