Dessert Recipes
Sheet-Pan Strawberry-Rhubarb Croissant
This recipe brings a bakery-worthy croissant-inspired treat to your brunch table, without any of the fussy dough-folding required for traditional croissants. The puff pastry is easy to work with and is super flaky, and the sweet-tart strawberry-rhubarb jam is so electrically delicious, no one will miss the signature butteriness of croissant croissants. Good thing the recipe makes a veritable sheet pan of magic — the squares come out of the oven so chewy, soft, and scrumptious, everyone will want seconds.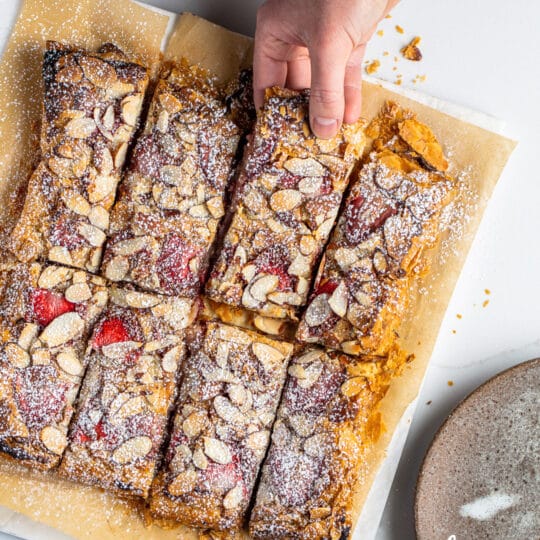 Dessert
Sheet-Pan Strawberry-Rhubarb Croissant
Serves: 8
Ingredients
1 sheet frozen puff pastry, thawed
3 Tbsp unsalted butter, melted
½ cup almond flour, sifted
¼ cup strawberry-rhubarb jam
6 large strawberries, 2 small diced and 4 thinly sliced, divided
Confectioners' sugar, for dusting
Directions
To bake the puff pastry: Preheat the oven to 425º. Line a rimmed sheet pan with parchment paper. Unfold and center the puff pastry on the sheet pan.

Bake until puffed and brown, about 10 minutes. Reduce the heat to 350º and bake, rotating halfway through, until dry, crisp, and deeply browned, 20 to 30 minutes. Let cool completely, about 1 hour. Note: the pastry can be wrapped in plastic wrap and stored at room temperature for up to 3 days.

To make the almond cream: In a medium bowl, stir together the granulated sugar, butter, and salt until creamy. Whisk in the almond flour, egg, rum, and almond extract until evenly combined.

To assemble the croissant: Preheat the oven to 350º. Using a serrated knife, carefully slice the puff pastry in half horizontally.

Set the top half aside. Spread ½ of the almond cream evenly across the bottom and all the way to the edges. Spread the strawberry-rhubarb jam on top. Scatter the diced strawberries over the filling.

Place the top half of the pastry back onto the bottom half, and evenly spread the remaining almond cream on top. Evenly distribute the sliced strawberries on top and sprinkle with the sliced almonds.

Place a piece of parchment paper on top of the croissant and evenly press the croissant down to flatten, then discard the parchment. Bake, rotating halfway through, until the almonds are toasted and the topping is brown, 25 to 30 minutes.

Let cool slightly, then use the parchment paper to slide the croissant onto a cutting board. Dust generously with confectioners' sugar, then slice into portions. Serve warm or at room temperature.
Recipe adapted from: New York Times Cooking