Dinner Recipes
Shiitake Crusted Tenderloin & Miso Butter
Hello, flavor! The grocery list for this recipe is short and simple, but the symphony of textures and flavors makes every bite magic: tender steak, rich butter, tangy lime juice, salty miso, earthy mushrooms, bright herbs, and spicy serranos come together to create an elegant, high-end dish with oodles of umami. It tastes extra-luxe without a lot of extra effort — the perfect solve for unexpected guests or mid-week dinner doldrums.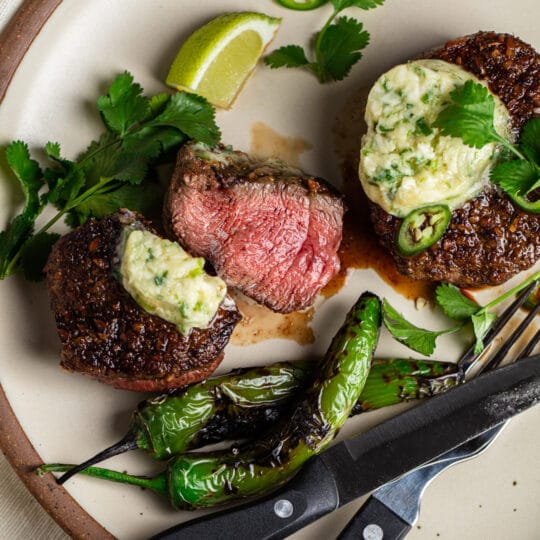 Dinner
Shiitake Crusted Tenderloin & Miso Butter
Serves: 2
Ingredients
6 Tbsp unsalted butter, room temperature, divided
1 Tbsp white miso paste, room temperature
2 Tbsp chopped green onions
1 tsp freshly squeezed lime juice, room temperature
4 oz dried shiitake mushrooms
Freshly ground Gelson's black pepper, to taste
2 Tbsp Gelson's 100% California extra virgin olive oil
1 serrano pepper, thinly sliced
Gelson's fresh cilantro sprigs, for garnish
Directions
Preheat the oven to 350°.

In a small bowl or small food processor, mix together 4 tablespoons of the butter, the miso paste, green onions, and lime juice until smooth and fully combined.

In a spice grinder or small food processor, grind the dried shiitake mushrooms into a powder. The consistency should be similar to cornmeal. Transfer the powder to a plate.

Pat the steaks dry and season both sides with sea salt and black pepper. Press both sides of the steaks into the shiitake powder.

In a medium skillet, heat the olive oil over medium heat until it shimmers. Add the steaks and cook undisturbed for 3 to 5 minutes or until a golden brown crust has formed. Flip the steaks and add in the remaining 2 tablespoons of butter. Quickly baste the steaks by spooning the melted butter over them.

Transfer the steaks to the oven and cook for 7 to 10 minutes more, or until the internal temperature reaches 125° on an instant-read thermometer for medium rare.

Transfer the steaks to a plate and let them rest for 3 to 4 minutes.

Before serving, place a tablespoon of the miso butter on top of each steak, then garnish with a few sliced serrano peppers, cilantro sprigs, and a squeeze of lime juice. Serve hot.

Leftover steaks can be stored in an airtight container in the fridge for up to 2 days; the miso butter will keep for up to 4 days and will be delicious on other dishes, such as grilled chicken or fish.
Calculate nutrition information for this recipe.