Dinner Recipes
Shiitake & Miso Ramen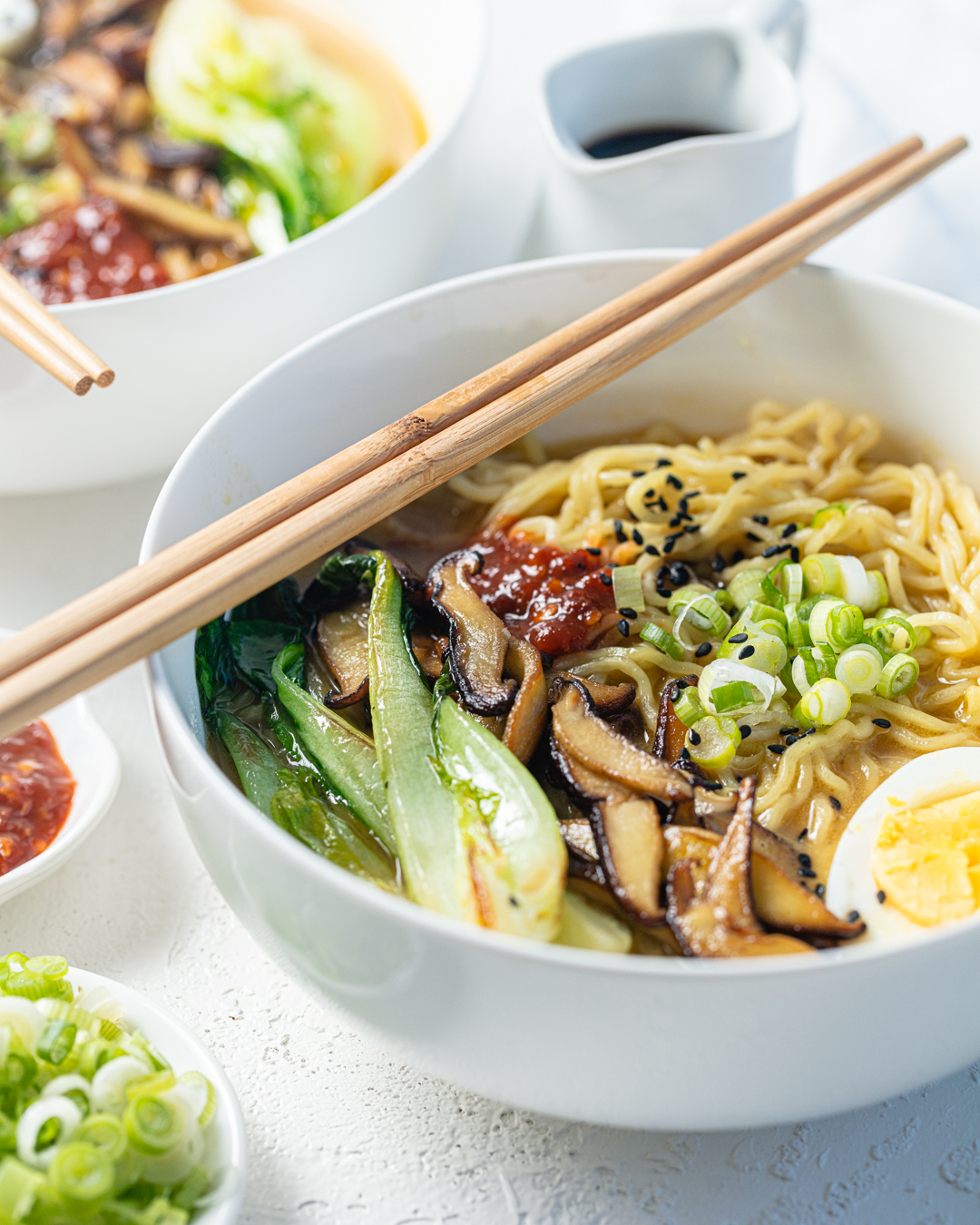 Before the pandemic, we loved hitting up the local ramen shop for a bowlful of slurpable goodness. And while we still love getting ramen takeout every now and then, there's something special about eating a piping hot, freshly ladled bowl of the stuff. Luckily, making ramen at home is totally doable. This stock-pot-o'-gold recipe serves up a significantly elevated flavor experience, no matter how basic your cooking skills are. If you can chop a few things, cook them for a bit, and add some liquid, you're pretty much good to go.
There's even a trick to dial up the umami flavor so high that you'll never notice this is a vegetarian entree. The key is sautéing flavorful aromatics — ginger, garlic and shallots — with meaty mushrooms before adding broth and water to deepen the flavor. Give the mushrooms plenty of time to get perfectly crispy, and you'll amp the umami up even more.
The unbelievably silky broth you'll be creating is sure to be love at first slurp. Put it all together, and you'll find that the soft noodles, crunchy bok choy, meaty mushrooms, tender green onions, and creamy egg strike just the right textural balance. Bring a jar of your favorite hot sauce to the table for the heat level you desire.
Our tip: This dish makes Meatless Monday a joy. Leftovers (if there are any) can be a warming, satisfying lunch for the rest of the week.

Servings: 4
Ingredients
4 Tbsp olive oil, divided
8 oz shiitake mushrooms, sliced ¼-inch thick, divided (stems reserved)
2 Tbsp fresh ginger, rough-chopped
2 shallots, halved
4 garlic cloves, smashed
2 Tbsp unsalted butter
2 Tbsp mirin
2 Tbsp soy sauce
1 qt vegetable stock
2 cups water
3 Tbsp white miso
4 baby bok choy, quartered lengthwise
2 6-minute eggs, halved
2 10 oz pkg fresh ramen noodles
1 bunch scallions, sliced, for garnish
4 tsp chili paste, for garnish
Directions
Bring a medium stock pot to medium heat. Add 2 tablespoons of the olive oil. Sauté half of the sliced mushrooms and all of the mushroom stems, ginger, shallots, and garlic for 7 to 10 minutes, or until fragrant.

Add the butter and sauté for another 2 to 3 minutes.

Add the mirin, soy sauce, vegetable stock, and water. Bring the liquids to a boil, and then reduce the heat and simmer for 30 minutes.

Using a fine mesh sieve, strain the stock, reserving the liquid and discarding the vegetables.

Return the broth to the pot and bring it to a simmer.

Whisk in the miso until it is fully dissolved, and then return the broth to a simmer.

Bring a large pot of water to a boil for cooking the ramen noodles.

Meanwhile, in a large sauté pan over medium heat, sauté the remaining mushrooms in the remaining olive oil for 3 to 5 minutes, or until the mushrooms are crispy on the edges, tossing frequently.

Add the bok choy to the sauté pan and toss for another 3 minutes. Season with salt to taste and set aside.

Cook the ramen noodles according to package directions.

Divide the ramen noodles among 4 bowls, spoon the mushrooms and bok choy over the ramen, and then add 1 ½ cups of the broth. Top each bowl with ½ of a cooked egg, 1 tablespoon of sliced scallions, and 1 teaspoon of chili paste. Serve hot.