Dinner Recipes
Shrimp & Feta Summer Pasta Salad
This light and lemony pasta salad is bursting with freshness! Juicy tomatoes and fresh herbs make it taste like summer in a bowl. The shrimp adds a nice chew and a touch of sweetness to balance out the tangy bits of feta and the acidity of the vinaigrette. Our tip: use pre-cooked shrimp and a store-bought lemon vinaigrette to make everything easy-breezy — the whole thing comes together in about 30 minutes!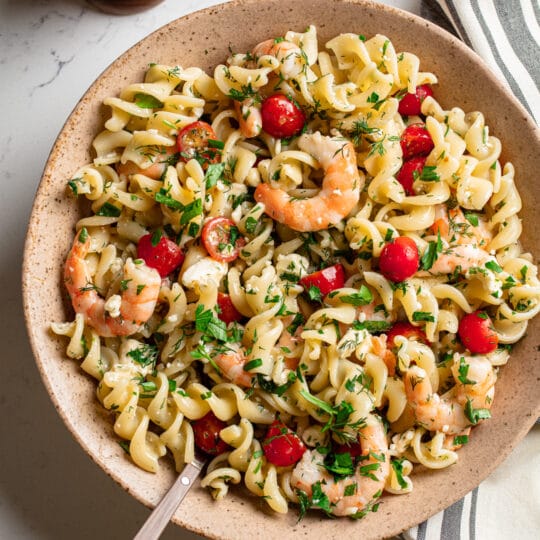 Dinner
Shrimp & Feta Summer Pasta Salad
Serves: 6
Ingredients
12 oz Gelson's fusilli pasta
1 lb cooked large shrimp, tails removed
1 cup halved grape tomatoes
1 cup crumbled feta cheese
½ cup chopped Gelson's fresh organic parsley
¼ cup chopped Gelson's organic fresh dill
¾ cup Cindy's Kitchen Lemon and Shallot Vinaigrette
Directions
Fill a large pot ¾ of the way with water and bring it to a boil. Season with kosher salt and stir until dissolved. Add the fusilli pasta and cook for 12 minutes or until al dente.

Drain the pasta into a colander and rinse with cold water.

Transfer the pasta to a large serving bowl. Add the shrimp, tomatoes, feta, parsley, and dill. Using a rubber spatula, mix until fully combined.

Add the lemon vinaigrette and mix until well coated.

Serve immediately, or store in an airtight container in the refrigerator for up to 3 days.
Recipe adapted from: Real Simple