Dinner Recipes
Shrimp Jambalaya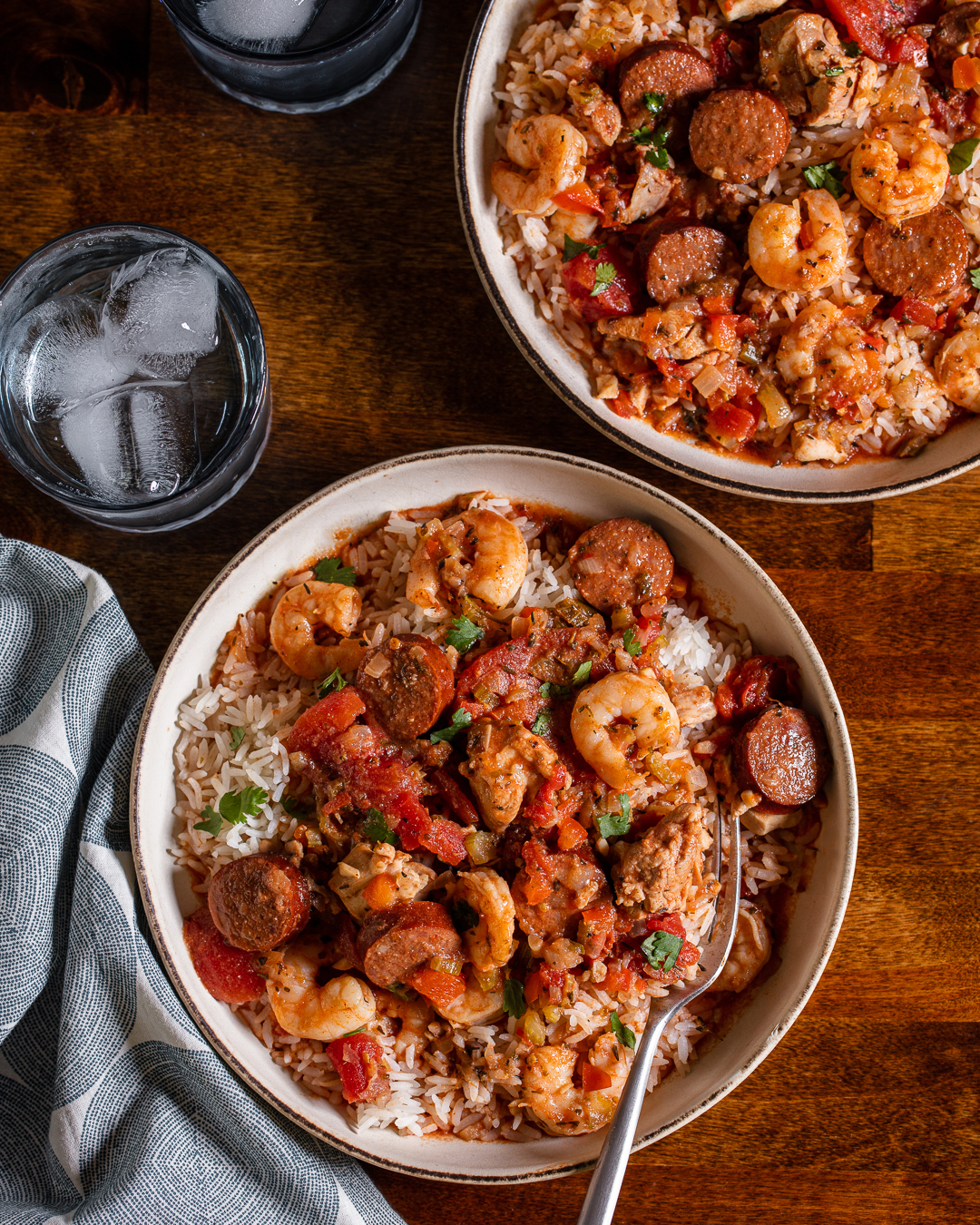 Like all good jambalaya, this one starts with the Cajun "holy trinity" of onion, celery, bell peppers, and then layers in chicken, andouille sausage, tomatoes, herbs, spices, and finally, the shrimp. It's full of New Orleans smoke and spice, and every spoonful is meaty — we like a big soup spoon for this stew because we are especially fond of the bites that combine the chewiness of the peppery sausage with the briny shrimp, so perfectly firm.

We have always loved a bowl of jambalaya, but this recipe is a particular favorite because it's so low-key. It only cooks for an hour, and yet it still has all the flavors and textures that make the dish wonderful. It's the perfect project for a lazy Sunday afternoon, when you have the luxury to sit by with a book and a glass of wine and stir the stew occasionally.

Servings: 4

Ingredients


1 ½ cups long-grain white rice
2 Tbsp olive oil
1 large yellow onion, diced small
1 red bell pepper, diced small
3 stalks celery, diced small
2 garlic cloves, minced
2 boneless, skinless chicken breasts or 3 boneless, skinless thighs, chopped into ½-inch pieces
8 oz andouille sausage, sliced into ½-inch rounds
½ cup water
1 14-oz can stewed tomatoes
1 14-oz can diced tomatoes
1 Tbsp fresh thyme
1 Tbsp dried oregano
1 Tbsp Cajun seasoning
6 to 8 shakes Tabasco
1 lb large shrimp

Directions


In a medium pot, prepare the rice according to the packaging directions and set aside.
In a medium dutch oven, heat the oil over medium.
Add the onion, bell pepper, celery, and garlic, and sauté for 10 minutes.
Add the chicken, and sauté for 5 minutes.
Add the andouille, and sauté for 2 to 3 minutes more.
Add the water, both cans of tomatoes with their juices, thyme, oregano, Cajun seasoning, and Tabasco, and then lower the heat to medium-low and simmer for 30 minutes, stirring occasionally.
Add shrimp and simmer for another 10 minutes, or until the shrimp begins to turn pink.
Spoon over bowls of rice and serve immediately.